Zaquin Resources Sdn Bhd (Zaquin), the first Smart Waste Management company using the first semi-underground bin with smart IOT sensor system in Malaysia, received its first Scania P250 B4x2NZ XT rigid type New Truck Generation (NTG).
Ahmad Tarmimi Tahang, Managing Director of Zaquin believes that this investment is the beginning of a strong sustainable partnership between Zaquin and Scania that would revolutionise the traditional collection of waste business in Malaysia.
The choice of fronting the waste management business with a Scania XT rigid will help build a strong and clear image of Zaquin in its efforts to really care for the environment and help reduce the cost of waste management through the concept of 'Pay as you throw' (PAYT) – The less you throw, the less you pay'.
The local authorities pay a certain fixed cost per household to all contracted waste collection companies for the collection of waste. Zaquin is proposing to change this tradition by only receiving payment for collected waste and with the Smart Deep Collection system, the customers will only pay for waste that's collected.
The Scania XT rigid NTG, fitted with the latest Swedish-made loaded crane and a locally built compactor was Zaquin's choice after carefully studying all the features of the truck and its capability to fulfil the requirements of Zaquin's Smart Deep Collection System, the first in Malaysia.
This innovative waste system that has been in use in Europe for more than 30 years uses special large containers of different sizes meant for different types of waste. The container's user lids and surrounding stay clean as waste is lifted out using the crane on the Scania XT rigid and placed into the compactor to be disposed of.
These containers that are buried (60%) semi-underground can be located beside shrubs, curbs, sidewalks, in narrow alleyways, and even behind fences because the main bins are never moved.
The truck does not have to approach containers from a specific direction, allowing for flexible site placement and the crane can do its job even if there are cars blocking the Scania XT Rigid from nearing the containers.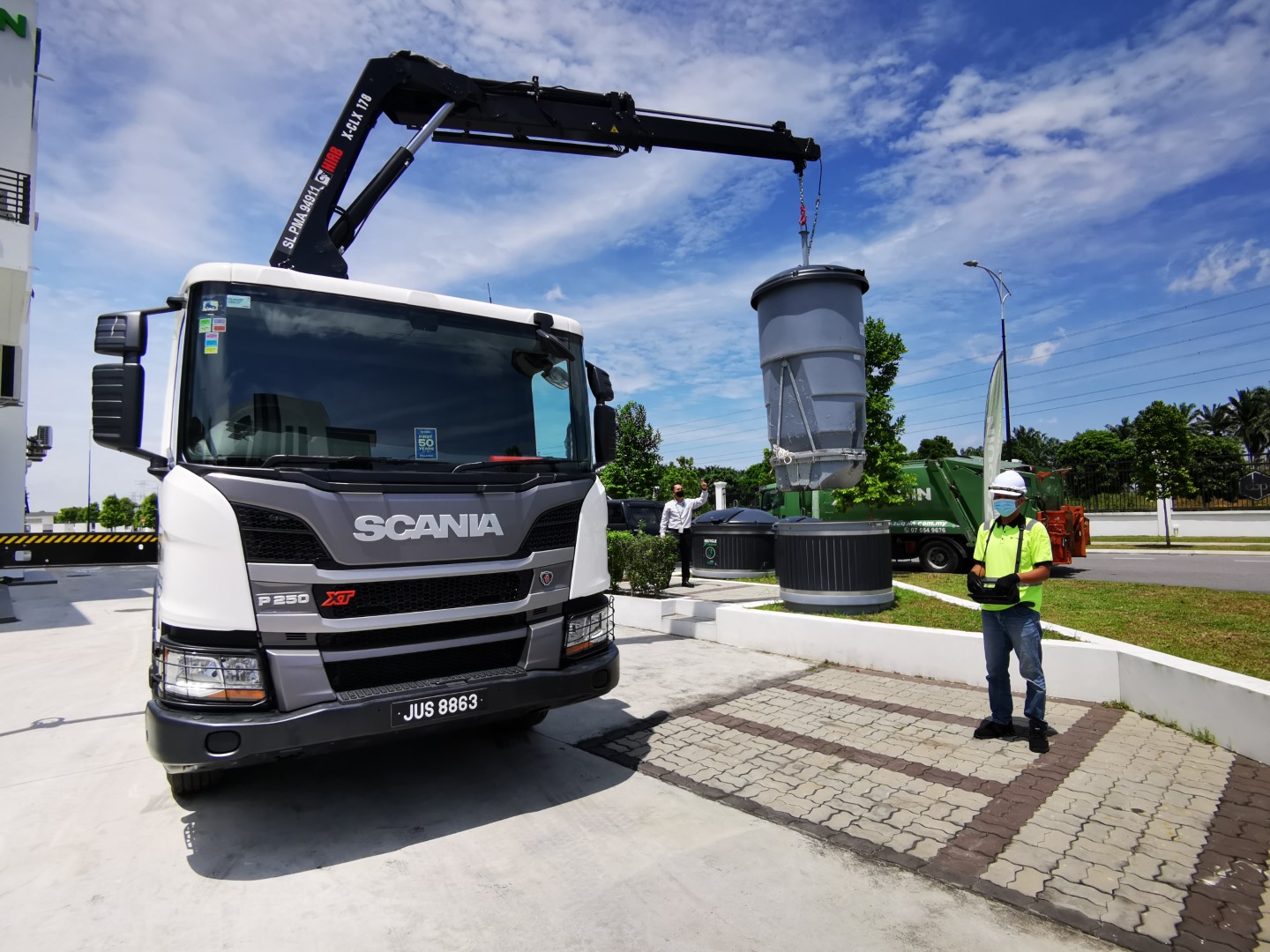 The rear axle gives easy manoeuvrability for the truck to access small roads and alleyways to get to the waste bins. The cabin is one of a kind with adjustable seat that is close to the door, ergonomic instrument panels and a large windscreen minimising blind spots to a safe minimum.
The extended view makes it easier for the drivers to operate in a comfortable and safe environment especially having to operate daily in residential areas.
The Scania XT rigid type is also designed to give truck owners better fuel efficiency and lower CO2 emissions as it is equipped with advanced powertrain and aerodynamic solutions that gives up to a maximum of 3 percent additional fuel economy.
In fact, with the customised flexible financial solutions provided by Scania Credit Malaysia in providing predictable cost over the Scania XT rigid type life cycle will ensure maximum uptime securing sustainability. Zaquin is presently working out a plan to subscribe to the Fleet Management System Control 10 to be able to sign
Scania Ecolution partnership and save more fuel enabling the reduction of Carbon Dioxide emissions.
"The waste can be weighed easily to provide accurate data for studies, audits or data calls. With Zaquin Smart Deep Collection System, we will be able to monitor the waste that has been collected and will be disposed of at the gazetted landfills by local authorities," stated Tarmimi.
In recent years, the waste management industry has been moving more and more towards resource management, and the reclamation of raw materials and valuable scrap from waste products is becoming increasingly important.
Zaquin goes one step further and pursues the concept of "Zero Waste": by recycling an ever-higher percentage of waste, aiming to create an almost infinite cycle that, simply put, will lead to absolutely no waste material being left over at all.
Zaquin also offer customers individual recycling solutions with the latest collection, sorting and processing methods so that together they can optimize both the corporate and communal aspects of waste removal. Zaquin is a driving force in the Fourth Industrial Revolution, also called 'Industry 4.0'.
Scania's collaboration with Zaquin will ensure a parallel progression in sustainability for both companies. Zaquin's innovative measures in changing waste management to a more cost effective and environmentally friendly way will be good for the communities.
"Driving the future together with Scania in a Sustainable Partnership will drive real change and together as a team tied by strong values will strengthen our commitment to a better tomorrow. A partner, a problem solver and a trusted advisor is what Zaquin gets when they become a Scania customer," stated Heba El Tarifi, Managing Director of Scania Southeast Asia.
Zaquin was established in 2005, as an enterprise handling cleaning services, facility management, landscaping, road-sweeping and public utility cleaning. In 2012 Zaquin decided to specialise in waste management.
"We value people and the environment very highly and we aim to pursue the concept of 'zero-waste' – supporting efforts for recycling. That is why we act responsibly, socially and ecologically and conduct the highest-level research to reach our goal: a sustainable development for an environment worth living in." concluded Tarmimi.