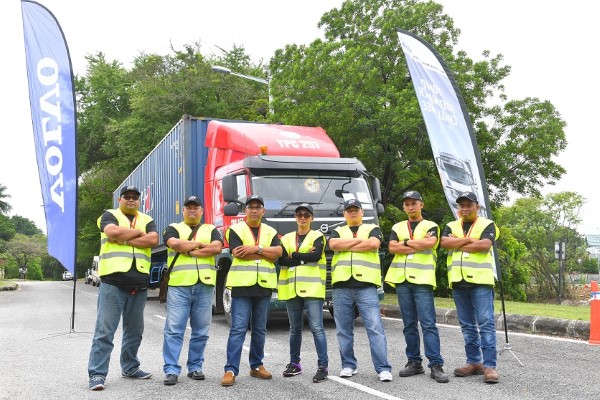 Volvo Trucks' annual Fuelwatch Challenge is back this year, to continue with Volvo's aim to promote maximum fuel efficiency and proper driving skills. The competition is open to drivers across Malaysia with two separate categories, the closed category and the open category.
The closed category consisted of participants from selected key performing Volvo Trucks customers across Peninsular Malaysia such as Prifaria Sdn Bhd, Multimodal Freight Sdn Bhd, Taipanco Sdn Bhd, Tanjong Express and Benua Haulage Sdn Bhd among others. Three finalists from the closed category have already been identified. The finalists are as follows:
Merzuki bin Jusoh – Prifaria Sdn Bhd
Mohd Sufian bin Sahari – Multimodal Freight Sdn Bhd
Mohd Zamry bin Mohd Nasir – Syarikat Jasa Selamat
The finalists mentioned above have gone through an extensive driving skills test using their own Volvo truck accompanied by accredited Volvo Driver Trainers. They are not only tested on fuel efficiency, but on overall driving skills, performance and driving behaviors.
The open category is open to all drivers who are interested in competing. Interested participants can begin registering for the open category and the registrations will close on the 14th June 2018. Drivers can also walk in to participate in the preliminary rounds on the day itself at their chosen locations. The following are the relevant competition dates and locations:
| | |
| --- | --- |
| DATE | LOCATION (Volvo Trucks Dealership) |
| 26 June 2018 | Prai (Penang) |
| 27 June 2018 | Ipoh (Perak) and Bintulu (East Malaysia) |
| 29 June 2018 | Kuching (East Malaysia) |
| 07 July 2018 | Port Klang (Selangor) |
| 08 July 2018 | Kota Kinabalu (East Malaysia) |
| 11 July 2018 | Johor Bahru (Johor) |
| 24 July 2018 | Kuantan (Pahang) |
The Malaysia finals will be conducted in August 2018, where a total of 9 finalists from the both categories will compete to be crowned the champion. The Malaysia winner of Volvo Trucks Fuelwatch Challenge 2018 will be flown over to Gothenburg, Sweden for the World Finals on the 13th – 14th September, where they will face up against other world-class drivers for the World Champion title.
This competition has been wildly successful in Malaysia, seeing increasing numbers of participants each year. In 2017, more than 1,600 participants nationwide joined the challenge. This year, Volvo Trucks is anticipating approximately 2,000 drivers from across Malaysia and over 12,000 drivers in 44 markets worldwide to participate.
Managing Director of Volvo Trucks Malaysia, Mats Nilsson said "Through the Fuelwatch Challenge, we want to acknowledge and highlight drivers who view efficient and safe driving as an art form. That is the idea behind the competition, to give these amazing drivers the appreciation they deserve. This is in line with Volvo's core values that promote safe and efficient driving as a way to care for the environment."
The Fuelwatch Challenge was designed to be a fun way to educate drivers on the importance of training and how a trained driver is more likely to get each assignment done safely and more efficiently while also taking better care of the truck.
For more information on the Fuelwatch Challenge, please head over to the Volvo Trucks website. To join the Fuelwatch Challenge, please register as a participant here.