Just a few days after the launch of Lego Technic Ducati Panigale V4 R set, Lego Italia and Ducati have surprised us again, presenting the only model in the world of Borgo Panigale's Red motorcycle 1:1, built with Lego Technic bricks by the artist Riccardo Zangelmi.
Riccardo, who is at his absolute debut with Technic elements, built the 1:1 model completely by hand working 400 hours on it, proving that the concept "Build for Real" is a step up from play to reality.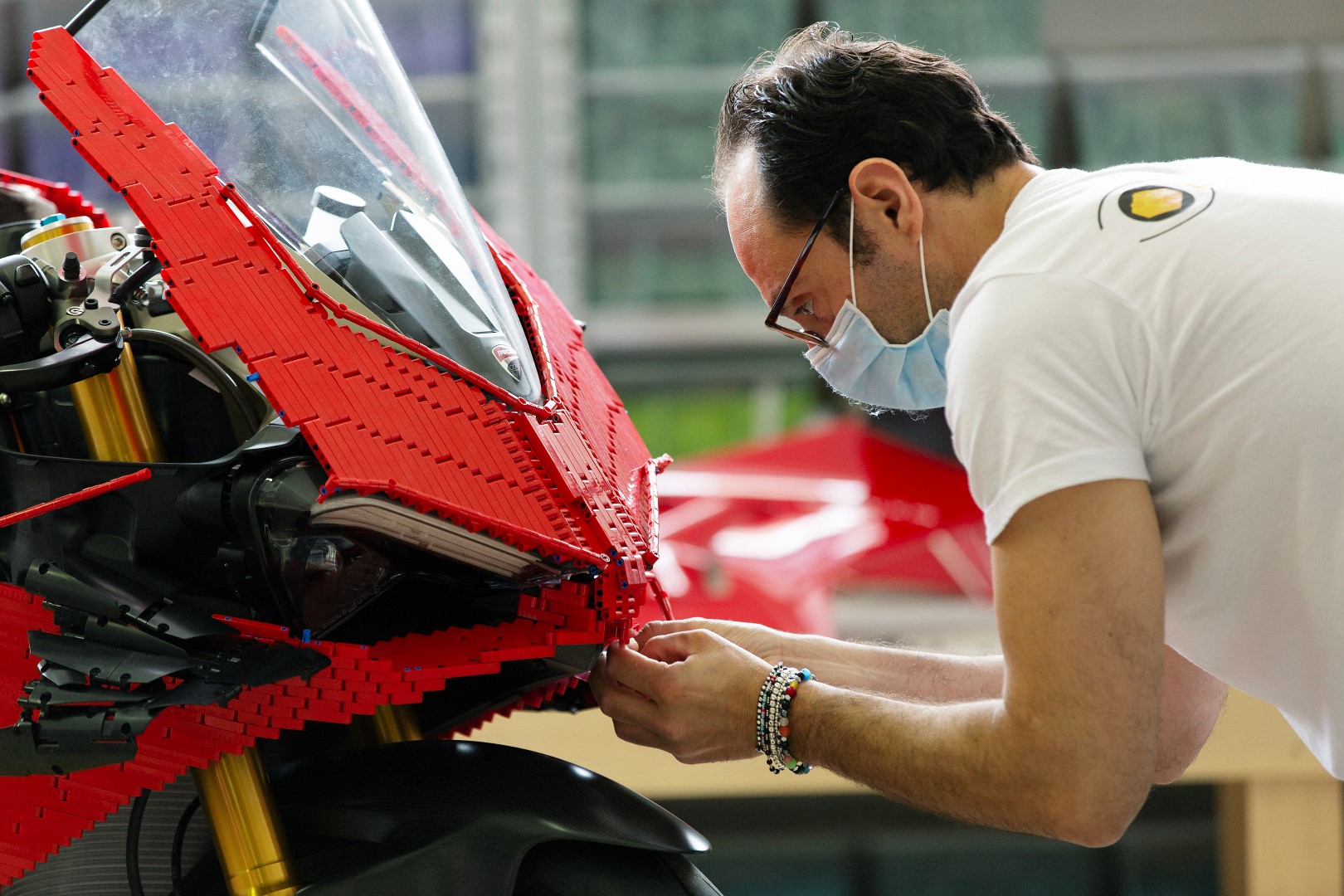 The Ducati Panigale V4 R and its Lego "twin" were placed side by side on 19th June at the Circuit in Modena, where the latter was witnessed and unveiled by official Ducati MotoGP racer Andrea Dovizioso, Paolo Lazzarin, General Manager of Lego Italia, and Claudio Domenicali, Ducati CEO.
Riccardo Zangelmi, who has been creating brick artworks for years and using LEGO Technic for the first time on this occasion, said he was thrilled with the result:
"Taking part in this project of Lego Italia and Ducati was the most exciting professional challenge I'd ever faced. It pushed me well beyond any limit and I succeeded by crossing the finishing line as part of a team. I approached the project as an official pilot of the Borgo Panigale Company, giving it my all on the track, looking for and overcoming new challenges. I was the first to look at the two motorbikes side by side, and I am happy to have captured the DNA that characterizes both Lego Technic and Ducati, recreating with bricks the motorbike that is symbolic of Italian excellence".
Model Details
Weight: 180 KG
Number of bricks: 15,000
Working hours for the building: 400
No piece or anchorage is glued
The most common elements are the BEAMS and the PINS
Main colors used: red, black, light grey
Completely designed without using CAD or software