Terberg Tractors Malaysia Sdn Bhd (TTM), the joint venture company established between Sime Darby Industrial Sdn Bhd (Sime Darby Industrial)
and the Netherlands-based Royal Terberg Group BV, looks to expand its reach in Asia Pacific with the launch of Malaysia's first fully battery-powered electric terminal tractor, Model YT200EV.
The YT200EV terminal tractor which is manufactured locally at TTM's manufacturing and assembly facility in Pasir Gudang, Johor, will be made available for distribution by early December 2022.
In line with Malaysia's aim to achieve carbon neutrality by 2050, the introduction of the YT200EV, is poised to address growing carbon emissions concerns within the logistics and freighting industry.
In 2021, CO2 emissions from Malaysia's transportation stood at 55 metric tons whilst globally the transport and logistics sector contributes around 24% of global CO2 emissions. By replacing an existing terminal tractor with an electric Terberg, approximately 30 tonnes of CO2 will be saved per vehicle per year – this is the equivalent of planting over 1 million trees or taking more than 6,000 cars off the road.
Chief Executive Officer of Terberg Tractors Malaysia Sdn Bhd, Mr Boo Wei Ching said at the launch, "We are proud to present Malaysia's first fully battery-powered electric terminal tractor that is in accordance with ESG frameworks. As one of the leading terminal tractors manufacturers supervising the supply chain of the entire APAC region independently from Malaysia, Terberg is confident that this new addition to the industry is a huge step to compliment the green aspirations roadmap with emphasis in replacing common industry practice with sustainable practices."
"Being an industry leader, we at Terberg feel that it is our responsibility to actively take part in a solution towards reducing carbon emissions. In addition to reducing carbon emissions the vehicle will also be able to significantly cut down on the operating costs involving diesel and other fossil fuels engines in the conventional terminal tractors or trucks. We are looking forward to bringing these benefits to all industries apart from
the port and logistics sector that utilise terminal tractors thereby collectively driving the industry to greener and more environmentally friendly practices".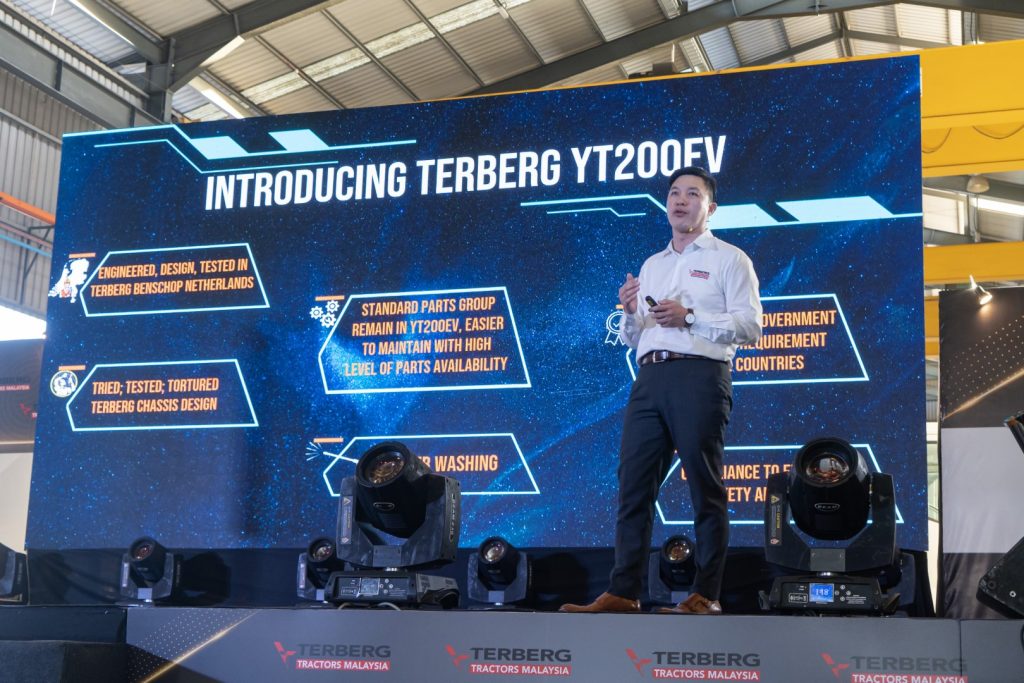 The launch took place at Terberg Manufacturing & Assembly Sdn Bhd (TMA) on Tuesday in Pasir Gudang, with the attendance of Malaysia's Book of Records, recognising TTM as the nation's First Full Electric Terminal Tractor Manufacturer.
An EV Engineered for the Industry Manufactured in Pasir Gudang, Johor, the YT200EV terminal tractor looks to be a solid entry point for industry players allowing more businesses within the sector to achieve the green aspirations in their respective operations. The terminal tractor will be utilised in the shipping and logistics industry supporting in the movement of cargo and containers within container terminals.
The terminal tractor is also a perfect match to operate in distribution centres, warehouses, receiving facilities, intermodal depots and industrial plants for shunting and housekeeping.
The YT200EV terminal tractor features 350kWh Lithium Iron Phosphate (LFP) batteries that provide continuous operation up to 10 hours (in container port operation) and can be fully charged within an hour. The vehicle also features a 240kW asynchronous water-cooled motor
drive, capable with sufficient torque to carry up to 90 tonnes payload, making it more efficient and cost effective than diesel tractors.