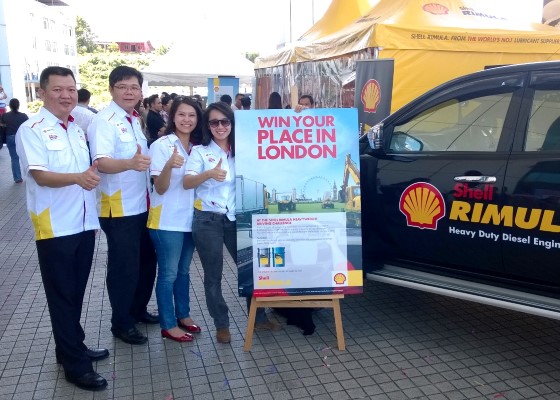 As part of its 2014 global promotion, Shell Rimula has kicked off its Technology Lab roadshow in Sarawak and Sabah, which will be making stops at eight different locations from May 10 to June 22.
In Sarawak, the roadshow was at KTS Crown Tower in Kuching on May 10 and at Delta Mall, Sibu on May 13; Park City Mall, Bintulu on May 15 and E-Mart Supermarket, Bandar Baru Permy Jaya, Miri on May 17.
Meanwhile, in Sabah it will be at Giant Supermarket at Mile 5, Jalan Labuk, Sandakan on June 6, Teck Guan Sdn Bhd, Taman Seri Perdana, Jalan Silam, Lahad Datu on June 8, Giant Supermarket at Jalan Apas, Tawau on June 14 and Sutera Harbour in Kota Kinabalu on June 22, all from 10.00am to 2.00pm.
The Shell Rimula Technology Lab aims to demonstrate the technology behind Shell Rimula and the benefits of synthetic lubricants in a fun and experiential way using special demonstration tool kits, digital applications, games and videos.
According to Shell Lubricants marketing manager Alex Lim, the combination of technology leadership, innovative products that deliver tangible benefits and strong ground-level interaction that demonstrated empathy with customers have strengthened Shell Rimula's market leadership position globally and also in Malaysia.
"We have a specially designed product and business solutions offering called "Driveline" that comprises a complete portfolio of technologically superior products to protect every driveline component against wear, acids and deposits: Shell Rimula heavy-duty diesel engine oils; Shell Spirax transmission, axle and gear oils; and Shell Gadus greases," he said.
The Shell Rimula global promotion this year also offers customers from around the world the opportunity to come together to compete in the 2014 Shell Rimula Heavyweight Driving Challenge as part of an exclusive VIP trip to London, England.
The contest which is running from April 1 till June 30 is open to all customers who purchase a drum or pail of Shell Rimula R4, R5 or R6 heavy-duty diesel engine oil.ers and offer them the most advanced lubricant products available in the world for all heavy-duty vehicles.
For more information on the latest Shell Rimula products and global promotion, please go to www.shell.com.my/rimula-heavyweight-challenge.