Integrated logistics solutions provider Sea Hawk Global Lines Sdn Bhd recently expanded their fleet with 20 units of the previous-generation MAN TGS 6×2 haulage specification trucks.
According to MAN Truck & Bus Malaysia, the decision to invest in MAN Trucks for the first time came after the company decided to review their previous strategy of using just one brand of trucks.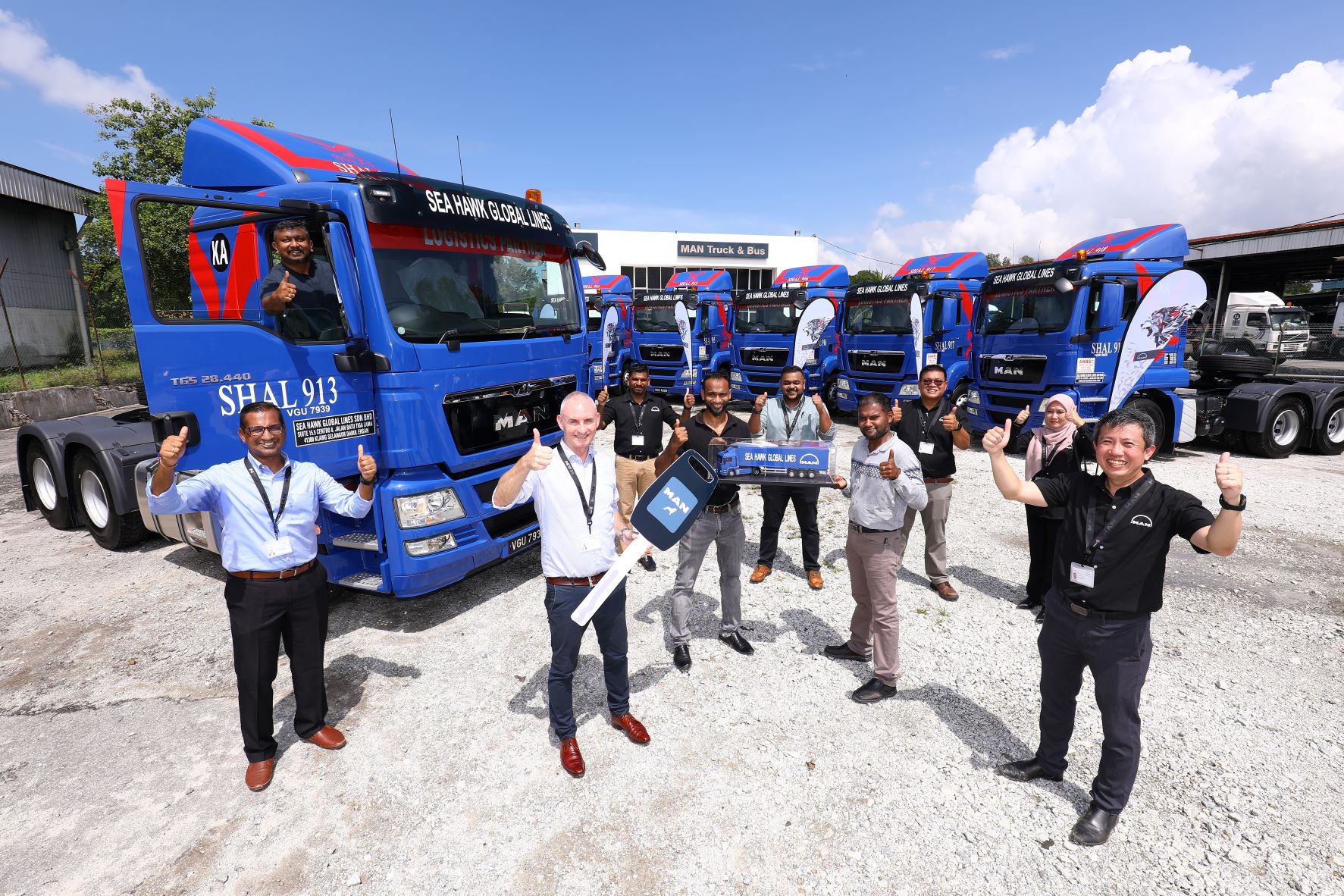 "We have heard a lot of positive feedback on MAN Trucks in the industry. We decided to give it a try following extensive evaluation as it ticks all the boxes – specifications that meet our requirements, proven fuel economy and reliability as well as solid aftersales support with a dedicated MAN Malaysia service centre located nearby," said Sea Hawk director S Kamalesh.
Port-Klang-based Sea Hawk, a major player in warehousing with sizeable facilities in Port Klang Free Zone, Westport and Northport, is preparing for a period of growth.
The launch of the new MAN Truck Generation with Euro 5 engines as standard in Malaysia has also caught the attention of the company.
"We will certainly consider adding the Euro V-powered new MAN TGS to our fleet as it will help us expand into the oil and gas sector where Environmental, Social, and Governance(ESG) compliance is a must. We applaud MAN Malaysia for its boldness in introducing this future-proof option for the haulage industry. From what we have seen, it is extremely well-designed to meet the needs of both business owners and drivers," he added.
MAN Malaysia Managing Director Andrew O'Brooks said that the company was delighted to welcome yet another major player in the logistics industry to the MAN Truck family.
"We would like to thank Sea Hawk for choosing MAN Trucks and are absolutely confident that our products would exceed their expectations. We look forward to supporting their expansion plans. In the just-launched New MAN Truck Generation, we have the perfect solution for them," he said.
MAN Malaysia has recently launched the New MAN Truck Generation, a completely new range of heavy-duty trucks in Malaysia that is oriented towards the changing requirements of the transport industry and sets new standards in key areas such as driver orientation, assistance systems, digital connectivity and reducing the environmental impact.
The New MAN Truck Generation Trucks comes with Euro V engines as standard, making MAN Malaysia the first heavy-duty Truck manufacturer in the country to step-up and do its part in helping reduce the carbon footprint of the transport and logistics industry.