So, the new fifth generation Toyota RAV4 SUV shocked the internet when news broke that it is priced from RM196,436, making it the most expensive model in its segment.
Bad, condescending remarks were flying from left, right, and centre all over social media and the internet, about how only stupid people will buy it, and how UMW Toyota have lost their minds, and this was just the tip of the iceberg.
Well, to be frank, even we were a bit surprised with the price, but not to the point of having to senselessly condemn it before even seeing it in the flesh, let alone driving it – which is always the case with most "car guys" you see on car website social media comment sections.
Look at the CH-R for instance – the same amount noise was made when it was released, and guess what? People still bought it, lots of it! It may not be the best-seller in its segment but there are still thousands of units on the road out there, and the owners are happy and have absolutely no regrets.
So, the moral of the story here is that, you say lah what you want to say; those who can afford it will still quietly go and buy it because it is actually a very decent product.
Coming back to the all-new Toyota RAV4 – we were given the opportunity to sample the range-topping 2.5-litre variant (RM215,665 minus SST) when it was launched, just to get a first-hand experience, and frankly speaking, it was not bad at all.
But before we get into the nitty-gritty, let us answer the magic question first – Why is the RAV4 more expensive than the top-spec versions of the Honda CR-V (RM175,900) and the Mazda CX-5 (RM181,660)?
Simple – While the CR-V and CX-5 are assembled locally, the Toyota RAV4 is fully imported from Japan. So, since the duties, taxes, incentives, and what not are different for both, imported vehicles have always been more expensive than CKD units. That's all.
"Will the RAV4 ever be assembled locally?"
We did ask the folks at UMWT during the launch, and the answer was, well… "We don't know yet…" as many factors have to be taken into consideration, and many processes need to take place between the manufacturer and the government before a vehicle can be assembled locally, so let us keep our fingers and toes crossed, hoping that the RAV4 will be assembled here and sold at a more competitive price in the near future, shall we?
Now, the second most important question – What exactly do you get for RM215,665?
Besides the different engine and gearbox (which we will get to shortly), both the 2.0 and 2.5 versions of the RAV4 get the same list of features on the exterior, interior, as well as safety, which includes:
LED Headlights & Tail lamps
LED DRLs
Automatic wipers
18-inch wheels
Powered tailgate with Kick sensor (first in class)
580-litres of boot space (biggest in class)
Keyless entry
Optitron meter panel
7-inch touch screen infotainment system
Apple CarPlay and Android Auto
Dual zone air-conditioning
Combination leather seats
8-way powered driver's seat
60:40 split-folding rear seats
Wireless charger for mobile devices
3D Panoramic View Monitor
Digital View Monitor
Waterproof boot floor board
Pre-Collision System (PCS)
Lane Departure Alert (LDA)
Lane Tracing Assist (LTA)
Dynamic Radar Cruise Control (DRCC)
Lane Departure Alert (LDA)
Auto High Beam
Blind Spot Monitor (BSM)
Vehicle Stability Control (VSC)
ISOFIX
Toyota Premium Security & Solar Film
Hill-Start Assist Control (HAC)
7 Airbags
Vehicle Telematics System
Sharing the same TNGA (Toyota New Global Architecture) platform as the latest Camry, the RAV4 2.5 we're looking at here is powered by a new naturally aspirated Dynamic Force engine, which is paired to an 8-speed automatic gearbox that sends power exclusively to the front wheels. Sorry guys, no AWD here.
As far as Toyota models in Malaysia are concerned, this is the first time this powertrain package is being offered here. Please inform your friends who like to take a swipe at Toyota for "always using old engine".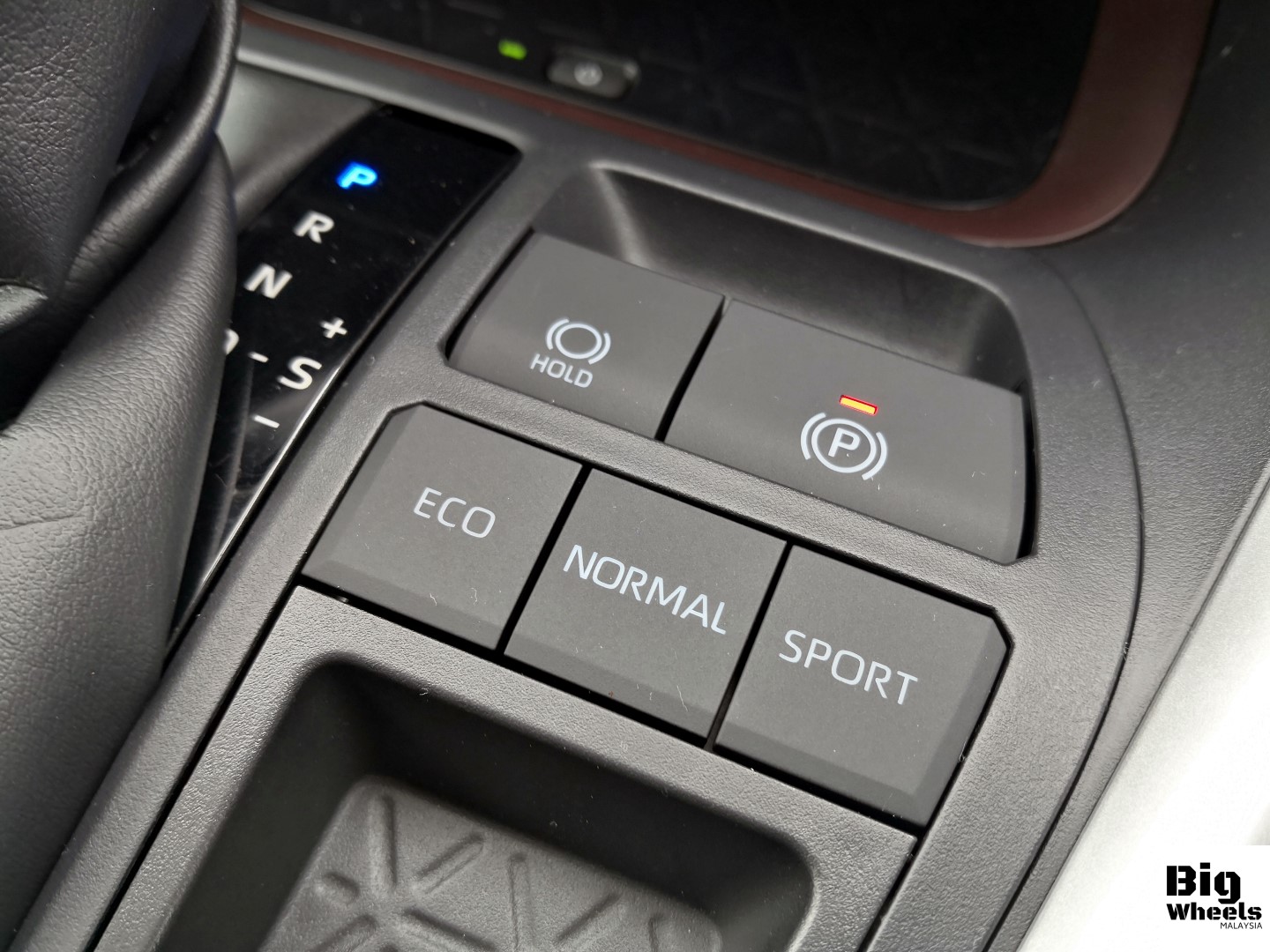 Offered in 6 colours (Dark Blue Mica, Red Mica, White Pearl CS, Silver Metallic, Gray Metallic, and Attitude Black), the all-new Toyota RAV4 is offered with a 5 years/ unlimited mileage warranty.
Driving it
While the RAV4's key rivals like the high-spec Honda CR-V and the Mazda CX-5 Turbo are turbocharged, the Toyota is naturally aspirated. So, it doesn't really pounce off the line when you put the accelerator pedal to the floor.
However, the RAV4 is anything but slow. Even though it takes slightly longer than its turbocharged rivals to get up to speed, power delivery is pretty seamless, and before you know it, you're way past the speed limit. Since it's naturally aspirated, there is no escaping from the engine noise when you accelerate as well, but it wasn't THAT loud.
Thanks to the Dynamic Force engine and gearbox that are made from a lot of lightweight material, the TNGA platform, and the fantastically sorted suspension, what we have here is one of, if not the best handling SUV in the segment.
For a vehicle its size, the RAV4 actually feels very light and agile. It also responds to steering input very sharply. Body-roll, weight-transfer, and things along that line that are typical of a top-heavy SUV, are barely noticeable, which makes the RAV4 quite an enjoyable SUV to drive versus models like the CR-V which can behave like a boat around corners.
While the driver is guaranteed a fun time, the occupants are also entitled to an enjoyable experience in the RAV4, thanks to the comfortable leather seats that provide decent support for occupants of all shapes and sizes.
Further adding to the whole experience is a generous list of features which you can check out above, and a spacious cabin which offers generous amount of head and leg space both in front and in the rear.
So, in a nutshell, while the RAV4 is slower than its turbocharged rivals, it is certainly among the best handling models in its class, and also one of the more spacious ones. Design wise, there is nothing much to shout about.
In terms of features, both 2.0L and 2.5L variants get the exact same things besides the engine and gearbox.
So, if power is not on top of your priority list, you can opt for the lower displacement variant and still enjoy all the equipment. Just that it's the most expensive model in class lah.
Is it worth it? Well, if you have the budget, absolutely. Otherwise, you can always look at its rivals that are more affordable.