We drove the Proton X90 to Genting Highlands and back, and here's how it went…
All set to make its debut within the next few weeks, the Proton X90 which is currently open for booking nationwide has very high expectations to meet as it is Proton's first seven-seater SUV, the brand's first hybrid model, and also the most premium model our national carmaker has made to date.
Expected to be priced somewhere between RM110,000 and RM150,000, the model will compete with six/seven-seater SUVs like the Mazda CX-8, Hyundai Santa Fe, and the Kia Sorento – all of which are priced above RM200,000.
Contrary to popular belief, the X90 is more than just a rebadged Geely Haoyue as it is fitted with a multilink rear suspension which was developed specifically for the Malaysian market, versus the Geely Haoyue's torsion beam setup.
According to the engineers at Proton, the different suspension setup required them to re-engineer the X90's rear portion extensively which explains why its rear design is quite different from the Geely Haoyue's.
So, to find out if it is any good, and to get a taste of what the X90 has to offer, we were allowed to drive it from Proton's Centre of Excellence in Shah Alam to Genting Highlands and back, and here is our verdict.
Overview
Design-wise, it is safe to say that the Proton X90 is a handsome model that looks well-proportioned. It looks just as good as its competitors that are significantly more expensive, thanks to features like the full LED headlights with LED daytime running lights, the grille that comprises a new Ethereal Bow and "Songket" design, funky fog lamps, as well as 19-inch alloy wheels that give it a premium look.
Moving into the cabin, the X90 comes with a generous dose of Nappa leather upholstery, a good balance between soft-touch material and hard plastic bits, and a lot of head as well as leg space for occupants in all three rows. Taking centre stage at the cockpit is a 12.3-inch touch-screen infotainment system and a 10-inch digital speedometer that features day and night modes.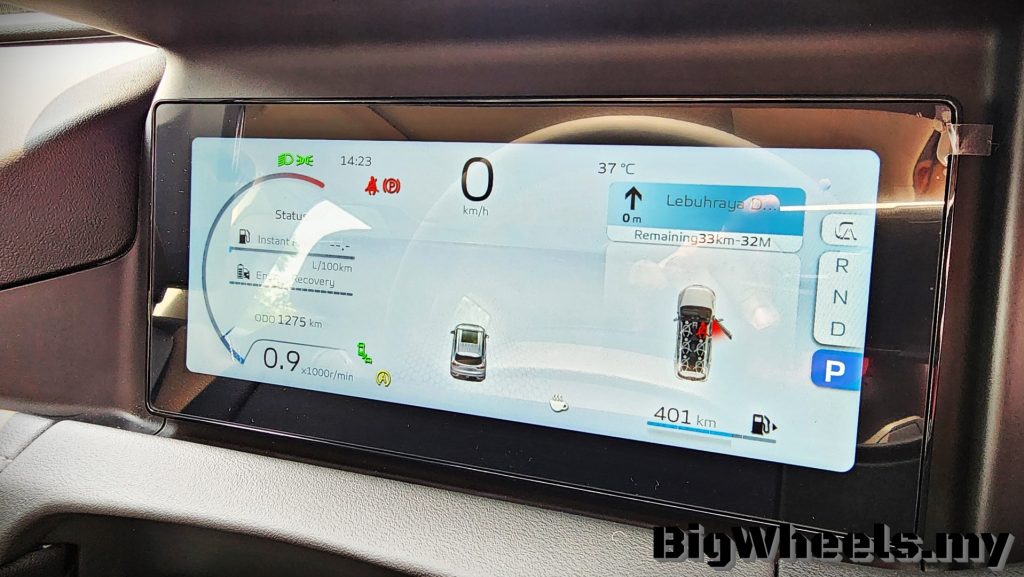 On the upside, finding a comfortable sitting position could be done easily thanks to the tilt and telescopic steering wheel and the powered driver's seat. The new and chunky steering wheel also had a good feel to it – not too heavy nor too light. There is also a wireless charger, two USB charging ports, and a lot of storage space which added to our convenience.
While the gear lever, the buttons, and all the switches are made from good quality material, the seats provided an impressive level of comfort and support. Also worth mentioning here is that the co-driver's seat comes with the "boss seat" function, allowing the second-row occupants to adjust it from behind.
On the downside, the infotainment system took some time to get used to as it is Proton's system, and there is no Apple CarPlay or Android Auto, which is a bummer.
Since this is the Flagship (six-seater) variant, the second row comes with two individual captain seats which are very comfortable. Space is not an issue at all as the amount of head and legroom is mighty impressive. Even the third-row seats are spacious enough to fit two individuals who stand 175 cm tall.
Driving the Proton X90
Powering the Proton X90 is the same 1.5-litre turbocharged three-cylinder petrol engine as the X50 and the X70, which is paired with a 48-volt mild hybrid system which brings the total output to 190 PS and 300 Nm of torque. In addition to using 15% less fuel than the X50, the mild hybrid system is also there to give the X90 a bit more power.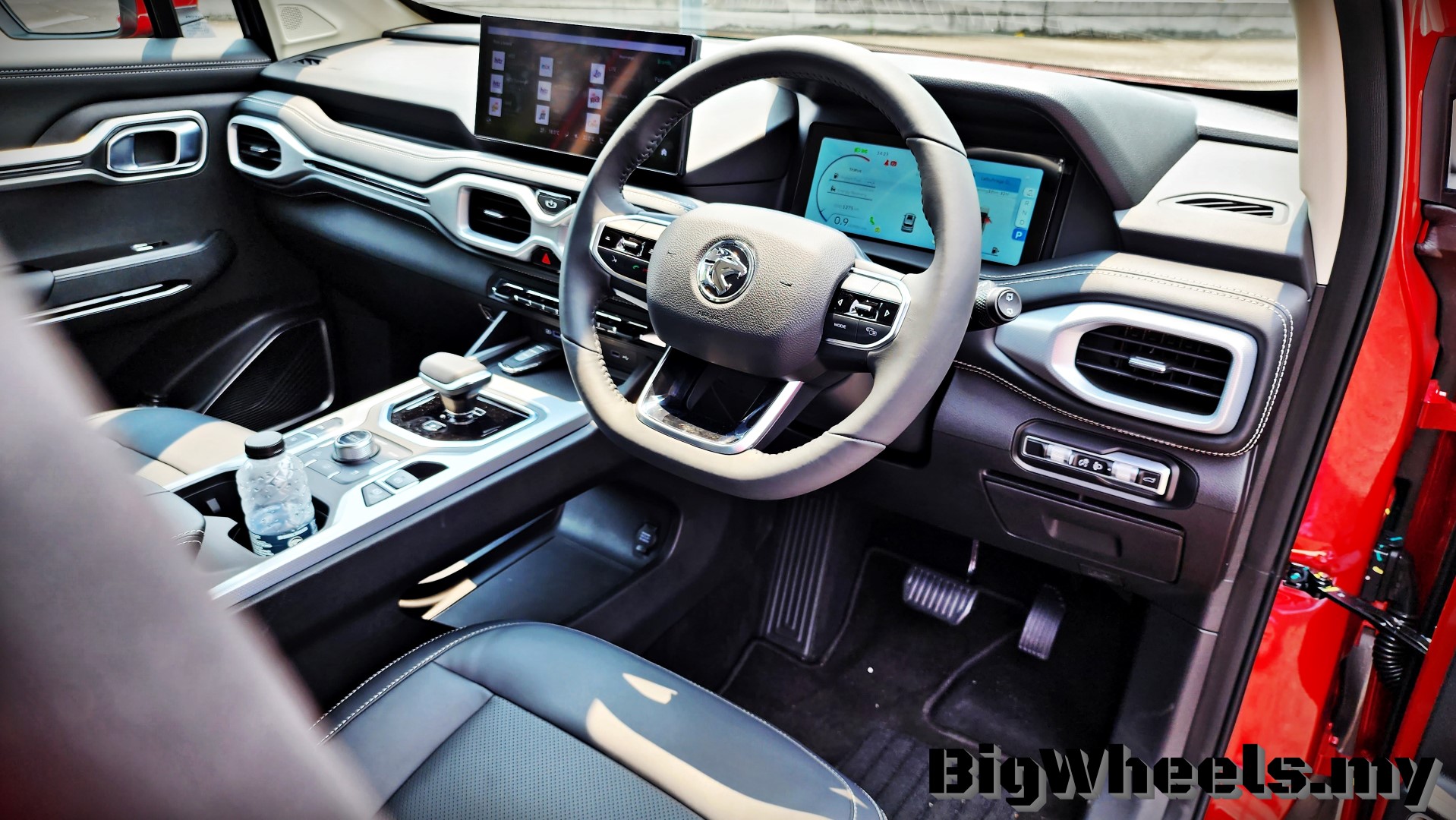 Is there enough power? Absolutely. All the power from the engine is sent exclusively to the front wheels via a seven-speed dual clutch gearbox which does its job smoothly.
In fact, never once did the X90 show any signs of struggling as we were driving up Karak Highway or even the twisty uphill roads of Genting Highlands with four healthy occupants in the car.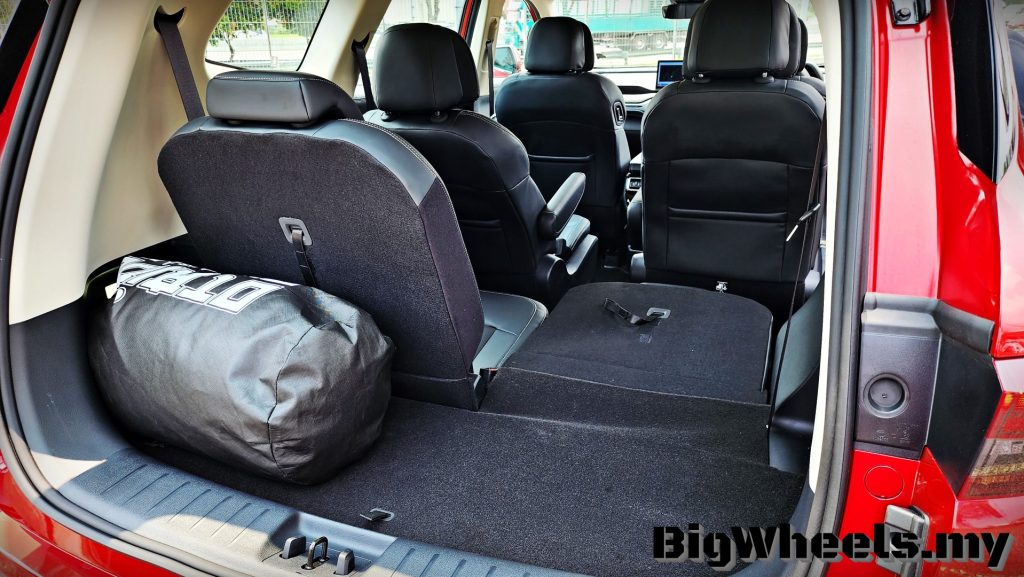 The X90's handling is impressive as well, as there is very little body roll while cornering. Although it is still not as sharp as the Mazda CX-8, it certainly feels more planted than the Hyundai Santa Fe and the Kia Sorento.
The only minor hiccup was that the engine noise got louder when we were flooring it along the steeper stretches heading toward the peak of Genting Highlands. However, when we were cruising at speeds of up to 130 km/h, the engine was revving at about 2,500 rpm, translating to a quiet and comfortable journey.
Adding to the whole experience was the panoramic roof, two USB charging ports and cupholders for every row, the roof-mounted air vents, as well as the dedicated rear air-cond control which make the X90 an ideal and well-equipped family vehicle that is perfect for long-distance journeys.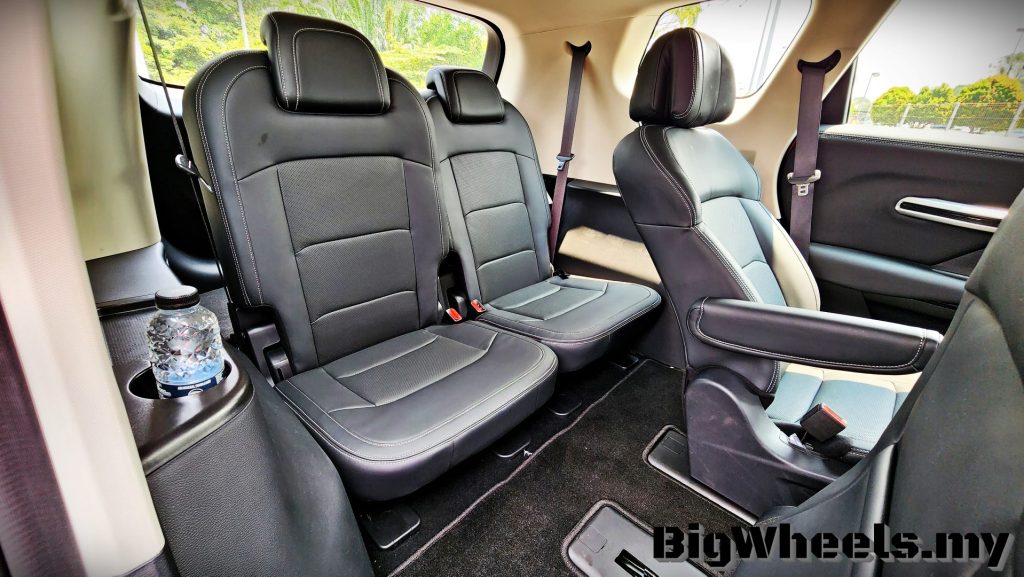 The list of safety features includes six airbags, a 360-degree camera, ABS, EBD, vehicle stability control, hill descent control, hill start assist, rear Isofix child seat anchors, and a ti pressure monitoring system.
The list of driver assistance features is also extensive with a Blind Spot Information System, Lane Departure Warning, Forward Collision Warning, Intelligent High Beam Control, Autonomous Emergency Braking, Adaptive Cruise Control with stop-and-go functionality, Parking assist, and Automatic high beam.
Conclusion
Overall, what we have here is a well-equipped all-rounder that is very spacious, comfortable, and nice to drive. While we don't know what the price is going to be, rumour has it that the X90 will ask for no more than RM150,000, which means excellent value for money.
That being said, we could be looking at the next best-seller in the segment here.