Out of all the new cars that were launched in Malaysia throughout 2021, the model that impressed me the most was not a Porsche, not a Mercedes-Benz or a BMW, or any other premium model for that matter. It was actually the Perodua Ativa AV and here's why.
Until the year 2018, those who wanted an SUV with a decent list of features had to fork out at least RM95,000, and even that was only after the Proton X70 came into the picture. Prior to that, well-equipped SUVs were all priced over RM100,000.
Even the models that were priced between RM95,000 and RM110,000 were entry level models, while the models with the full list of bells and whistles were all priced well over RM120,000.
All of that changed when Proton launched the X50 in 2020, priced between RM79,200 and RM103,300, making it the SUV which offered the best value for money.
But then again, to get the full package of things, you had to pay RM103,000 which is still a lot of money for most Malaysians.
One year later, Perodua raised the stakes by unleashing the Ativa, changing the Malaysian SUV market forever. For the first time ever, a middle-class Malaysian could finally afford a properly equipped NEW SUV for less than RM75,000.
Just to put things into perspective, a low-spec Toyota Vios 1.5 J costs RM74,623 on the road without insurance. Which one would you go for?
"But bro, does the Ativa give me more features than the Vios?" you may ask… To answer that question, let us have a closer look at the high-spec Ativa AV which we got our hands on some time ago to see what it has to offer.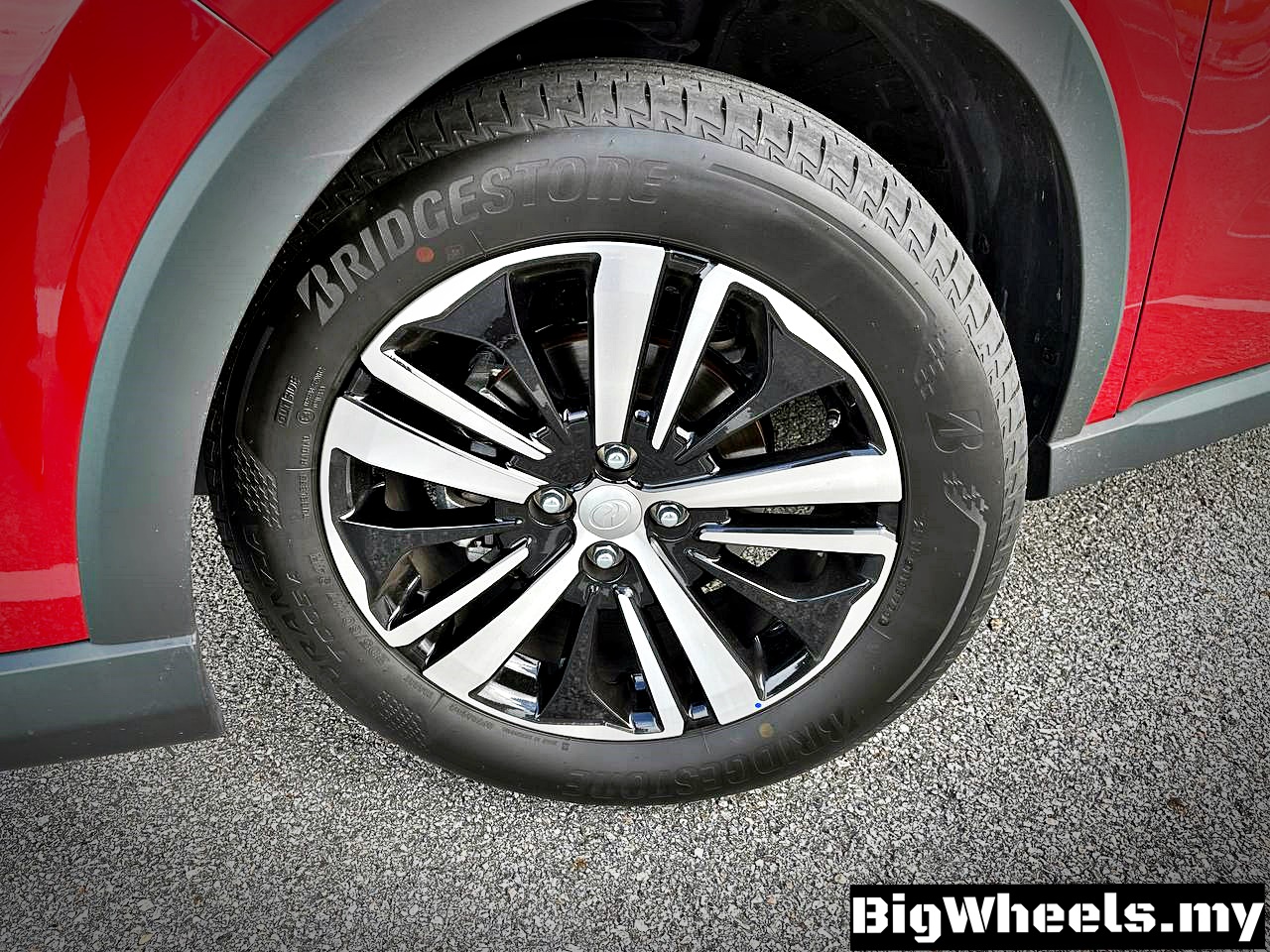 Powered by a 1KR-VE 1.0-litre turbocharged engine that is paired with a D-CVT gearbox, the Ativa, which is Perodua's first model to come with a turbo and a CVT, produces 98 PS and 140 Nm of torque, with a fuel consumption of 18.9 l/km.
The main highlight of the Ativa has to be the Advanced Safety Assist (ASA) 3.0, which is standard across the range for the first time.
The ASA 3.0 features which work at speeds of up to 120 km/h for vehicles and 60 km/h for pedestrians can even detect two-wheeled vehicles and function at night.
On top of ASA 3.0, there is the Perodua Drive Assist and Parking Assist that are offered only in the H and AV variants, with features like Pre-Collision Warning, Pre-Collision Braking, Pedal Misoperation Control, Front Departure Alert, Lane Departure Warning, Lane Departure Prevention, Adaptive Cruise Control, Lane Keep Control, Blind Spot Monitor, Front Corner Sensor, Rear Corner Sensor, Reverse Camera, and Rear Cross Traffic Alert. Impressed yet?
Exterior
Measuring 4,065 mm in length, 1,710 mm in width, and 1,635 mm in height with a 2,525 mm wheelbase, the Ativa AV here comes with 17-inch wheels.
Essentially a rebadged and Malaysian-ised Daihatsu Rocky, the Perodua Ativa is actually a handsome vehicle that looks better than the Rocky and the other twin – the Toyota Raize.
The high-spec AV variant here comes with LED headlights and taillights, a two-tone paintjob, sporty looking bumpers, necessary amount of chrome bits to contrast the blacked out bits, a shark fin antenna, as well as Bridgestone Turanza tyres.
Unlike the old Perodua Rusa which looked quite mundane, the Ativa here looks good from any angle you look at it, and even though it has been around for half a year, it still looks fresh and sharp.
Interior
Upon opening the doors of the Perodua Ativa AV, you will be greeted by leather seats with contrasting red stitching that provide good level comfort and support.
The dashboard, door panel, pillar covers are all clad in hard plastic unfortunately, but the saving grace is that components like the air vents and the trim on the dashboard were well-designed and don't look cheap.
On the bright side, there is a seven-inch fully digital TFT multi-info display, and a nine-inch touch-screen infotainment system with voice recognition, Bluetooth, MP3, and Smartlink for Android devices. Adding to convenience are four USB ports, a HDMI port, six speakers, and a DVR.
In case you're wondering how spacious it is, there is enough head and leg space for four six-footers or five regular sized individuals in the Ativa.
For luggage, there is 350-litre of boot space with the rear seats up, which is 20-litres more than the Proton X50. Once you fold the split-folding rear seats, you can store even more.
To put things into perspective, the quality of the interior is somewhat similar to what you get in the new Myvi, which is not bad at all for its price.
Driving it
On paper, 98 PS and 140 Nm of torque might sound inadequate but believe me when I say that the Ativa here is anything but slow. Thanks to the turbocharger, power is available instantly upon pressing the accelerator, making it an enjoyable punchy little vehicle to drive around town.
Due to its compact size, parking the Ativa and manoeuvring it even at the busiest of places is a piece of cake. Further reducing the stress are all the safety and driver assistance features thrown into the mix.
The safety features and the ADAS system were not only doing a brilliant job in making sure that we were always safe, but they were working in a way that was not disruptive with loud beeps and alerts like some cars in the market.
As impressive as the Ativa was in town, it felt good on the highway as well, cruising at speeds of up to 140 km/h effortlessly. Whenever I felt like relaxing, I just turned on the Adaptive Cruise Control and let the Ativa take care of things by itself, which it did impressively.
Conclusion
In a nutshell, what we have here is a very capable product that has brought the latest safety and driver assistance features which we used to find only in vehicles that asked for more than RM100,000, much closer to the rakyat.
Yes, there is still room for improvements in areas like the interior build quality and whatnot, but what matters here is what the Ativa AV has to offer more than what it doesn't have, and for RM73,000, it is safe to say that no other new vehicle in the market can match the Ativa AV's specs, which makes it the best vehicle of 2021 in my opinion.