When the folks at Suzuki Malaysia contacted me to inform that the 2021 Suzuki GSX-R1000 was ready to be reviewed, I wasn't really looking forward to it because superbikes were never really my thing.
I never liked riding sports bikes because I am a big dude, and I didn't really enjoy myself the first few times I rode one many years ago. Having to ride in a hunched position and shifting my body weight from one side to another on these monstrous machines was downright frightening, and tiring.
Now, bear in mind that this was during a time when I had very little experience on big bikes, and an era when bikes had minimal electronic intervention, no riding aids, no traction control and whatnot.
So, since the first few times were not memorable, I developed a negative feeling towards sports bikes, and started avoiding them altogether for many years without trying to understand them better, even though they have improved by miles over the years.
Having gained some experience and courage over the past couple of years, I accepted the challenge this time around, and agreed to spend a few days with the Suzuki GSX-R1000 just to see if sports bikes have changed since the last time I rode one, and boy, it was the best decision ever.
Overview
Launched last August, the sixth-generation Suzuki GSX-R1000 here was the first of six new models which Suzuki introduced in Malaysia, with an asking price of RM99,289 on the road without insurance.
Powering the bike is an inline four-cylinder liquid-cooled, 999 cc DOHC engine producing 202 PS and 118 Nm of torque, which is just the tip of the iceberg.
Complementing the proven engine is a long list of gizmos including the Suzuki Racing Variable Valve Timing (SR-VVT) system, Suzuki Advanced Exhaust System, a close-ratio 6-speed gearbox, Motion Track Brake System, Suzuki Clutch Assist System, Quick Shifter (up and down), a 10-mode Traction Control system, Low RPM assist, fully adjustable Showa forks, Brembo 4-piston radial-mount brake calliper in front, and Nissin single-piston caliper at the rear, among others.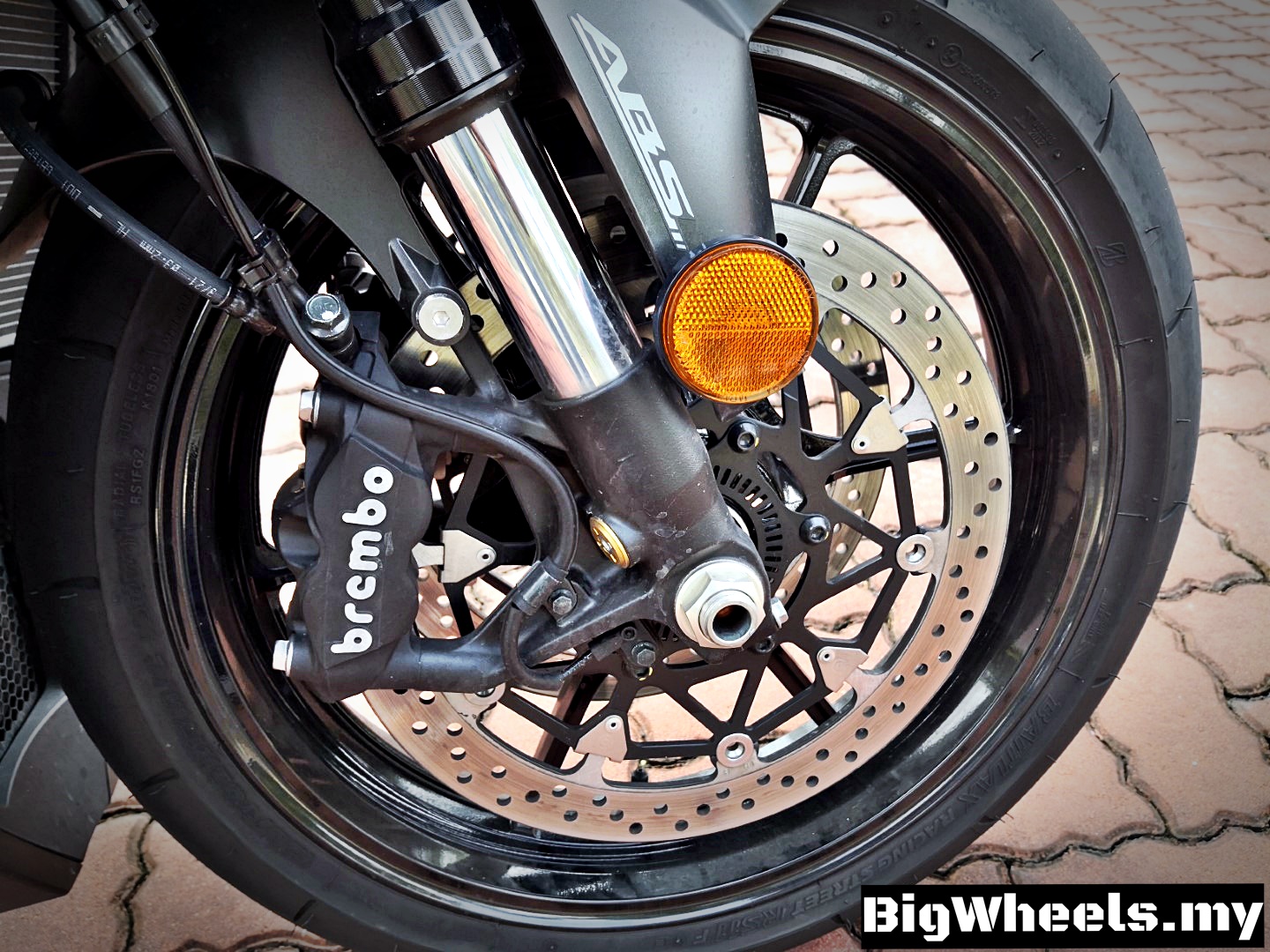 Weighing just 201 kg, the bike is built on a frame that is lighter than before, and comes with Suzuki Easy Start System, Suzuki Drive Mode Selector, and Launch Control. Seat height stands at 825 mm which is similar to the new Suzuki Katana, just to put things into perspective.
Unlike the Suzuki GSX-R1000R which comes in two colour options, the GSX-R1000 is only offered in Metallic Matte Black colour here in Malaysia.
Riding experience
The first thing I noticed during my stint with the GSX-R1000 was how slim it is compared to its predecessors. Standing 179 cm tall, I could put both my feet flat on the ground upon sitting on the 825 mm-tall seat, and hunch only a little bit in order to reach the handle bar.
Adding to the comfortable riding position was the foot pegs that are positioned not too high. Upon firing the engine up, I was greeted by the sweet bass-y note of the four-cylinder mill which was pure music to my ears.
With Traction Control set at '5' for 50% intervention and power mode set at "A" for full power, I began my journey on the GSX-R1000, riding around town familiarising myself with the bike.
The first thing I noticed was how smooth and comfortable the bike was. Unlike your Yamahas and Ducatis that just pounce the moment you give the throttle the gentlest of twists, the Gixxer's throttle is very forgiving.
And then there is the bi-directional Quick Shifter which makes the whole riding experience so relaxing and effortless as there is no need to touch the clutch during upshifting or downshifting.
As comfortable and relaxing as it is, the GSX-R1000 is also super sharp and handles brilliantly well around corners. In fact, it is so agile and manoeuvrable that there is no need for unnecessary knee-down action unless you're a pro and you're pushing it to its absolute limits. It was a case of just "point and shoot" with some counter-steering.
Unlike many modern lap-time-obsessed sports bikes that scare you with their "in your face" type of power delivery with minimal comfort and composure, the GSX-R1000 actually instils confidence in you and lets you enjoy all the power it has.
In fact, the more you ride it, the more you want to ride it. It feels as though the bike is going "don't worry, just go for it, I am here with you" whenever you think if giving it a bit more power while accelerating, while negotiating a corner, or during overtaking.
Believe it or not, I went from "God, I hate sports bikes!" to "Wow, this feels amazing!" in just over an hour, and I was still riding around town.
Once I hit the highway and gave it more gas, my mind was blown away as I reached speeds that I should not mention here in a blink of an eye. What makes the GSX-R1000 so impressive and desirable is that it feels so sturdy and composed even at speeds of more than 200km/h.
In case you're wondering how fast this thing can go, it is a proud member of the 299km/h club.
Conclusion
What makes the Suzuki GSX-R1000 so impressive is its versatility and daily-usability. At the same time, it is also blisteringly fast and agile, making it one of the most complete bikes in its segment.
As good as it is, there is still room for improvement. If only it came with features like heated grips and cruise control, it would be even more complete, on par with models like the BMW S1000RR.
But then again, for its competitive price tag of RM99,289, what the GSX-R1000 has to offer is without a doubt, an ultimate bang for the buck.