The pickup truck segment in Malaysia recently welcomed a newcomer in the form of Angka-Tan Motor's all-new JMC Vigus Pro 4×4, which we spent a couple of days with in order to see how it fares against its competitors.
Overview
Priced at RM98,888 on the road without insurance, the JMC Vigus Pro is powered by Ford's 2.0-litre turbocharged Puma diesel engine with a high-pressure common-rail fuel injection system, variable geometry turbocharger, intercooler and EGR cooler bypass valve, producing 141 PS at 3,600rpm and 340 Nm of torque from 1,500 rpm to 2,600 rpm.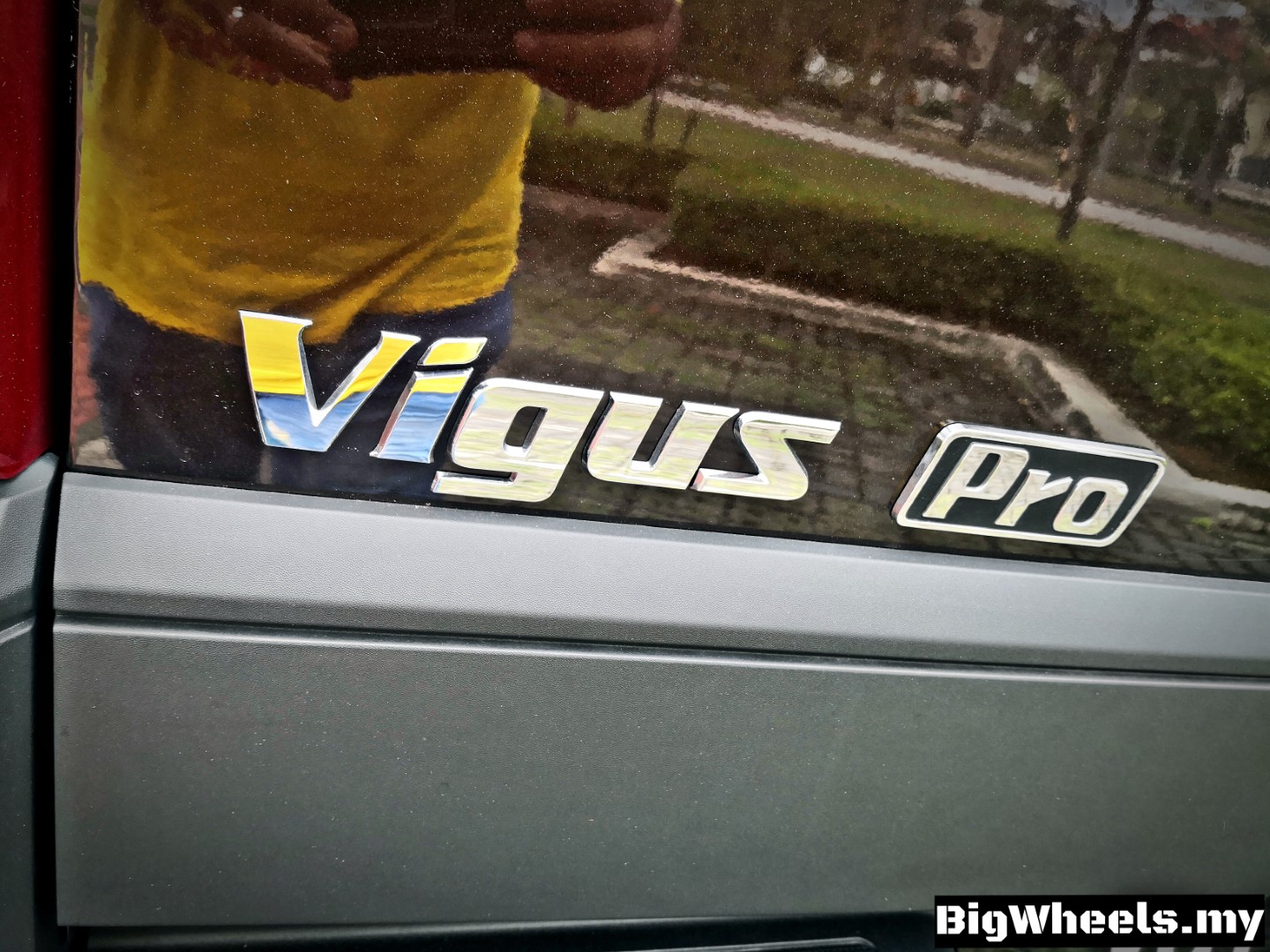 Assembled locally at the Tan Chong Motor plant located in Serendah, the Vigus Pro comes with a 3-year/100,000km warranty, whichever comes first.
Only one variant is available in Malaysia, powered by the aforementioned engine that is mated to an 8-speed automatic gearbox by ZF, which is operated through an electronic gear selector with manual shift mode function.
Capable of carrying a maximum load of 850 kg, the JMC Vigus Pro's claimed fuel consumption stands at 7.8L/100km. While the front suspension is a fully-independent double-wishbone type with reinforced stabiliser bar, the rear rests on leaf springs.
Complementing the suspension is a 4WD system developed by BorgWarner. Users can switch between 2WD, 4WD and low-range 4WD modes via a rotary dial to cater to changing surface conditions. The rear axle is also fitted with an Eaton limited-slip differential lock.
Inside, there is a multi-functional steering with controls for the infotainment system, cruise control, and voice calls via Bluetooth connection. The steering wheel also comes with paddle shifters.
Infotainment is taken care by an 8-inch colour touch-screen which comes with Bluetooth connectivity, MP5 video playback, and reverse camera.
Design
The JMC Vigus Pro's biggest strength is definitely its design. Realising that first impression is the best impression, the folks at JMC have gone all-out with the Vigus Pro's looks. Just look at it.
The large hexagonal grille with chrome inserts, slim headlamps with C-shaped LED daytime running lights, and a lower bumper guard certainly demands the attention and acknowledgement of everyone who is nearby.
Truth be told, every friend of ours who set their eyes on the Vigus Pro for the first time went either "Wow!", "Whoa!", or "Damn!" during our stint with it.
While we don't know if they were really impressed or they were just pulling our legs, there is no denying the fact that the Vigus Pro is one radically designed pickup truck which you cannot miss.
Once you move along to the side and the rear, you will first find the usual stuff like the sports bar with an integrated high-mount third brake lamp, side steps, auto-folding wing mirrors with LED indicators, and two-tone 16-inch alloy wheels – a list that is quite comprehensive for a pickup truck that is priced around RM100,000.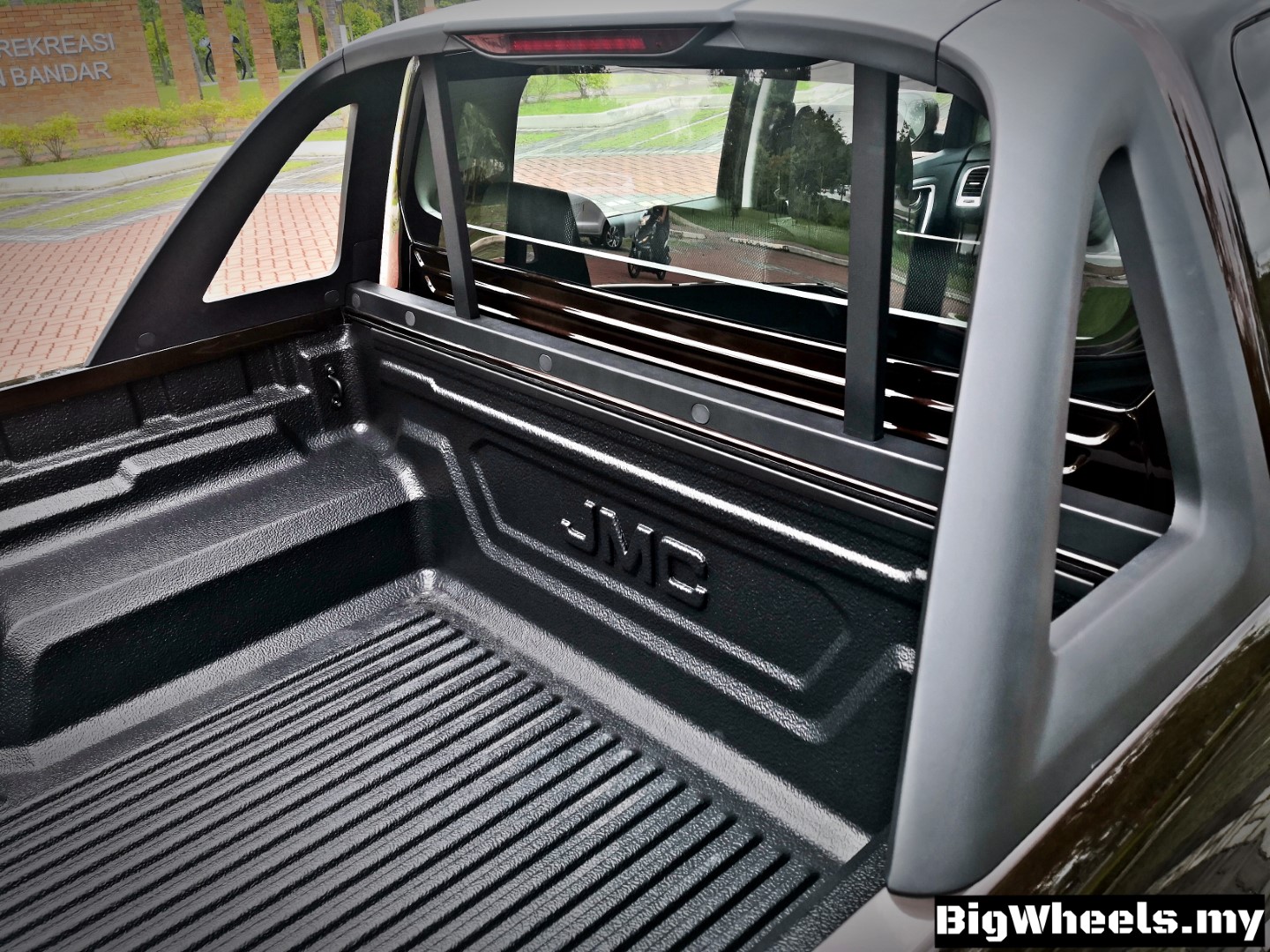 We just don't know why they positioned the bed hooks on the body itself instead of hiding it in the bed because it simply looks like an afterthought.
Although they are there for a reason, they stick out like a sore thumb when you look at the truck from the rear.
Inside the JMC Vigus Pro
Just like the exterior, the JMC Vigus Pro's cabin looks funky with the stylish steering wheel, the gear lever that looks like it came straight from a space ship, the vertical air vents, and the bling-y "chromed" bits on the doors.
Even though the Vigus Pro is priced significantly lower than most 4x4s in the market, most features which one would expect in a modern day pickup truck is there, like the paddle shifters, the touch-screen infotainment system, the TFT screen, Bluetooth connectivity, as well as the steering-mounted controls for audio and cruise control.
On the bright side, all the buttons, levers, and controls are positioned ergonomically where they are supposed to be, and they look good.
However, the build quality and materials used are still not quite there yet if we are to compare it with its Japanese rivals.
And then we have the fabric seats that offer decent level of comfort, but they're just too soft for our liking.
At the rear, there is enough space for three adults to sit comfortably with occasional shoulder rubbing, and in case you're wondering, there are no rear air-cond vents.
In a nutshell, the Vigus Pro's cabin is spacious and pleasant-looking, but it feels like how models like the Hilux and the D-Max felt five or six years ago – a little less refined than what they are today.
Driving the JMC Vigus Pro
On paper, the 2.0-litre engine, 141 PS, and 340 Nm of torque may appear to be inadequate compared to what its rivals are producing, but believe us when we say that the Vigus Pro is anything but slow.
The 8-speed automatic gearbox from ZF, which the same company that supplies transmissions to BMW, does a fantastic job in ensuring that there is always enough power being sent to the wheels every time you press the accelerator.
Even with five occupants, the Vigus Pro showed no signs of struggling regardless of whether we were in town roads or on the highway. Power delivery was always sufficient.
In terms of ride and handling, there is still noticeable body roll, and the suspension is quite firm, but once you load it up with occupants, it feels more planted, typical of a ladder-frame chassis pickup truck.
Thanks to the reverse camera and all the sensors around the Vigus Pro, manoeuvring the Vigus Pro around tight spots such as car parks and back alleys was not an issue at all.
Conclusion
The JMC Vigus Pro here is a capable workhorse through and through, underpinned by components that have a proven track record such as the Ford engine, ZF's gearbox, BorgWarner's 4WD system, and the Eaton LSD-lock.
Therefore it is safe to say that it is just as capable as any other pickup truck in the market when it comes to fulfilling its duties to carry stuff from point to point.
If we look at other brands, what you can get for about RM100,000 is the kosong-spec Hilux Single Cab manual (RM93k), the Triton VGT 4×4 manual (RM100k), the Isuzu D-Max 1.9 4×4 Std manual (RM99,599), Isuzu D-Max 1.9 4×2 Auto (RM101k), or the Ford Ranger 2.2L XLT Manual (109k sudah luar bajet kaw kaw ni).
All of the above are either a manual, a single cab variant, or a 4×2, which makes the JMC Vigus Pro 4×4 which asks for RM98,888 a much better proposition.
Yes, it is not on par with the high-spec versions of the Hilux, D-Max, Triton, and the Ranger in terms of refinement, technology and whatnot but those models are asking for well over RM120,000 at the moment.
So, the moral of the story here is that if you're looking for a capable pickup truck that is somewhat stylish and generous with features with a limited budget of RM100,000, look no further than the JMC Vigus Pro.