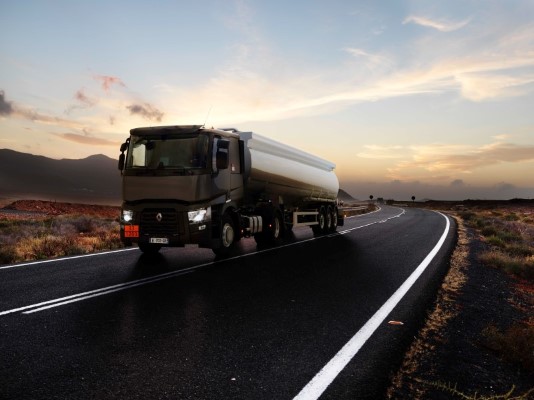 Renault Trucks has developed a Tanker version of its T vehicle which has been specially configured for light weight and enhanced safety features.
In order to make unladen weight as low as possible, thereby increasing payload, the Renault Trucks T Tanker is fitted with aluminium rims, air and fuel tanks as well as a lightweight fifth wheel. Furthermore, a number of non-essential elements such as door extensions have been eliminated. Overall, this enables the payload of a Sleeper Cab version to be reduced by as much as 270 kg compared with a standard T vehicle.
It features an obstacle-free right hand side member allowing complementary specific equipment to be fitted, according to these activities' rfequirements. As far as safety for the load and the driver are concerned, the T Tanker also features a new Tyre Pressure Monitoring System as standard. This allows the driver to constantly monitor tyre pressure from the dashboard, thereby avoiding any risk of under-inflation which could result in burst tyres.
This system also makes it possible to optimise fuel consumption and tyre durability. The tyres fitted as standard to the T Tanker boast the highest performance on the market in terms of braking distance. The Renault Trucks T Tanker is also equipped with the Protect pack as standard combining the speed regulator with the Adaptive Cruise Control (AAC) which maintains a safe distance between vehicles, the turning lights, automatic light activation, xenon headlights, headlight washers and tyre pressure monitoring.
Finally, the T Tanker has earned ADR certification allowing it to carry all types of hazardous materials and is therefore equipped with a bumper protecting the exhaust line, a battery cutout and an orange torch inside the cab.