In light of the tremendous support received from Malaysians, Proton today announced that it will be introducing not one or two, but four Special Edition models – the Iriz, Saga, Persona, and Exora – all of which are set to be launched virtually on the 18th of February 2021 at 11am.
Malaysians will also be able to place bookings for the Special Edition models on the same date and time. According to Proton, these Special Edition models will provide the same level of comfort, safety and handling that are offered in their standard sibling models, except they have now been enhanced in the aesthetics department.
What this means is that the Special Edition variants of the Saga, Iriz, Persona, as well as the Exora will only come with cosmetic enhancements and not any sort of mechanical updates, similar to what the National carmaker did with the Saga in the form of the 35th Anniversary Edition.
On 9 July last year, Proton unveiled the Proton Saga Anniversary Edition in conjunction with its 35th anniversary. Since its first rollout in 1985 up till today, different generations of the Proton Saga can be seen everywhere in the streets of Malaysia, proving itself as a popular car model in the nation.
Regardless of this, it was still unpredicted when all 1,100 units of the Proton Saga Anniversary Edition were sold out within five days of being launched, which serves as a testament to the desirability of not only the Proton Saga, but also for special edition cars.
Proton Saga Anniversary Edition
The Saga 35th Anniversary Edition was available exclusively in black with yellow highlights on both the exterior and interior of the car, with an asking price of RM39,300, which is the same as the current Saga Premium AT after the zero sales tax rebate.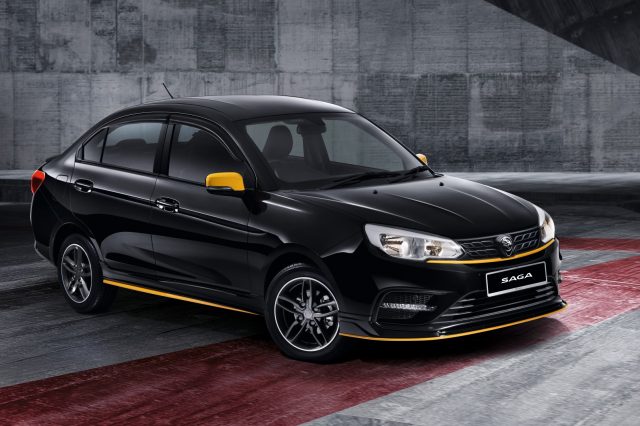 Also unveiled during the launch was the 35th Anniversary Accessories package which includes Front Skirting, Side Skirtings, Door Visors, Hood Insulator, Trunk Lid Cover and Boot Tray priced at RM2,035.
Available for purchase separately and compatible with the 2019 Saga model, the anniversary package offered significant cost savings of RM315 as purchasing the parts individually totals RM2,350.
That being said, we can expect the upcoming four Special Edition models of the Saga, Iriz, Persona, and Exora to be quite similar with the Anniversary Edition, but with different colours, themes, and enhancements.
Whether they will all be 'Black and Yellow' editions or something more still remains a mystery, so watch this space to see what Proton has up its sleeves this Thursday.