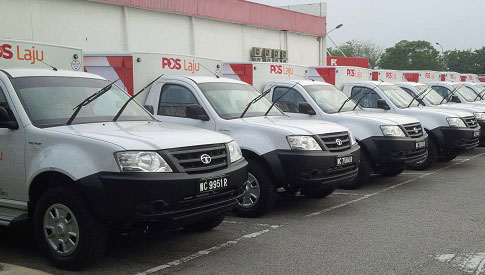 POS Malaysia Berhad (POS Malaysia), the postal service provider of Malaysia has introduced the Tata Xenon Single Cab 4×2 Pick-up to complement its logistics business, especially for the Courier, Express and Parcel (CEP) pick-up and delivery services. A total of 553 units of Tata Xenon Single Cab 4×2 Pick-up with special fabricated customised box body were purchased based on its innovative design, intelligent automobile technology, comfortable interior features and distinctive exterior design.
Combined with a 5-speed synchromesh gearbox, the Tata Xenon Single Cab 4×2 Pick-up is reliable and agile, allows customers to go the extra mile effortlessly. The vehicle is powered by a 2.2L common rail turbo diesel engine that delivers 140Ps@4000rpm with a robust torque of 320Nm@1700-2700rpm. The innovative designed special customised box body is equipped with reverse camera, strong body structure and chassis frame to support heavier loads capacity, easier loading and unloading with access from rear and both sides of load body to meet POS Malaysia's requirements.
The handover of the Tata Xenon Single Cab 4×2 Pick-ups with special fabricated box body to POS Malaysia was held in the presence of Mr. Rudrarup Maitra, Head – International Business, Commercial Vehicles, Tata Motors Limited and Dato' Abdul Harith Abdullah, Chief Operating Officer, Automotive Distribution & Defence, DRB-HICOM Berhad.
The Tata Xenon Single Cab 4×2 Pick-up project had commenced in November 2015, when POS Malaysia decided to lease the pick-ups through DRB-HICOM EZ-Drive Sdn Bhd (EZ-Drive), leasing facilities. The leasing period is for 36 months, with an option to renew for another 24 months. In recent years, POS Malaysia had opted for operating lease over outright purchase due to lower ownership cost, lower upfront capex, better tax benefit and higher worker productivity where fleet management is now being taken care of by EZ-Drive.