In an effort to celebrate 35 years of production at the Sunderland plant in the UK, Nissan has commissioned a very special conversion of the Nissan Bluebird – the first car off the factory's production line in 1986.
Called 'Newbird', the one-off project car is powered by the 100% electric drivetrain of a Nissan LEAF, the pioneering mass-market EV that kick-started the global trend towards electrification of mobility.
The 'Newbird' connects 35 years of manufacturing heritage at Sunderland, as Nissan accelerates towards an electrified future through Ambition 2030, the company's long-term plan to empower mobility and beyond.
The Nissan Bluebird was extensively modified to integrate the LEAF's electric drivetrain. The original petrol combustion engine and gearbox were removed and a LEAF motor, inverter and 40kWh battery pack installed, with the battery modules split between the engine bay and boot for optimised weight distribution.
Updates and modifications were made to the power steering, braking and heating systems to enable them to be electrically powered. A custom suspension was also installed to support the additional weight from the battery packs.
As a nod to the car's electric updates, the original Nissan bonnet badge received a LED backlight (for when the vehicle is static).
The car is recharged through the original fuel flap, which provides access to the charging port. The battery can be recharged at up to 6.6kW and the original driver instrument panel has been connected to the EV system to enable the fuel gauge to show the battery state of charge.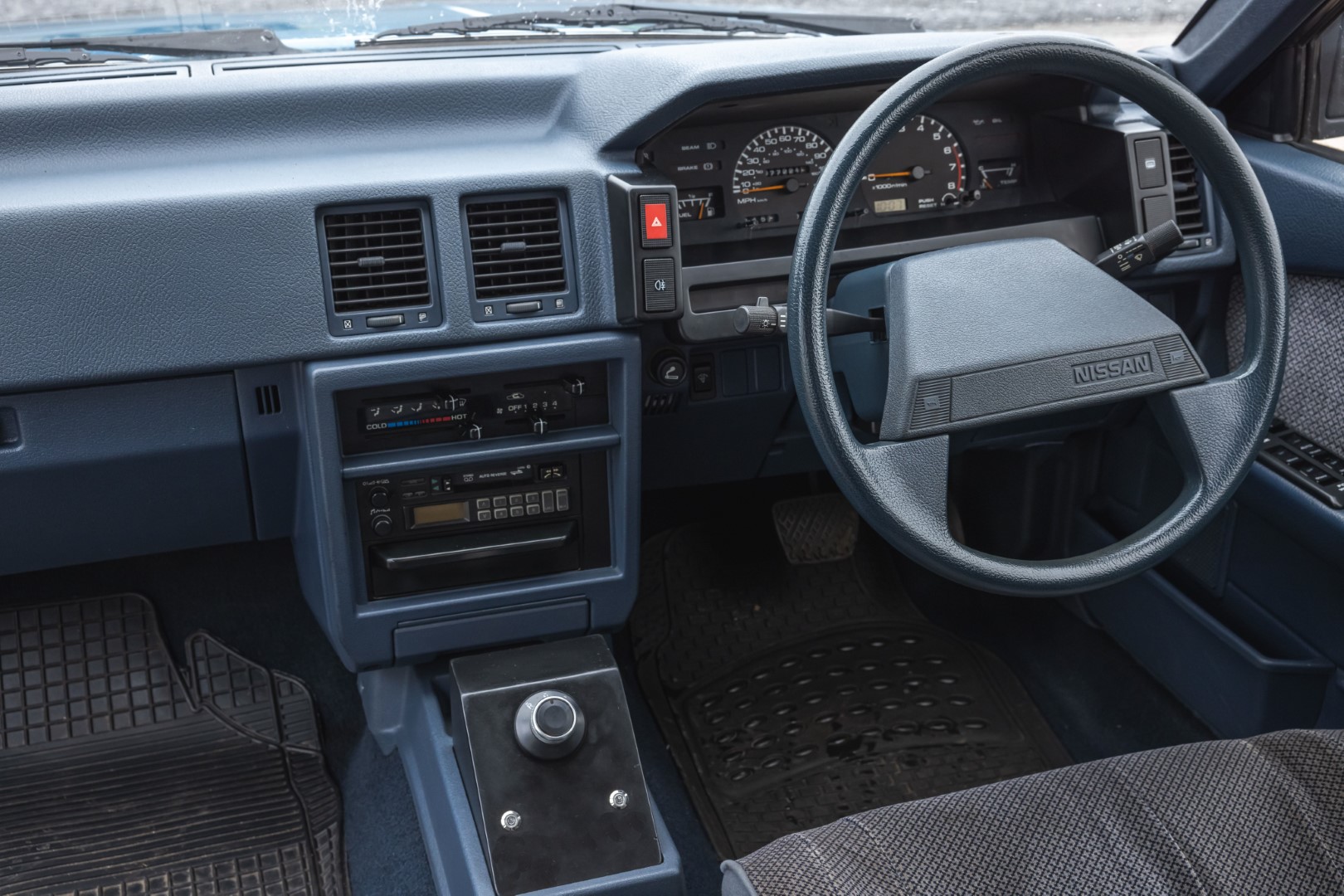 Although not homologated, the vehicle's range from a single charge is estimated at around 200 km with a 0-100km/h time of under 15 seconds.
For the exterior of the vehicle, Nissan Design Europe created a new graphic motif inspired by design cues of 1980s consumer technology, combined with a 21st century aesthetic.
The conversion was project-managed by Kinghorn Electric Vehicles, a family-run company based in Durham, North East England.
Kinghorn EV specialises in the conversion of classic cars to full electric using second-life Nissan LEAF motors, inverters and batteries.
The Nissan Sunderland Plant was officially opened in September 1986 and has been in operation ever since. Total output from 1986 to the present day stands in excess of 10.5 million cars.
The first car off the Sunderland production line in 1986, Bluebird Job 1, is the centrepiece of a local museum display commemorating the significance of that first vehicle.
Production of Bluebird totalled 187,178 units from 1986 to 1990. When production ramped up it took over 22 hours for each Bluebird to be built.
Now, 35 years later, the outstanding improvement in manufacturing technology has reduced the production time to 10 hours for the Nissan LEAF and over 200,000 units have been manufactured.