Ducati has taken the wraps off the new 2022 Ducati Panigale V4, with improved aerodynamics, ergonomics, engine, chassis, and electronics.
The first new feature of the new Panigale V4 2022 is the fairing, which now integrates a more compact and thinner double-profile design wings with increased efficiency. The lower part of the fairing also features redesigned extraction sockets to improve the cooling system.
And then we have the seat which is now flatter to further support the rider when braking, and to allow easier movement of the body.
Compared to the 2021 version, the tank has a new shape in the rear portion to allow the rider to better anchor when braking and allowing him to ride faster and longer.
The heart of the bike is represented by a tweaked 1,103 cc Desmosedici Stradale MotoGP-derived engine which produces 215.5 hp at 13,000 rpm, with a power increase of 1.5 hp compared to the previous version.
The engine also delivers a torque of 123.6 Nm at 9,500 rpm, and already from 6,000 rpm it provides 80% of the maximum torque available. Paired to the engine is a new gearbox that provides longer ratio for the first, second and sixth gears.
A new Power Modes logic has also been implemented on the Panigale V4 2022 which provides for 4 engine configurations: Full, High, Medium, Low.
The Full and Low configurations are newly designed while the High and Medium configurations use a new strategy. Power Mode Full is the sportiest ever adopted by a Panigale V4 and allows the engine to express its full potential with torque curves without electronic filters, except for first gear.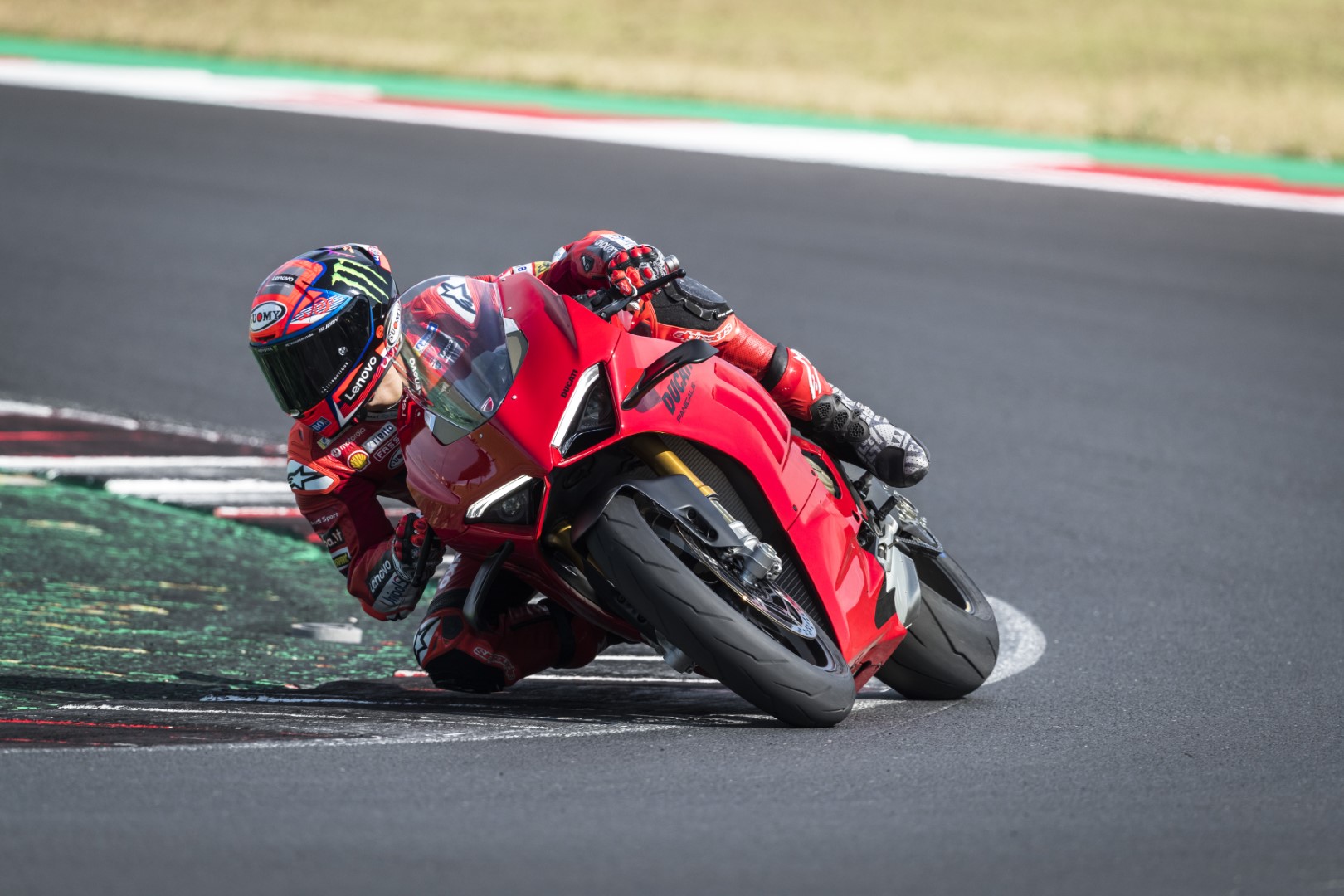 A new Ride by Wire map management system has been developed for the High and Medium Power Modes; now dedicated to each of the six gears, which guarantees the rider the possibility of always having the optimal thrust when opening the throttle.
The Power Mode Low, on the other hand, has been conceived to make road riding even more enjoyable, limiting the maximum power of the bike to 150 hp and offering a particularly manageable throttle response.
The new Panigale V4 S is also equipped with the new Öhlins NPX 25/30 electronically controlled pressurised fork that uses a pressurized cartridge damping system derived from that of Öhlins racing forks, minimizing the risk of oil cavitation compared to a traditional model.
The result is improved braking support and at the same time better absorption of bumps, which translates into a better riding feeling for the rider.
Even the look of the bike has been revamped, with a further dose of aggressive flavour. The graphic design conceived by the Ducati Centro Stile includes the black color for the logos applied to the full red fairings, the double fabric saddle (two-tone on the S version) and, again for the S version, the red tag on the black rims.