Daihatsu Malaysia recently introduced the freshly updated 2022 Gran Max, with a host of new features that make the light duty commercial vehicle more practical.
The 2022 Daihatsu Gran Max now comes with power windows for both driver and passenger. Like any modern car out there, the driver is able to control both windows independently and simultaneously, which adds to the overall convenience and functionality of the vehicle.
Also new is the multimedia player system which now comes with a reverse camera function, which greatly enhanced user experience. The system features a high resolution seven-inch touchscreen display with smooth touch control and loads of infotainment features to keep drivers entertained and informed while on the road.
Supported by Android 10.0 Operating System, the infotainment system is smarter and more powerful than before, allowing for a smoother and more efficient user experience. Besides radio, the double-din head unit player also comes with MP3, USB, and Bluetooth connectivity.
The latest Bluetooth 4.2 system does not only make pairing easier, but also allows mobile phone syncing for calls.
Where safety is concerned, there is an upgraded reverse camera now which comes as standard. The reverse camera will significantly reduce the likelihood of minor accidents or collision as well as eliminates blind spots while backing up. Parking and reversing are now made easier and stress-free especially in tight urban city spaces and manoeuvring in busy traffic areas.
There is also Android and iOS PhoneLink connectivity, which enables the driver to connect via cable mirroring and project smartphone displays onto the built-in screen of the infotainment system in the Gran Max. Display of GPS from mirroring and connected smartphone apps is now also available, given that the use of GPS is highly beneficial for commercial vehicle.
An additional 12v-24v fast charging USB port has also been added to ensure effective battery charging for a wide range of device profiles – a feature that would be greatly appreciated by logistics and transportation companies as it keeps most devices charged especially on long-haul trips.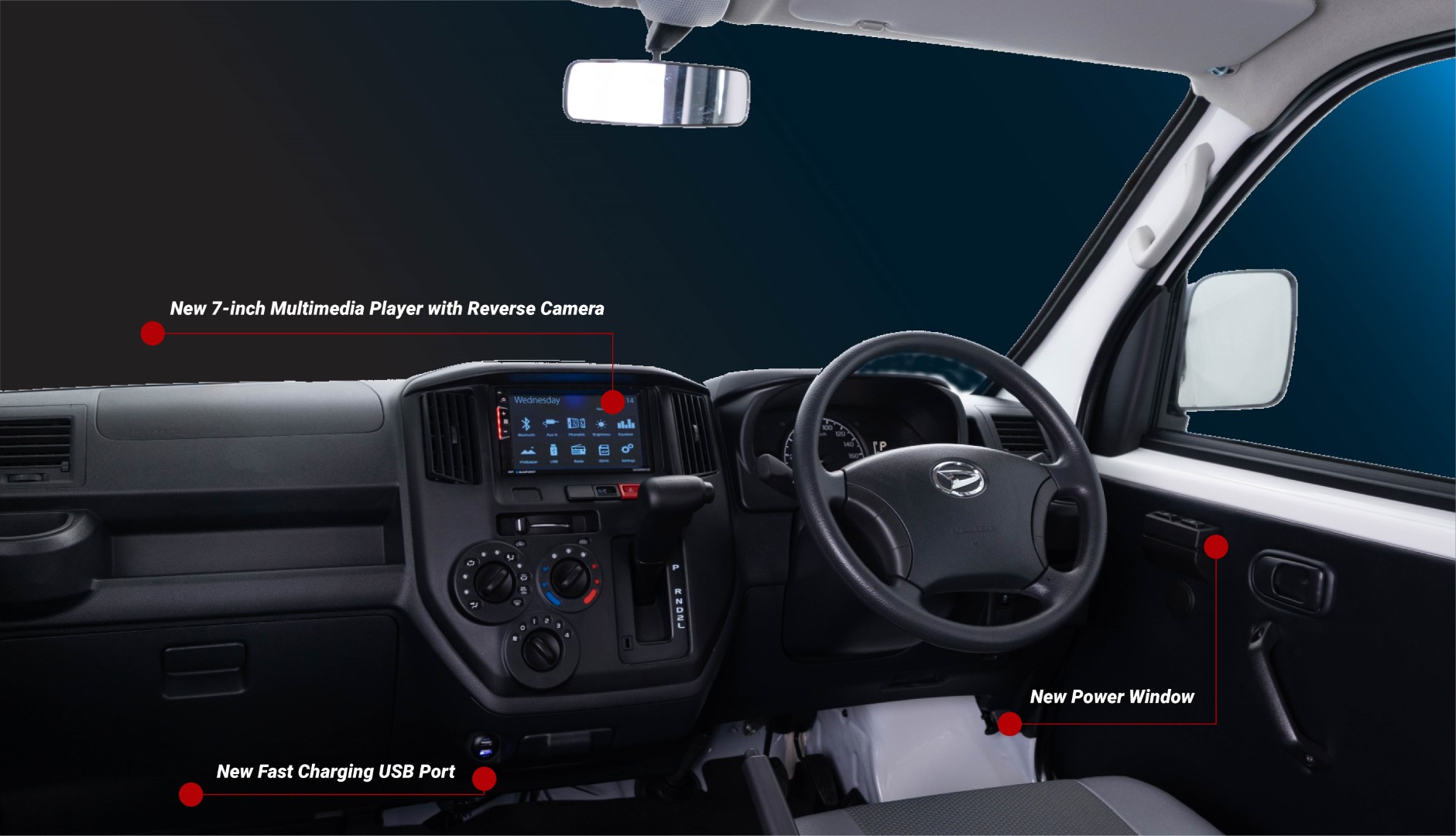 With the addition of power window, multimedia player system with reverse camera and 12v-24v fast charging USB port as standard accessories fitted with the minor change, the 2022 Gran Max is now priced from RM73,888.
That being said, Daihatsu Malaysia had accomplished some noteworthy innovations over the past five years with the Gran Max, like introducing the first ever Automatic Transmission (AT) light commercial vehicle, fitting it new Euro 4 emission engine, establishing the Daihatsu Mobile Service, and launching the Daihatsu Business Fleet Programme as well as the Daihatsu e-Showroom and Daihatsu E-Commerce Digital Store.
Check out our review of the pre-facelift Daihatsu Gran Max here