Mitsubishi Fuso Truck and Bus Corporation (MFTBC), has unveiled a new model of the light-duty Rosa bus.
The new Rosa comes with the BusConnect telematics function, which notifies and manages the vehicle's operational status in real time to bus operators.
Now with BusConnect telematics
The telematics feature allows bus operators to track and manage vehicle location, routing, and drivers' safety scores, while enabling remote diagnosis in real time.
Through geofencing, BusConnect aids fleet managers in detecting vehicle issues, while also contributing to operational efficiency and the prevention of dangerous driving.
BusConnect is a telematics function that enables the online tracking of real-time operational status. The information transmitted by the bus is gathered in the cloud-based FUSO database via mobile data connection.
Users can track the current location and operational status of a vehicle by accessing a dedicated page on their PC or smartphone.
Smartphone connectivity
It covers a wide range of business needs such as vehicle issue detection and response, improvement of vehicle operational efficiency, and the prevention of dangerous driving.
The new Rosa also complies with various new industry requirements, including J-OBD II standards and noise regulations. The light-duty bus has been equipped with daytime running lights for increased visibility even during the day.
The Rosa is now also offered with automatic lights that can help drivers avoid instances of forgetting to turn on the headlights at dusk.
Enhanced safety
In addition, MFTBC has newly equipped the Rosa with a co-driver seatbelt reminder for greater safety.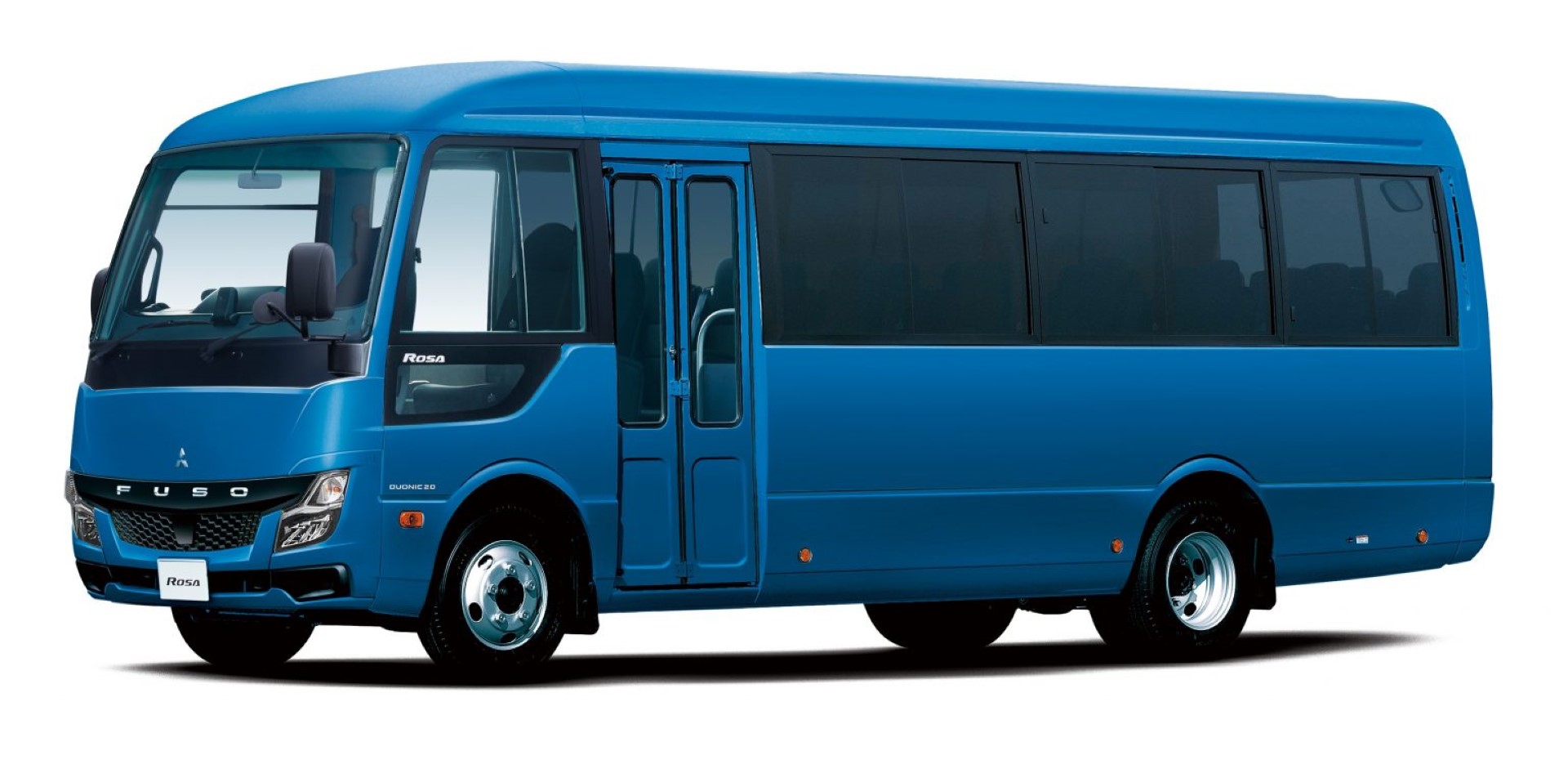 Furthermore, the Rosa now complies with Japan's mandatory seatbelt regulation for extra seats and comes with a fuel tank compliant with the latest standards for fuel leak prevention.
Finally, two new body colors – ocean blue and honey yellow — are now available for customers. Often run as shuttles or school buses, the Rosa plays a crucial role in day-to-day community transport.
Including the new Rosa, MFTBC manufactures a range of commercial vehicles including light, medium, and heavy-duty trucks and buses, and industrial engines for over 170 markets worldwide at the moment.