Didi Resources, the official distributor of the Moto Guzzi bikes in Malaysia has introduced the new Moto Guzzi V7 Stone Centenario Edition in conjunction with the brand's 100th anniversary.
The Moto Guzzi V7 Stone Centenario is produced in an exclusive edition which will be available only throughout 2021.
As for the V7 itself, powering the newest version here is a new 850cc, 65 hp engine that is also powering the V85 TT which now makes 25% more power compared to the outgoing V7's 52 hp.
Maximum torque has also increased significantly from 60 Nm to 73 Nm, with more than 80% of the torque already available at 3000 rpm.
The stylish side panels are new, as is the shorter rear mudguard, elements which, along with the new exhaust system, give the new model a revamped and more seductive look.
While the frame has evolved with the addition of steel elements in the headstock area, the new pair of shock absorbers now offers greater travel.  The two-tier saddle is also new, ensuring greater comfort than before.
Other new features include the foot pegs, the full LED light system with DRL, the new instrument cluster, the tires that are wider than before, and the new wheel design.
The V7 Stone Centenario here features the same colours that also characterised the 350 Bialbero, one of the most victorious Moto Guzzi bikes in history, which dominated the 350 class in World Championship GP Motorcycle Racing with a record of 9 consecutive world titles (5 Rider and 4 Manufacturer) from 1953 to 1957.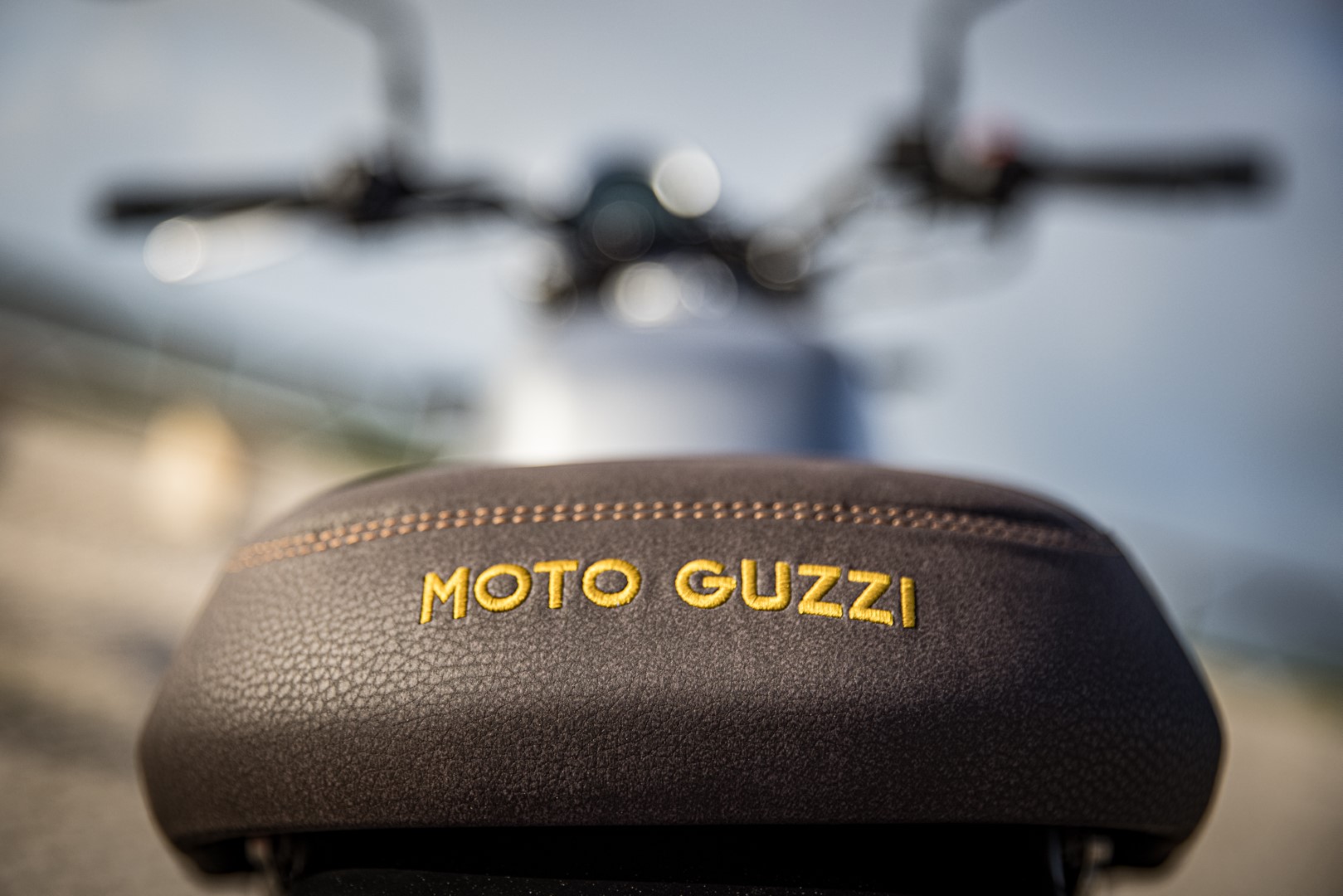 Green was also the first colour "worn" by a Moto Guzzi with the Normale, the first model, and probably the most iconic of the Eagle's colours. The Style Centre reinterpreted it in a modern approach with a matt finish and associated with metallic colours the express the solidity and authenticity of the Larian brand.
The body colours are matched with a saddle covered with a natural-coloured material, like that of leather, to highlight the typically Italian attention to detail.
Other distinguishing details are the eagle in a gold finish and the dedicated logo that graphically celebrates Moto Guzzi's 100 years.