Designed for a gross truck and trailer weight of 250 t, the Mercedes-Benz SLT heavy-haulage vehicle is available now in numerous configurations with three and four axles based on the Actros and Arocs. The steel-sprung Arocs SLT based on the particularly robust Arocs Grounder is available with the BigSpace cab as well as the StreamSpace cab measuring 2300 mm in width, while the Actros SLT is produced only with air suspension. The steel-sprung Arocs SLT is available in the following variants: Arocs SLT 6×4, wheelbase 3300 mm or 3900 mm, Arocs SLT 8×4, wheelbase 3900 mm, Arocs SLT 8×6, wheelbase 4200 mm, Arocs SLT 6×6, wheelbase 3900 mm, and Arocs SLT 8×8, wheelbase 4850 mm. As a genuine global truck the SLT heavy-haulage vehicle will be available with right- and left-hand drive, and in special variants, such as all-wheel-drive vehicles fitted with tyres up to size 14.00 R 20 for off-road use.
The four-axle variants form the core of the range. In this configuration the technically permissible gross vehicle weight stands at 41 t, with individual axle loads from front to rear of 9 t, 8 t and 2 x 13 t. For export markets, higher gross weights for the tractor of up to 48 t are possible in the case of the Arocs 8×8. While unmistakeably based on the Arocs, the SLT heavy-haulage vehicle sports an unchanging hallmark in the form of the bumper centre section sporting an attachment bracket for a heavy-duty coupling to be deployed in pushing mode. Hydraulic and brake connections are provided at this point for such applications. Steps are additionally integrated for servicing work.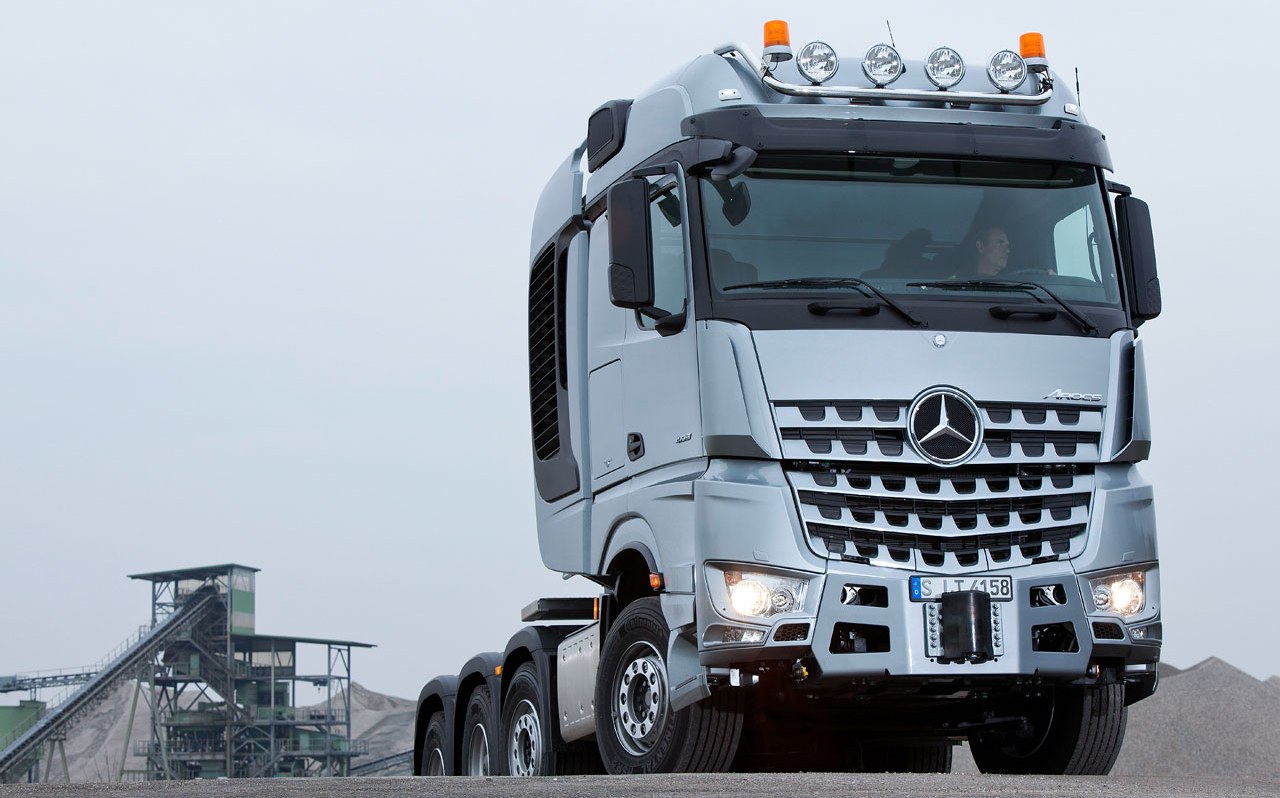 A fitting candidate for a superlative to the term "heavy-duty" would be the Mercedes-Benz OM 473 six-cylinder in-line engine. The OM 473 is available in three output ratings: 517, 578 and 625 Hp, and a maximum torque from 2600 to 3000 Nm. The supercharged decompression engine brake on the OM 473 which goes by the name of "High Performance Engine Brake" is a boon in heavy-duty transport. The driver activates the brake in two stages via the right-hand steering-column lever, triggering a very fast response. The engine brake attains an impressive output of up to 475 kW (646 hp). The engine power is transferred by the Mercedes G 280-16 transmission with PowerShift automatic gearshift – the only automated transmission with 16 gears on a heavy-duty tractor.