Mazda today announced that the 2021 Mazda3 and CX-30 models will be getting an upgraded version of its e-Skyactiv X SPCCI (Spark Controlled Compression Ignition) petrol engine in Europe.
The performance of the upgraded e-Skyactiv X unite engine has been improved to generate an extra 6 PS of power and 16 Nm of torque. Torque and output have improved in almost all engine speed ranges, and torque most noticeably under acceleration from low revs. The Mazda3 and CX-30 e-Skyactiv X now delivers 186 PS at 6,000 rpm and maximum torque of 240 Nm at 4,000 rpm.
A world's first
Mazda's new 2.0 litre e-Skyactiv X engine is in fact the world's first production petrol unit to exploit the benefits of diesel-like compression ignition. Following the introduction of Skyactiv engine technologies in 2012, e-Skyactiv X represents Mazda's second step towards the development of the ideal internal combustion engine.
The e-Skyactiv X engine also features Mazda's revolutionary Spark Controlled Compression Ignition (SPCCI). This new engineering concept allows the engine to switch seamlessly between conventional spark ignition and compression ignition combustion by using a spark to trigger both types of combustion in different ways.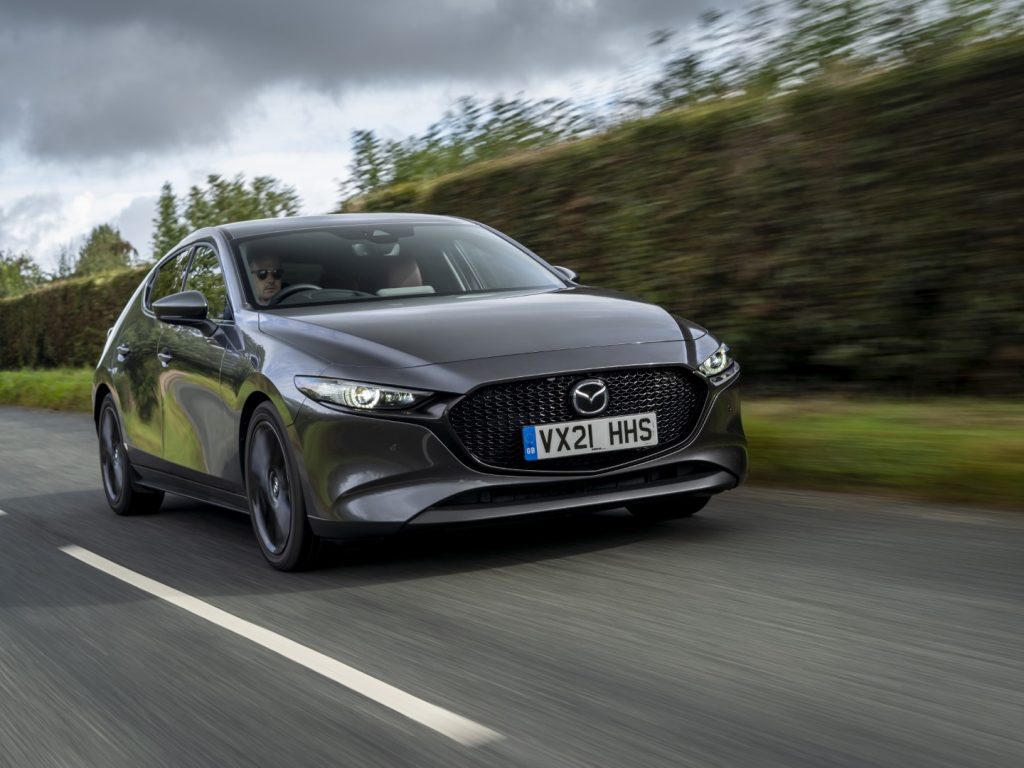 SPCCI mode
In SPCCI mode, a split injection process creates separate zones of fuel-air mixture inside the combustion chamber. First, a very lean fuel to air mixture is injected into the combustion chamber during the intake stroke, then a zone of atomised fuel is precisely injected directly around the spark plug during the compression stroke.
The small injection of atomised fuel directly around the spark plug builds a richer core. When the spark fires, it ignites this core of fuel and air. This increases pressure in the combustion chamber to the point where the lean mixture rapidly combusts.
Allowing the engine to run for a high percentage of time in a very efficient mode, SPCCI works in almost all ranges of engine operation except during cold starts, initial warm-up phases and at very high load. Under these circumstances, the engine seamlessly switches to normal operation, igniting a conventional stoichiometric air and fuel mixture of 14.7:1.
Improvements in both power and efficiency have been achieved through adjusting e-Skyactiv X's compression ratio from 16.3:1 to 15.0:1.
Modifications include the optimisation of combustion control, modified pistons, and the updating of the Mazda M Hybrid system software. Fitted as standard, the e-Skyactiv X's Mazda M Hybrid system further enhances both efficiency and driving comfort.
This not only results in a broader operating band of combustion efficiency, but also effects even higher ignition stability – further minimising the already very low risk of unexpected self-ignition or pre-ignition due to the variability of fuel quality in different markets.
Transmission
Mazda says that the e-Skyactiv X engine on the Mazda3 and the CX-30 will be available with either Skyactiv-MT 6-speed manual transmission (6MT) or Skyactiv-Drive 6-speed automatic transmission (6AT). The powertrain line-up features front-wheel-drive (FWD) as standard, with Mazda's unique i-Activ all-wheel-drive (AWD) optionally available for Mazda3 hatchback variants and the CX-30.
At the moment, the new engines are only destined for Europe and a few selected markets. Whether they will come to Malaysia remains a question, so watch this space for more updates on the new engines.