It kicked off 2015 with a buzz-generating surprise debut at the North American International Auto Show in January, and now the popular Hyundai Santa Cruz has earned the prestigious title of Concept Truck of the Year at the 14th annual North American Concept Vehicle of the Year (NACVOTY) Awards at the Concours d'Elegance of America at St. John's.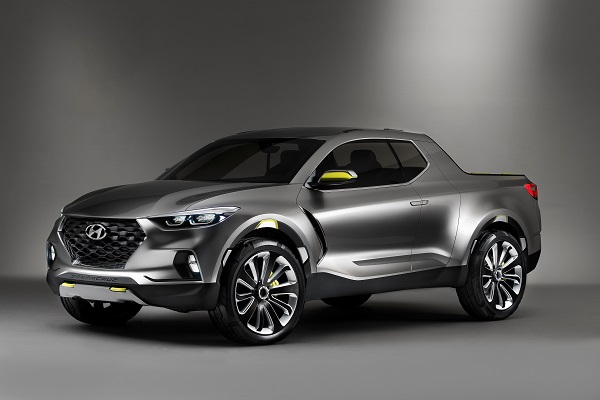 The Santa Cruz was recognized as the Concept Truck of the Year for its design, style, materials, technology, market visibility and market responsiveness – besting the Kia Trail'Ster and Mitsubishi GC-PHEV. The award was presented by Mark Phelan, auto critic at the Detroit Free Press and NACVOTY juror.
"The compact-truck segment in the U.S. is tremendously competitive, and overall truck sales have skyrocketed to become one of the best-selling segments in today's market," said Mike O'Brien, vice president of corporate and product planning, Hyundai Motor America. "Hyundai's new Santa Cruz crossover truck concept is a modern take on the classic theme of one of America's most-loved segments – the pickup truck. Unlike some of the industry's past attempts to blend open bed utility with passenger car attributes, Santa Cruz delivers innovative functionality and flexibility in a compact, fun-to-drive package for a new breed of pickup truck buyers. We are proud that the Santa Cruz got the vote of approval as the Concept Truck of the Year from some of the auto industry's most esteemed critics."
The NACVOTY awards recognize those vehicles most likely to shape the future of the automobile industry. More than two dozen jurors participated in a selection process that involved a total of 30 vehicles, each introduced to North America during this season's auto shows in Los Angeles, Detroit, Chicago, Toronto and New York.
"The Santa Cruz is what the light-truck category needs – loads of style for people without big loads," said Gary Vasilash, Automotive Design and Production editor-in-chief and NACVOTY juror.
The innovative Hyundai Santa Cruz crossover truck concept reflects a completely new interpretation of truck utility for a new generation of buyers. The Santa Cruz concept meets the unspoken needs of a growing millennial lifestyle that Hyundai calls "urban adventurers." This new crossover provides urban adventurers the expandable utility they need throughout their active week – from work-life professionalism to social interests to a variety of outdoor pursuits –without the typical compromises they have come to expect from the industry's current product offerings. The Santa Cruz concept is purposely compact, and although it features four doors and seating for five, its overall footprint is similar to that of a small CUV.