The folks at Honda in Japan decided to launch a teaser page on the brand's company website yesterday to release initial information on the all-new Honda Civic Hatchback which is scheduled to go on sale in selected markets later this year.
All set to make its debut on the 24th of June 2021 in Japan, the all-new Civic Hatchback's announcement follows the unveiling of its sedan sibling which just made its global debut two months ago.
From what we have seen so far, the all-new 2022 Honda Civic boasts a clean, modern design paired with a high-tech, human-centered interior, and equipped with advanced active and passive safety systems.
What's New:
All-new simple, clean exterior and interior styling
Civic first all-digital LCD instrument display (Touring)
Standard new 7-inch color touchscreen with Apple CarPlay & Android Auto™ integration
Available new HD 9-inch color touchscreen with wireless Apple CarPlay & Android Auto™ integration
Civic-first Bose premium sound system with 12 speakers (Touring)
Qi-compatible wireless charging (Touring)
Enhanced architecture and stronger body
More powerful and fuel-efficient 1.5-liter turbo engine
Updated suspension and steering tuning for improved handling and ride
Groundbreaking new front airbags designed to reduce traumatic brain and neck injuries
Civic-first rear seat side airbags
Updated Honda Sensing® system with new front wide-view camera, plus new Traffic Jam Assist and Low Speed Braking Control (Touring)
Exterior Design
Key to the new Civic's upscale styling was moving the bottom of the windshield pillars rearward by nearly 2 inches which elongates its hood for a premium silhouette.
This also visually connects the pillar to the front wheel hub, a subtle design element that emphasizes its wheels and tires for a stable, planted stance.
The lower character line carries up from the bottom of the front door, rising across the rear doors, and through the rear fenders for an enhanced sense of motion.
LED lighting is used extensively for the exterior, including the wide-set headlights, daytime running lights, parking lights, and available fog lights.
Human-Centered Interior Design
Inside, the pulled-back A-pillars, low hood, flat dashboard and hidden windshield wipers enable a windshield with clearly defined corners for a panoramic view.
Further improving visibility is the top of the Civic's instrument panel, which has been designed with minimum cutlines to reduce windshield reflections and visual distractions. A striking metal honeycomb mesh accent stretches from door to door across the dash.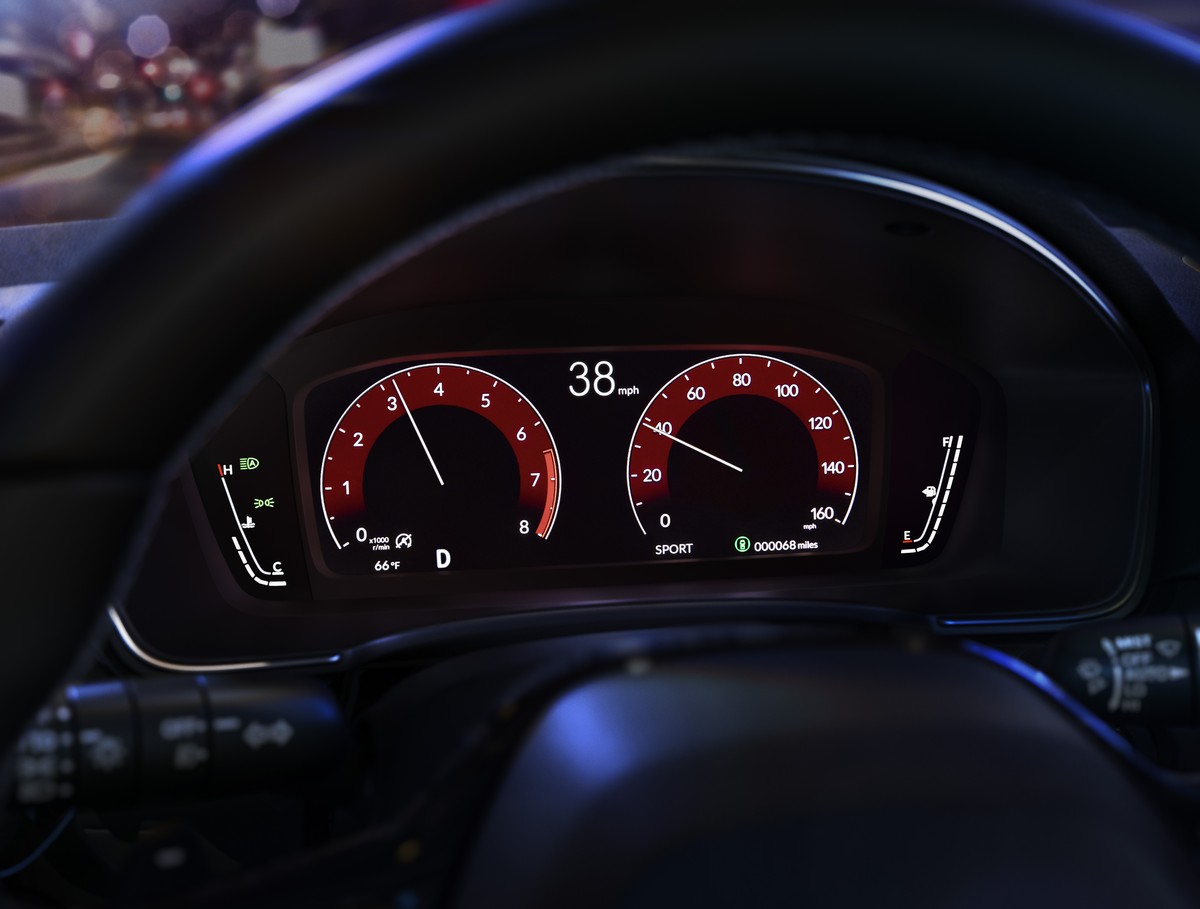 It serves both form and function, creating a dramatic visual dividing line between the audio, information displays and the climate controls, while the intricate flow-through design conceals the air vents that would otherwise mar the uncluttered and harmonious look of the dash.
New front seats
All Civic trims benefit from a new front seat design. Using Honda's Body Stabilizing Seat approach, the new-generation seat frame firmly holds the body, enhancing comfort on long drives.
The new touchscreen is the largest ever in any Honda-brand vehicle, and features a physical volume knob, large, easy-to-recognize icons, and a simplified navigation structure with fewer embedded menus. On the left are hard buttons for Home and Back functions.
No more 1.8-litre engine
Like the outgoing Civic, two 4-cylinder engines will be available for the 2022 model: A naturally aspirated 2.0-liter or a turbocharged 1.5-litre. Both are paired with an updated continuously variable automatic transmission (CVT) uniquely tuned for each engine.
That being said, the Civic Hatchback's offerings should be somewhat similar to what we saw in the Sedan, but the confirmed list of features is yet to be revealed. So, watch this space for more updates on the Civic Hatchback.