UMW Toyota Motor (UMWT) today presented the next step in the company's multi-pathway strategy in supporting Malaysia's goal to become carbon-neutral by 2050.
The company has registered sample units of the Toyota bZ4X – as part of Toyota's Beyond Zero strategy – for evaluation by the company's technical team, as well as stakeholders in the government and private sector working towards realizing low carbon personal transport solutions for Malaysia.
This comes after January's handover of five units of Toyota Mirai to Sarawak's SEDC Energy and the state's Premier Yang Amat Berhormat Datuk Patinggi Tan Sri (Dr) Abang Haji Abdul Rahman Zohari Bin Tun Datuk Abang Haji Openg. The Toyota Mirai is a hydrogen fuel-cell electric vehicle (FCEV). The trial is part of a wider effort by Sarawak to kickstart hydrogen economy there.
Together with the Toyota Corolla Cross Hybrid electric vehicle (HEV) that is currently assembled at UMWT's manufacturing subsidiary Assembly Services Sdn. Bhd. (ASSB) plant in Bukit Raja, Selangor, the BEV bZ4X and FCEV Mirai demonstrate UMWT's commitment to offer the best fit-for-purpose solution to the broadest segments of Malaysian customers.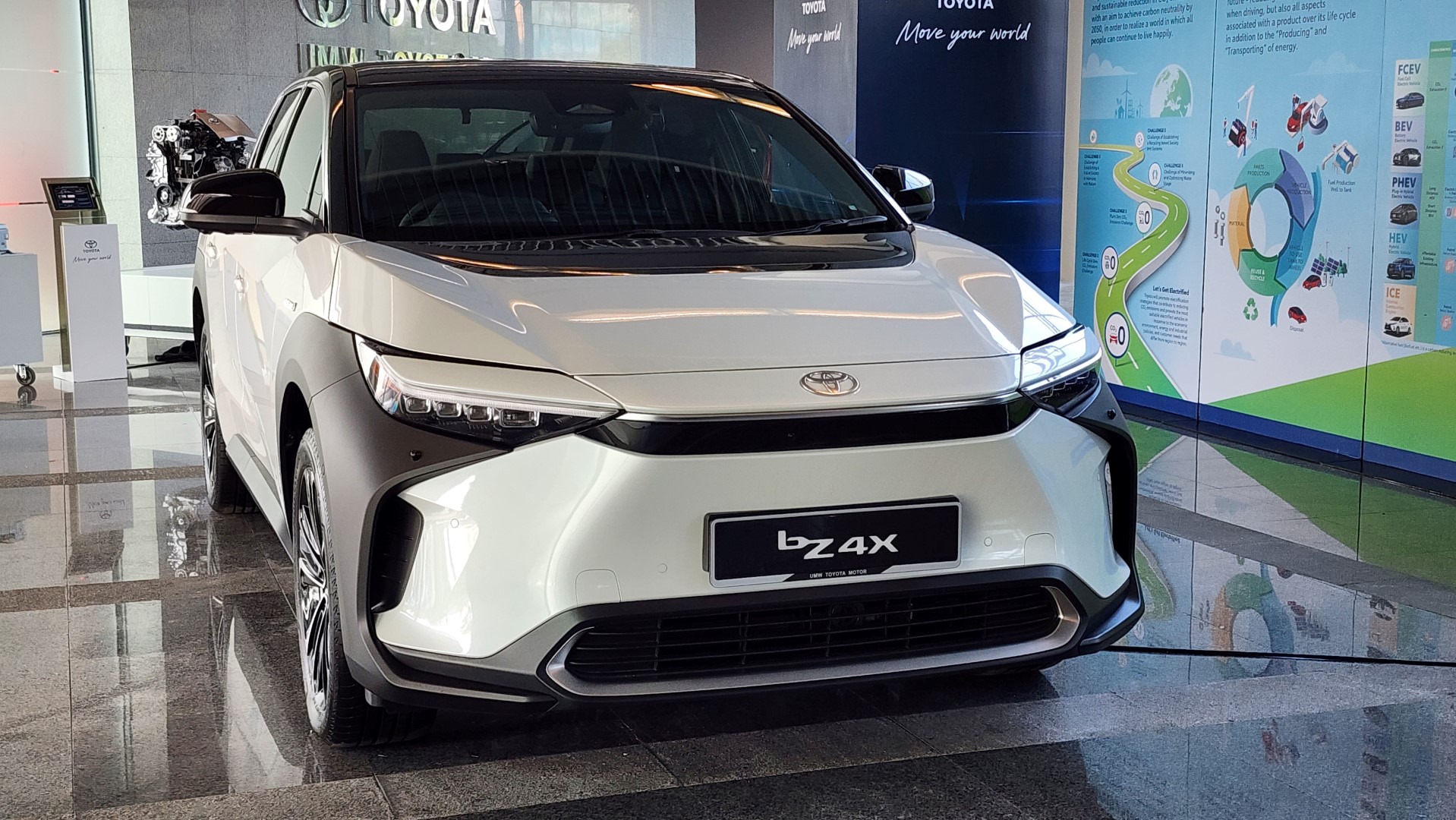 As part of its engagement with key stakeholders in the transport and energy sector, UMWT's Shah Alam office today hosted an exhibition on the company's multi-pathway strategy towards carbon neutrality.
Apart from the Toyota bZ4X, a cut-away of the Toyota Hybrid System was also put on display, symbolising the foundation of Toyota's leadership in HEV technology, with more than 18.1 million units sold worldwide since 1997. To date, Toyota has sold more than 20 million electrified vehicles globally, contributing to CO2 reduction of 165 million metric tons.
Toyota hybrid electrics have a long history of proven reliability on Malaysian road conditions since 2009. The self-charging two-motor full-hybrid electric drivetrains does not depend on public charging infrastructure.
Toyota believes that HEV is the most practical and cost-effective solution for Malaysians today, promising immediate carbon reduction without compromising on long-distance driving practicality and peace-of-mind usage – values that customers expect from every Toyota model.
"Toyota has a multipathway strategy towards carbon neutrality and this is evident through these green powertrains, each developed to best meet the unique needs of customers in different parts of the world. For Malaysia, we believe HEVs are the most suitable for Malaysians, considering the fuel source of our electricity generation and availability of charging infrastructure outside city centres in the West coast of Peninsular Malaysia. We will add more HEV models in 2023," said UMWT President, Datuk Ravindran K.
At the same time, Toyota recognises that BEV technology will also become a very important next piece to complete the puzzle of carbon-neutrality. To support the creation of a BEV-friendly ecosystem, UMWT will be supporting Malaysia's goal of achieving 4,000 electric vehicle charging points by the end of this year.
As infrastructure to support BEVs improves, UMWT will launch a BEV model in the near-term. In line with our brand's promise, Toyota must ensure that our customers enjoy a total peace-of-mind ownership experience, regardless of whether they own a regular ICE, HEV or a BEV Toyota.
Toyota sells vehicles to more than 170 countries worldwide and we understand that the needs of our customers around the world differ greatly, as are the availability of clean renewable energy. Toyota will not abandon any customer group in its endeavour to achieve carbon neutrality by 2050.
Toyota believes that keeping a technology-neutral, multi-pathway strategy is the best approach towards attaining carbon neutrality. Ultimately, it is the customer, not regulations that will determine which drivetrain technology will lead us to a carbon neutral future.
"Toyota customers come from a very diverse background, not just customers living in the west coast of Peninsular Malaysia, but also in East Malaysia. We believe in giving choices to customers. They will determine which green solution is best for them. We will continue to evaluate different options and introduce them as appropriate," said Datuk Ravindran K.