Ford unveiled its new the Ranger  earlier this week in Bangkok, setting a new benchmark in the pickup truck segment with an uncompromised blend of robust capability, craftsmanship and advanced technology. Starting later this year, an updated range of the truck will take on the world in more than 180 markets worldwide.
"The new Ford Ranger brings a new level of comfort and refinement to its segment without compromising on the rugged capability that our customers demand," said Brett Wheatley, vice president, Marketing, Sales & Service, Ford Asia Pacific. "It represents a smarter kind of tough, and will help our customers to achieve more, whether at work or with their families."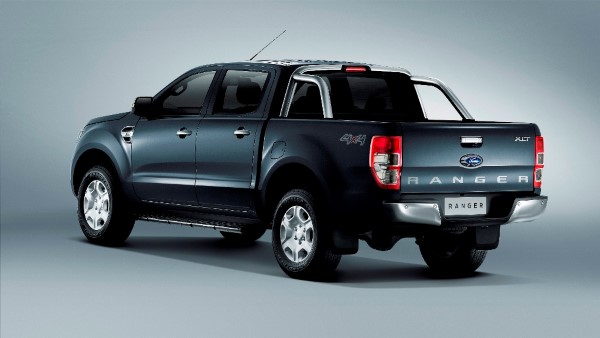 Featuring a new look front end, and a stylish, smart and functional new interior, the new Ranger builds upon a reputation of capability, innovation and comfort that has helped the Ranger to stand apart from traditional pickup trucks. It also boasts an array of new cutting-edge technologies that enable new and more practical solutions to everyday challenges.
The changes to the Ranger begin with an updated exterior design. A more muscular hood flows into a strong new trapezoidal grille, while imposing projector headlamps make the truck instantly recognisable, with a bold, technical look.
The updated exterior has been combined with a stylish new interior that creates an even more comfortable, contemporary and car-like environment for the driver and passengers. Strong horizontal lines run across the width of the cab, giving a sense of openness, and framing the central eight-inch touchscreen. Behind the steering wheel, a new dual-TFT instrument cluster provides drivers with information about the vehicle, as well as entertainment, navigation and climate control details at a glance.
With a class-leading ability to wade through water up to 800 mm deep, and with 230 mm of ground clearance, it is designed and engineered to handle the most extreme terrains with ease. Thanks to a 28-degree approach angle and 25-degree departure angle, drivers in the new Ranger can feel confident when taking on steep obstacles.
A robust electronically controlled transfer case allows drivers in 4×4 models to shift on the fly from 4×2 to 4×4 high with a knob on the center console. For low-speed torque or additional downhill braking, drivers can also engage low-range 4×4 gearing, while an electronic locking rear differential helps to improve traction in difficult conditions.
These off-road strengths are matched by towing capability of up to 3,500 kg and exceptional payload capacity. Ford engineers have also fine-tuned its suspension for additional comfort and even better handling.
The driving experience is further enhanced by an electric power-assisted steering (EPAS) system, which provides precise steering with a natural and confident feel. With EPAS, steering is light and manageable for low-speed maneuvering, such as parking, and precise at higher speeds – with assistance varying as necessary based on speed, steering wheel angle, cornering forces and acceleration or deceleration. By eliminating the power steering pump used in a traditional power-steering system, EPAS also results in a quieter vehicle and improves fuel efficiency by about three percent.
Engineers also fitted the new Ranger with advanced sound-deadening materials and improved insulation for one of the quietest and most comfortable cabin interiors in its class.
A host of cutting edge technology is available on the new Ford Ranger to help drivers stay connected and in control. SYNC 2, the latest generation of Ford's in-car connectivity system, gives drivers smarter and safer ways to stay connected. For extra convenience, the new Ranger features a 240-volt power socket that can be used to power a laptop computer anywhere, from a work site to a family road trip.
Ford is offering the latest generation of its globally proven 3.2-liter Duratorq five-cylinder TDCi diesel engine. Upgrades including an updated exhaust gas re-circulation system help to improve fuel efficiency by up to 18 percent, while still putting out 147 kW of power and 470 Nm of torque. Equipped with the latest generation of Ford's 2.2-liter Duratorq four-cylinder TDCi diesel engine, the Ranger delivers significantly improved fuel efficiency and refinement while also providing the power Ranger customers demand. Depending on the market, Ford will offer a standard 2.2-liter engine, which generates an improved 118 kW of power and 385 Nm of torque, or a high-efficiency (96 kW) variant for up to 22 percent improvement in fuel economy. The new Ranger is also available with Ford's dependable 2.5-liter Duratec petrol engine, providing 122 kW of power and 225 Nm of torque.
Other features include the Automatic Start/Stop Technology, Lane Keeping Alert, Adaptive Cruise Control, Forward Alert, Front and rear park assist, Tire Pressure Monitoring System, Electronic Stability Program, Driver Impairment Monitor, Hill Launch Assist, Hill Descent Control, Adaptive Load Control,  and EBD.
Ford will manufacture the new Ranger at its AutoAlliance Thailand facility in Rayong, Thailand for distribution throughout Asia Pacific, its Silverton Assembly Plant in Pretoria, South Africa for distribution in Africa and Europe, and its Pacheco Stamping and Assembly Plant in Argentina for distribution in Latin America.