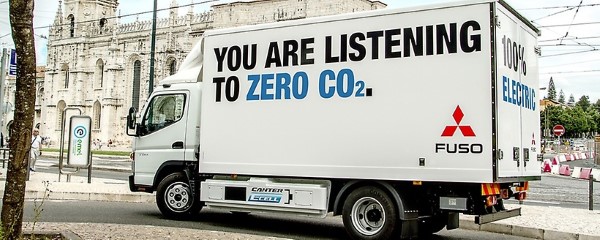 Daimler Trucks is launching the first fleet test for emission-free, electric trucks in Germany today.
The company handed over the five battery-powered Fuso Canter E-Cells to Stuttgart's mayor, Fritz Kuhn, and the Hermes Logistics Company yesterday.
Over the next twelve months, the Municipality of Stuttgart will test four 6-tonne Fuso Canter E-Cell in a tough everyday working environment. Two vehicles with hydraulic tipper bodies are to be deployed in road construction and landscaping. Two vehicles with box bodies will be assigned to municipal furniture transport and waste disposal operations. Another Canter E-Cell will carry out parcel deliveries in urban traffic for the Hermes Company.
Stuttgart's mayor, Fritz Kuhn, observed: "Sustainable mobility is a key issue for cities and electric mobility is an important element. This is where the Municipality of Stuttgart is showing the way. We've decided to make a change to our fleet: all new cars purchased by the Municipality will be electric. I think this sends out a very strong signal. So we're also very happy to test the four Canter E-Cell vehicles in day-to-day city traffic."
In the course of an initial fleet test in Portugal, the Canter E-Cell has already proven its merits in short-range delivery operations and urban transport. During the year-long test from June 2014 to June 2015, eight vehicles were in service with customers in Lisbon.
With ranges of over 100 kilometres, the vehicles exceeded the average daily distance covered by many trucks in light-duty short-radius distribution. On the basis of the prevailing costs of diesel and electricity during the test period in Portugal, operating costs were lowered by up to 64 percent in comparison to a conventional diesel truck.