Category:
Safety & Compliance
Volkswagen Passenger Cars Malaysia (VPCM) recently kicked-off the Buckle Up YouTube animation series for children. Part of the brand's social responsibility here in Malaysia, ...
READ MORE +
Daihatsu (Malaysia) Sdn. Bhd. (DMSB) has launched its first ever Drivers Safety Training Program to address road safety concerns in Malaysia and encourage a culture ...
READ MORE +
ZF, the world's leading supplier of automotive cameras, has developed the Dual-cam two lens camera specifically designed for the commercial truck market and to be used in ...
READ MORE +
This has just happened in Sibu Sarawak. A trailer running along Rantau Panjang 'lost' its rear axle and it went flying in the air and hit a Toyota Vios smack on the front ...
READ MORE +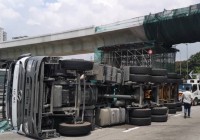 We have just received news of a truck toppling over just after the Sierramas overheard bridge in Kepong in the direction to Kepong. Traffic is crawling along the PLUS E1 highway ...
READ MORE +
Hino Motors, Ltd. subsidiary, Hino Motors Sales (Malaysia) Sdn. Bhd. (HMSM), and Yamato Transport (M) Sdn. Bhd. (YTM), have created a new safe driving training program that ...
READ MORE +
Mitsubishi Motors brings a strong focus on quality to all of its 4WD vehicles. Mitsubishi takes into consideration the size and use of each vehicle in order to implement the most ...
READ MORE +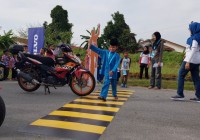 Volvo Trucks Malaysia continues to emphasise its commitment to safety through its two hallmark campaigns; "Stop Look Wave" and "See and be Seen". Aimed at road users, in ...
READ MORE +
In an endeavour to continuously provide best customer experience for its commercial vehicles range, Tata Motors today announced the commencement of the third edition of its Global ...
READ MORE +
This is a question that is easily answered by 4×4 enthusiasts and product planners working for car manufacturers who sell SUV's, pickup trucks and some interesting all wheel ...
READ MORE +