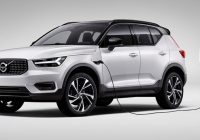 Despite the COVID-19 pandemic, lockdowns, car sales coming to a halt in many parts of the world, Volvo still managed to sell a decent number of cars in 2020. In fact, the Swedish ...
READ MORE +
When it comes to infotainment systems, it would not be an exaggeration to say that Mercedes-Benz is among the ones at the forefront with the MBUX system and the long list of ...
READ MORE +
On-demand car-sharing platform GoCar Malaysia recently announced new additions that are coming soon to its subscription programme (GoCar Subs), and other exclusive deals offering ...
READ MORE +
Online used car trading platform myTukar Sdn Bhd today announced its expansion into East Malaysia with the first two myTukar inspection hubs located at Kuching, Sarawak and Kota ...
READ MORE +
Volkswagen Passenger Cars Malaysia (VPCM) just announced its Chinese New Year sales promotion campaign, with up to RM10,000 worth of "Ang Pao" rebates for selected models. ...
READ MORE +
Following the government's announcement that the SST exemption will go on until June 2021, came the interesting news that the most anticipated car of the year after the Proton ...
READ MORE +
Honda Malaysia today announced that it has achieved total sales of 60,469 units in 2020, and maintained its undisputed leadership position as No.1 in the Non-National Segment for ...
READ MORE +
As we reported yesterday, UMW Toyota Motor Sdn Bhd (UMWT) will indeed be launching the 2021 Toyota Innova range very soon, with updated styling as well as additional safety ...
READ MORE +
The updated 2021 Toyota Fortuner is finally here, and bookings are now being accepted at all Toyota showrooms nationwide. Assembled in Malaysia, Toyota's full-sized 4x4 SUV ...
READ MORE +
Proton closed 2020 on a high with an increase in sales over its landmark performance in 2019. Despite losing over two months of car production and sales to the MCO, the company ...
READ MORE +