MAN Truck & Bus (M) Sdn. Bhd. Managing Director Mr. Hartmut Mueller speaks to us about the next step for the company in Malaysia, it growth, new products, expansion of its ...
READ MORE +
With the fall of fuel prices late last year and the current increase in the use of NGV to power commercial trucks, many people have wondered whether the hybrid truck still has a ...
READ MORE +
The trucking segment has long been the poster child of the global automotive industry, generating record revenue and creating an aura of infinite growth. But, after an era of ...
READ MORE +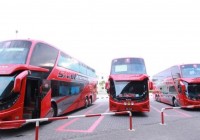 2009 will remain a year to forget for Sani United Bhd, the owner of Sani Express. One of the company's express buses was involved in a tragic crash near Ipoh that claimed 10 ...
READ MORE +
Mercedes-Benz tested their prototype for the Future Truck 2025, a self-driving Actros truck. A true revolution in the transport industry. The test took place on 30km, in real ...
READ MORE +
  This spring, after the offer from Volkswagen went through, Scania became a full member of the Volkswagen Group. With a stable long-term ownership situation, Scania can ...
READ MORE +
Sea freight has always been the dominant mode of transporting goods in Asia. Although transportation by air is faster, it costs more, hence it is not a preferred choice. As ...
READ MORE +
Telematics is the next step forward in fleet management and Mix Telematics are zeroing in on the local and regional trucking sector to introduce the all-in-one fleet ...
READ MORE +