When Mercedes-Benz Malaysia (MBM) launched the new locally assembled Mercedes-Benz E-Class a couple of months ago, the company announced that the model will be offered ...
READ MORE +
Ever since the government announced the PENJANA plan in June where cars are being sold without Sales and Service Tax (SST), car sales have gone through the roof, and with models ...
READ MORE +
Time to get a Volvo this quarter as they offer an interest rate at a low 0.62%. So, why is Volvo Cars offering this great offer to Malaysians. Because of the goodwill built ...
READ MORE +
In early 2018, Mpire Group signed an agreement to distribute Beiqi Foton Motor (herein referred to as, 'Foton') vehicles. These vehicles include the 'View C2 Panel Van (4.8 ...
READ MORE +
PROTON announced today it has received over 10,000 bookings for the Proton X70 SUV during the official launch of Ming Heng Motor Sdn Bhd, a new 4S dealer in Setapak. The Company ...
READ MORE +
IVECO are celebrating the 40th anniversary of their Daily van, which offers an opportunity to look back on the history of this popular light commercial vehicle. IVECO started ...
READ MORE +
Well, the technology people at Omnimatics Sdn Bhd thinks its important and also better to have a better understanding of your vehicle for long term reliability as well as 'vehicle ...
READ MORE +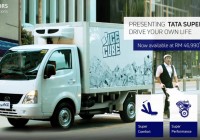 Here is a new small to medium business mobility solution from Tata. The all new Super Ace offers great value for money for last mile cargo transport solutions, meeting the ...
READ MORE +
Scania intends to play a leading role in the inevitable shift towards a sustainable transport system and its business model is evolving to meet that objective by identifying ...
READ MORE +
Conceived by Toyota as a joint successor model integrating the Briska with the Light Stout, the Hilux debuted in March 1968 as a new bonnet-type truck with Hino Motors, Ltd., in ...
READ MORE +