Land Rover's highly-anticipated luxury compact SUV, the New Range Rover Evoque, has been revealed in London's creative East End with a high-energy display which saw a number of ...
READ MORE +
In an endeavour to continuously provide best customer experience for its commercial vehicles range, Tata Motors today announced the commencement of the third edition of its Global ...
READ MORE +
PROTON announced today it has received over 10,000 bookings for the Proton X70 SUV during the official launch of Ming Heng Motor Sdn Bhd, a new 4S dealer in Setapak. The Company ...
READ MORE +
Sime Darby Auto Connexion (SDAC), the sole distributor of Ford in Malaysia, today revealed more details about the upcoming new Ford Ranger lineup. The month-end ...
READ MORE +
The company's entire current vehicle lineup on display at the recent Hannover show included some future-focused electric and hybrid truck models, which will be entering customer ...
READ MORE +
If you're thinking of starting up your own little business, this van is perfect. It's not too big and it's not too small. I remember the days of the Hijet which was way ...
READ MORE +
IVECO are celebrating the 40th anniversary of their Daily van, which offers an opportunity to look back on the history of this popular light commercial vehicle. IVECO started ...
READ MORE +
Well, the technology people at Omnimatics Sdn Bhd thinks its important and also better to have a better understanding of your vehicle for long term reliability as well as 'vehicle ...
READ MORE +
The food truck industry has seen tremendous growth in Malaysia over the past few years. From having a couple of trucks at a handful of events, the industry has grown so much that ...
READ MORE +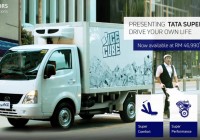 Here is a new small to medium business mobility solution from Tata. The all new Super Ace offers great value for money for last mile cargo transport solutions, meeting the ...
READ MORE +