Daihatsu (Malaysia) Sdn. Bhd. (DMSB) has just announced the launch of the Daihatsu Business Fleet Program, to provide innovative solutions and end-to-end aftersales service ...
READ MORE +
In August 2018, last year, there was a recall of more than 14,000 Fuso Canter trucks sold in Australia after a possible airbag issue was identified. The recall is being overseen ...
READ MORE +
IVECO has announced it is now the official truck partner for Formula One Championship team, Alfa Romeo Racing. The truck company recently marked the occasion with an official ...
READ MORE +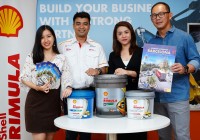 Shell Malaysia Trading Sdn Bhd has launched a new range of Shell Rimula engine lubricants for pick-ups and light duty trucks. The new Shell Rimula Light Duty ranges are the Shell ...
READ MORE +
A fully-electric version of Mercedes-Benz's popular Actros has gone into service with an external supplier for the first time, transporting gearbox housings to one of the ...
READ MORE +
Mpire JAC is the sole distributor for JAC Light truck, ranging from 1 ton, 3 ton to 5 ton which is the JAC X30, N45 and N75. JAC is one of the top brands in light commercial ...
READ MORE +
On top of accelerating its momentum in developing high-quality products as well as monitoring the statistics of product sales, Hino also believes in providing support, ...
READ MORE +
Mpire Commercial is the official distributor for Foton Daimler EST & ESTA models which offer both 4x2 and 6x4 specifications. In the very near future Mpire Commercial is about ...
READ MORE +
Scania will be running a Recon Truck Promotion until the 31st of March 2019. Owners of reconditioned Scania trucks can get a free health check and a free Scania retrofit of FMS or ...
READ MORE +
This is the Chevrolet Colorado ZR2 Bison which looks like a product designed to take on the Ford Raptor head on. The Bison is Chevy's first collaboration with American ...
READ MORE +