Now this is a much needed product for fleet truck operators. Premiere Services Fleet Solutions' 360° OmniVue is a multi-camera driver assistance system with four cameras for an ...
READ MORE +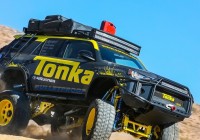 Toyota teamed with Funrise Toy Corporation, manufacturer of Tonka toys for Hasbro, to build a life-size Tonka SUV whose theme is "the ultimate off-road adventure." The Tonka ...
READ MORE +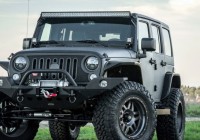 STRUT®, globally known for its trendsetting and distinctive collections of grilles, wheels, and accessories for luxury automobiles and SUVs, has announced a grille collection ...
READ MORE +
Wabash National's AeroFin XL Tail Device is an aerodynamic solution designed to improve trailer aerodynamics and overall fuel economy. The AeroFin XL directs airflow across the ...
READ MORE +
Ed Malzahn, founder of The Charles Machine Works and its iconic Ditch Witch brand, has passed away at the age of 94. Armed with a mechanical engineering degree, in the late 1940s ...
READ MORE +
Smart Drive Systems, a leader in driving performance solutions that reduce collisions and improve fuel efficiency, recently announced that Mesilla Valley Transportation, one of ...
READ MORE +
Volvo Trucks' You Tube video "Look who's driving"   Volvo Trucks'  has launched its latest You Tube video "Look who's driving"  using a four-year-old girl called Sophie who ...
READ MORE +
Components distributor Unipart Autoparts has announced the launch of new truck fuel and AdBlue caps as part of its TTC quality alternative range. "Fuel and AdBlue caps are ...
READ MORE +
Mercedes-Benz Trucks in Europe has unveiled its new 'TopFit', an in-cab workout system designed to help maintain a driver's fitness levels. Comprising a plywood base board with ...
READ MORE +
Volvo's new Electric Hybrid bus, reduces fuel consumption by 75 percent compared to conventional diesel buses. ABB and Volvo have contributed with their respective expertise ...
READ MORE +