Owners of the Mk4 Ford Focus ST who are thinking of upgrading their car and have something to refer to now - the latest power upgrade kit from mountune called the m365. ...
READ MORE +
Following the government's announcement that the SST exemption will go on until June 2021, came the interesting news that the most anticipated car of the year after the Proton ...
READ MORE +
This year's installation of the Hot Wheels Legends Tour, a travelling car show in search of a customized car worthy of becoming immortalised as an iconic 1:64 Hot Wheels diecast, ...
READ MORE +
Just a few weeks on from its world premiere, BMW M has introduced a very special edition model of the new BMW M4 Competition. Created in collaboration with New York lifestyle ...
READ MORE +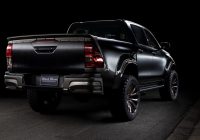 Wald tuning used to be very popular in Malaysia for Japanese and also European car owners however Wald is sadly no longer sold in Malaysia but we have just seen this Wald tuned ...
READ MORE +
The Mpire Auto Group is the brand owner for commercial vehicles from China's Foton and also JAC and with a growing market share in the mid and large sized trucks, they need make ...
READ MORE +
UMW Toyota Motor Sdn Bhd (UMWT), the sole importer and distributor for Toyota vehicles in Malaysia, recognizes the importance of having a comprehensive service network for its ...
READ MORE +
Hyundai in South Africa was selling this special 'Hyundai Sport' version which appeared two years ago, before the general facelift. This was limited edition and dues to its ...
READ MORE +
Fitted with bodywork by Dave Bland Engineering and supplied by Kevin Fraser, Transport Solutions Executive at Volvo Truck and Bus Centre North & Scotland, the 26 tonne ...
READ MORE +
Shell Malaysia showcased its complete end-to-end fleet solutions for the transport and logistics industry at the recent 2019 Malaysia Commercial Vehicle Expo (MCVE).  The ...
READ MORE +