Aston Martin Kuala Lumpur celebrated a new generation of the legendary DB bloodline with the official launch of the Aston Martin DB12 in Malaysia.
Under the swooping hood of the Aston Martin DB12 lie machinery that are more than capable of matching these grand occasions. The familiar, hand-built 4.0-litre Twin-Turbo V8 engine has been further tuned by Aston Martin engineers to deliver class-leading 680PS at 6,000RPM and 800Nm in a wide torque band spanning between 2,750rpm and 6,000rpm. This marks a notable 34 percent increase in performance when benchmarked against the outgoing Aston Martin DB11.
These higher outputs have been achieved through modified cam profiles, optimised compression ratios and larger diameter turbochargers. To manage increased thermal demands, the DB12 features a completely redesigned cooling system with two additional auxiliary coolers and an additional low-temperature radiator for the charge cooler water circuit.
Thermal airflow has also been improved via a 56 percent increase in open apertures allowing more cold air to flow into the radiators, while centrally mounted bonnet vents placed above the twin turbos allow hot air to escape more efficiently.
Power is fed to the rear wheels via an eight-speed automatic transmission with a torque converter and, for the first time on an Aston Martin DB model, an Electronic Rear Differential (E-Diff) which can go from fully open to 100 percent locked in a matter of milliseconds for maximum response and precise throttle control.
Flat out, the DB12 will do 0-100km/h in just 3.6 seconds, all the way to a top speed of 325km/h, thanks to its expansive list of powertrain improvements and optimisations.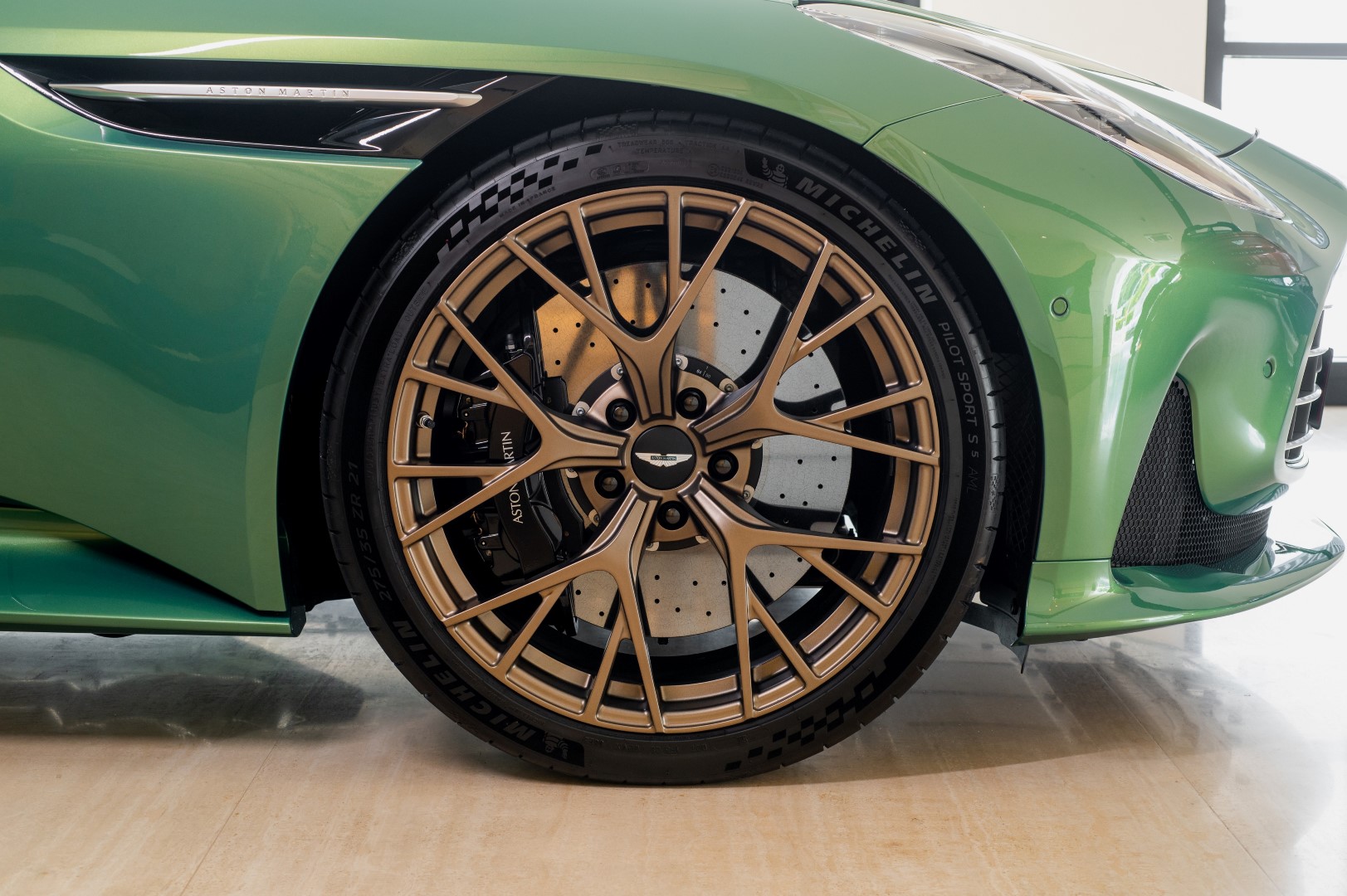 The significant gains in straight-line performance are complemented by similarly game-changing developments in the ride and handling department of the Aston Martin DB12, starting with its new-generation intelligent adaptive dampers. With a 500% increase in bandwidth of force distribution, these state-of-the-art dampers are a huge advance as their greater capacity facilitate a far broader range of control and refinement across the DB12's drive mode settings.
As the primary point of contact between car and driver, careful attention has been paid to perfecting the DB12's Electronic Power Assisted Steering system (EPAS). EPAS calibration focuses on ensuring plenty of on-centre feel mated to a swift but natural-feeling rate of response.
In the interests of consistency and driver connection, the EPAS has a constant 13.09:1 ratio rack with variable, speed sensitive assistance and 2.4 turns lock-to-lock. This variable level of assistance is integrated with the DB12's drive mode programmes, the level of assistance reducing incrementally while moving towards the most aggressive mode (Sport+).
Ensuring it has the stopping power to match its prodigious pace, the Aston Martin DB12 is fitted as standard with cast-iron 400mm front discs and 360mm rear discs with grooved and drilled faces for improved thermal capacity. These can be upgraded to the optional Carbon Ceramic Brakes (CCB) that raise the bar for resistance to brake fade to temperatures of up to 800°C, all while reducing unsprung mass by 27kg, which in turn benefits ride quality and steering response.
The brakes of the Aston Martin DB12 are shrouded by 21-inch forged alloy wheels with three design variations and a palette of colours and finishes to choose from, all of which offer an 8kg weight reduction over the previous 20-inch offerings.
They are paired with the first-ever OEM application of the new Michelin Pilot Sport 5S tyres featuring a bespoke compound tuned to the precise specifications of the Aston Martin dynamics team. The 'AML' codes marked on these unique tyres ensure they are not mistaken for off-the-shelf alternatives.
An all-new front end flanked by LED headlights with distinctive daytime running lamp (DRL) signatures and intricate surface detailing stands out thanks to a wider stance. The track of the car has been widened in the front and rear by 6mm and 22mm respectively, complementing the iconic Aston Martin grille and muscular surfaces for maximum presence.
Entirely bespoke, the DB12's infotainment system was designed and developed by Aston Martin, making it the marque's first in-house system. This system supports wireless Apple CarPlay and Android Auto connectivity via its 10.25-inch high-resolution touchscreen. The audio setup features 11 speakers in its standard configuration, with a 15-speaker, 1,170W surround sound system developed in collaboration with Bowers & Wilkins available as an option for true audiophiles.
In addition to an extensive catalogue of optional accessories to choose from, Q by Aston Martin offers bespoke personalisation services limited only by the imagination. This allows clients to push their creative boundaries and commission an Aston Martin DB12 that embodies their individual sense of style in the form of a truly unique Super Tourer.
The Aston Martin DB12 is now available for viewing and booking in Malaysia, with a starting price of RM1,088,000 excluding duties, taxes, options and customisation. As with all Aston Martin models officially on sale in Malaysia through Aston Martin Kuala Lumpur, the DB12 can be ordered with an extended warranty offering up to 20 years of coverage. This complements the Aston Martin ownership experience with vehicle lifetime protection for total peace of mind, subject to terms and conditions.