Mitsubishi has premiered the fully redesigned Triton one-ton pickup truck in Bangkok, Thailand, with sales commencing today in Thailand. The all-new Triton will be rolled out in markets centering on the ASEAN and Oceania regions and is scheduled for launch in Japan in early 2024 for the first time in 12 years.
Now in its sixth generation, the all-new Triton is fully redesigned for the first time in nine years. Based on the product concept "Power for Adventure," all elements of the Triton have been completely reimagined, from the interior and exterior design to the chassis, ladder frame and engine.
The key features of the all-new Triton are as described below:
A beefed-up body size compared to the previous model, a newly developed ladder frame that provides durability and reliability, and a newly developed engine that achieves both higher output and improved environmental performance
A newly developed suspension that provides excellent ride comfort and steering stability, and Super Select 4WD-II system and upgraded drive modes that achieve high road performance
A front face with a strong sense of presence and reliability, a wide and robust styling, and a classy interior offering excellent functionality and operability
Significantly improved safety and comfort for a wide range of purposes, from business to personal use
The all-new Triton comes in three body types depending on the intended use – a double-cab type with two rows of seats offering both the comfort of an SUV and the utility of a pickup truck, a basic single-cab type with one row of seats, and a club-cab type with cargo space behind the front seats that also enables reclining.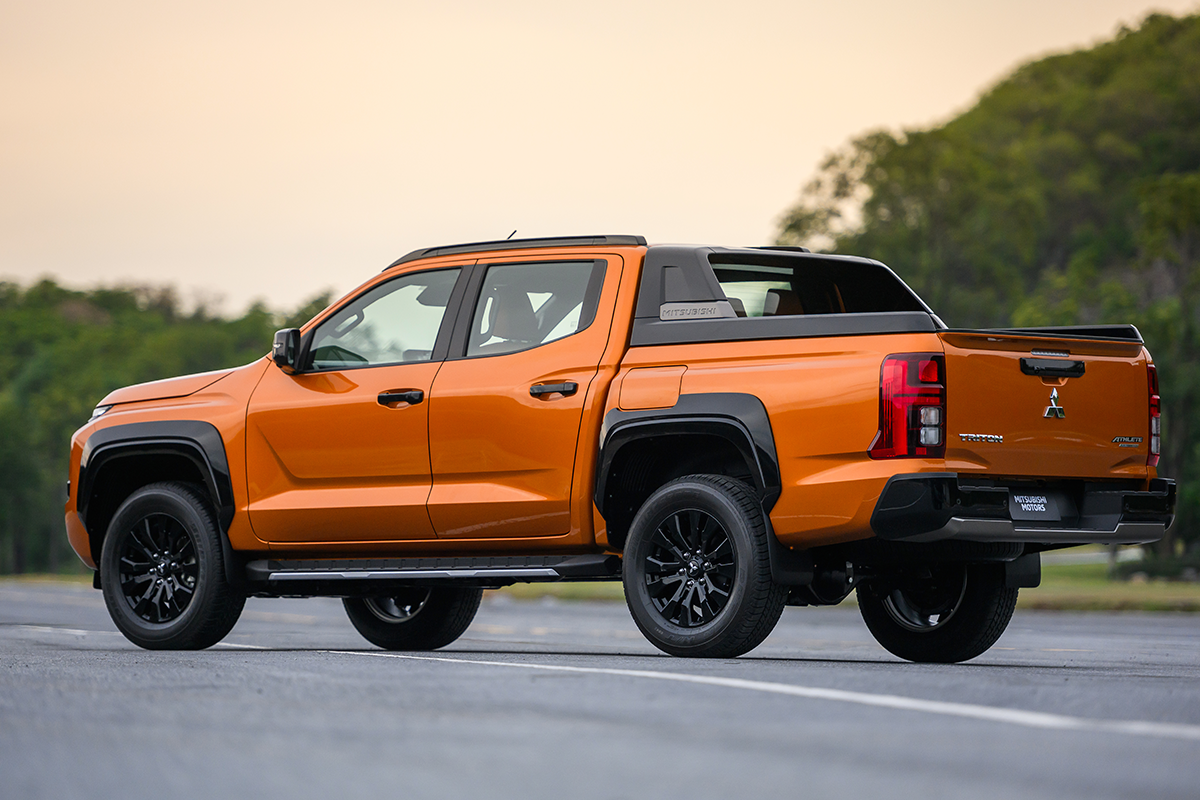 With a larger body, it has a newly developed 2.4L clean diesel turbo engine that significantly boosts environmental performance and power. The ladder frame, suspension and other main components have been newly developed uniquely by Mitsubishi Motors, and road performance has been greatly enhanced through features such as upgraded drive mode and electronically controlled Active Yaw Control (AYC) combined with Super Select 4WD-II system.
With the adoption of Adaptive Cruise Control (ACC) among other new safety features and emergency support using connected car technology, safety and comfort has been greatly improved not only in terms of the truck's hardware, but also in terms of its software.
The newly developed 4N16 clean diesel engine comes in three different output specifications to meet different purposes. The high-output version is equipped with a new turbo charger and new combustion system, providing a flat maximum output of 201 hp and maximum torque of 470 Nm from approximately 1,500 rpm, enabling highly-responsive driving with abundant torque in the range of practical use.
There are two versions of the standard specification – one with an engine that has a maximum output of 135 kW and a maximum torque of 430 Nm, and one with an engine that has a maximum output of 147 hp and a maximum torque of 330 Nm. Both have a variable geometry turbo charger that performs variable control of turbine capacity.
The all-new Triton comes with either a six-speed automatic transmission with the highly acclaimed Sports mode from the previous model, or a six-speed manual transmission with shift-by-wire that reduces vibration directly transmitted from the engine and improving comfort.
The 4WD system enables the driver to easily shift to 4WD mode while driving by using a dial selector. The all-new Triton continues to use Mitsubishi Motors' Super Select 4WD-II and Easy Select 4WD systems, and Super Select 4WD-II is equipped with a center torque sensing Limited Slip Differential (LSD) that distributes driving force at a ratio of 40% to the front and 60% to the rear, thus ensuring both traction performance and cornering performance.
Models equipped with the Super Select 4WD-II system can select from the four options of 2H (rear-wheel drive), 4H (full-time four-wheel drive), 4HLc (locked center differential) and 4LLc (locked center differential with lower gears), and have seven drive modes including on-road modes, an increase over the four off-road modes of the previous model.
Along with Normal mode that is available in all four-wheel drive modes, 2H offers Eco mode for prioritization of economy, 4H offers Gravel and Snow modes, 4HLc offers Mud and Sand modes for traction performance, while 4LLc provides Rock mode, allowing drivers to select the optimum drive mode for any road condition. The 4WD modes available for selection in vehicles equipped with Easy Select 4WD are 2H (rear-wheel drive), 4H (locked center differential), and 4L (for low-gear driving).
While beefing-up the body size, the increase in turning radius has been minimized, and driving has been made easier by using a hood shape that lets the driver see the hood line. For the high-output engine model, an electric power steering is adopted, which enables better control by providing more assistance in the low-speed range.
In terms of design, the front face design concept of Dynamic Shield that expresses powerful performance and the peace of mind protecting both the people and the car is optimized for a pickup truck through a powerful form based on a robust, three-dimensional front grille and fenders, and a protector that emphasizes this form.
The daytime running lights featuring three L-shaped LED lights resemble a sharp gaze of a hawk, and in combination with the three-dimensional 3-light headlights below them, the design gives the all-new Triton an overwhelming presence.
Inside, the instrument panel is designed with the Horizontal Axis concept, which uses horizontally-themed and strong shapes to allow drivers to easily see changes in the posture of the vehicle when driving. With a nod to professional use, soft pads have been incorporated in the main areas that protect passengers to ensure utility. In terms of design, the interior uses many geometric shapes and metallic elements to create a high-contrast, modern space.
Newly rolled out body colors are the vivid and metallic Yamabuki Orange Metallic and the Blade Silver Metallic that offers increased brilliance. The lineup also includes the high-quality basic colors – White Diamond, Solid White, Graphite Gray Metallic, and Jet Black Mica.
The cargo bed height has been lowered by 45 mm to 820 mm compared to the previous model, and the upper surface area of the bumper corner has been enlarged and reinforced with a frame to be used as a foot space, thereby improving practicality.
Last but not least, the all-new Triton now comes equipped with Adaptive Cruise Control (ACC) that tracks acceleration, deceleration, and stopping of the vehicle in front, and cruises while maintaining a preset distance between vehicles. Advanced safety features have been enhanced along with the retention of Forward Collision Mitigation system (FCM), Blind Spot Warning (BSW) with Lane Change Assist (LCA), and Rear Cross Traffic Alert (RCTA) among others.