Toyota today unveiled the new Land Cruiser to the world, featuring a bold new design, new powertrains, as well as many new technology and features.
Built on a new GA-F platform based on TNGA, the new Land Cruiser's frame was redesigned to reduce weight and increase rigidity. Various steps were taken such as the reduction of the total weight of the vehicle by 200 kg.
World's first E-KDSS suspension
To further improve the traditional off-road performance, Toyota tweaked the suspension, and fitted the Land Cruiser with an Electronic Kinetic Dynamic Suspension System (E-KDSS) which is a world first, a Multi-Terrain Monitor which instantly displays obstacles as viewed from the driver's viewpoint, and the Multi Terrain Select function which automatically judges the road surface and selects the best driving mode.
There is also a newly developed V6 twin-turbo engine (3.5-litre petrol and 3.3-litre diesel) combined with the also newly developed Direct Shift-10AT (10-speed automatic transmission) which is lighter than before.
New engines
While the petrol version produces 415 PS and 650 Nm of torque, the diesel variant kicks out 309 PS and 700 Nm of maximum torque.
On the exterior, the new Land Cruiser has the lights and the bumpers positioned and shaped in a way that they unlikely to be damaged during off-road driving. On the interior, a horizontal instrument panel is provided that easily captures the vehicle's position even during off-road driving.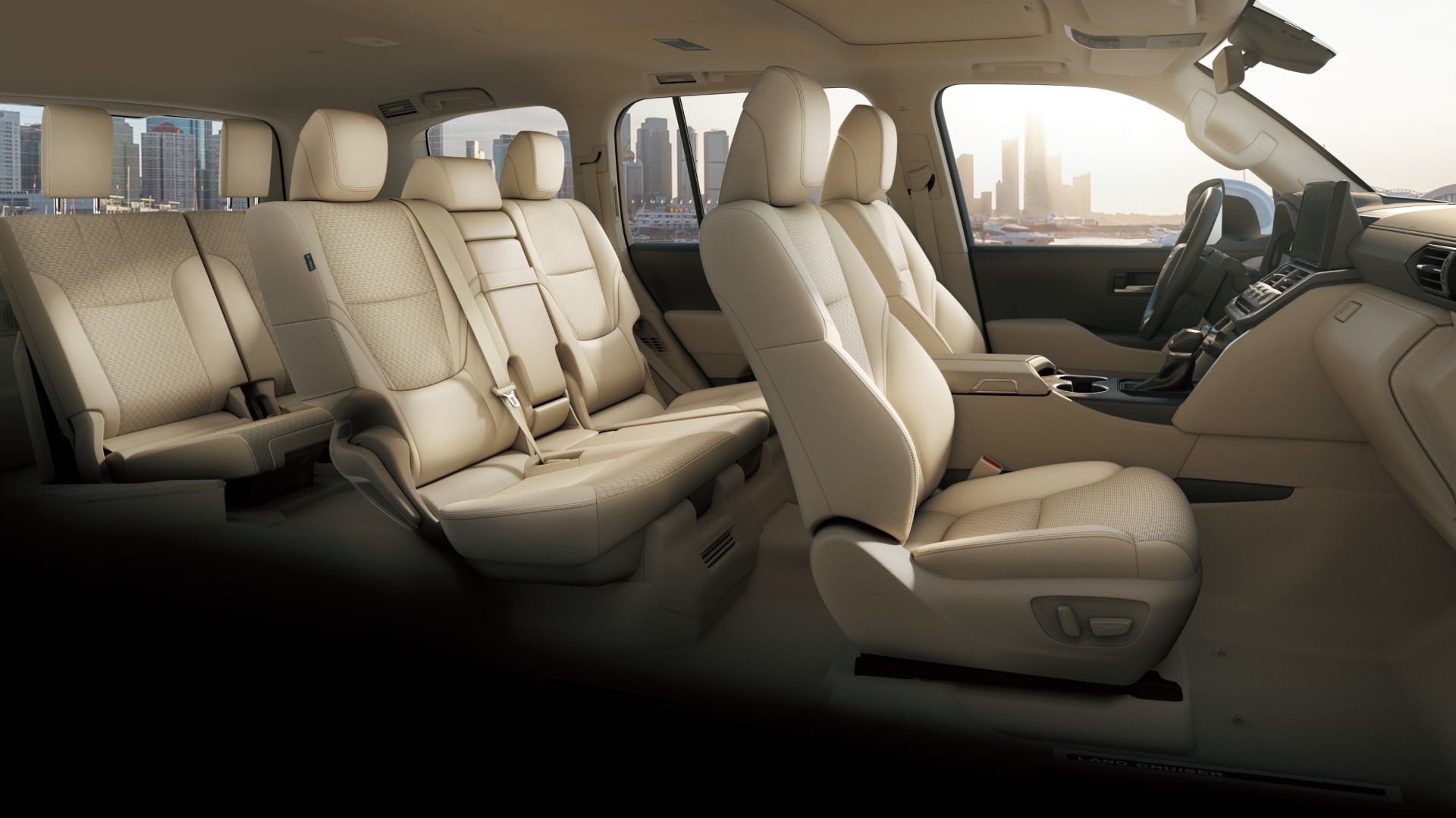 Additionally, Toyota pursued operational comfort by positioning switches that can be intuitively operated according to function, and using shape and colour designs that improve operability.
Similar dimensions as before
As for the package, placing priority on off-road performance, the vehicle size including the total length, total width, and wheelbase, as well as both the departure and approach angles have been kept the same as the previous model (excluding some grades).
Where safety is concerned, the new Toyota Land Cruiser has adopted the latest Toyota Safety Sense active safety package with additional advanced functions.
New safety features
Two functions have been added to the pre-collision system that helps avoid a collision or reduce damage by detecting pedestrians (daytime and night time) and cyclists (daytime).
The first is a function that detects oncoming vehicles at intersections and oncoming pedestrians crossing the street when the vehicle is turning in either direction. The second is an emergency steering and crash avoidance function, which assists with steering and lane keeping and is triggered when the driver performs a steering manoeuvre to avoid collision.
Parking Support Brake
Furthermore, the new Land Cruiser has adopted the new Parking Support Brake, which helps prevent accidents by recognizing obstacles in front and back of the vehicle in a parking lot, approaching vehicles when the vehicle is backing, and pedestrians.
Having achieved all these evolutions, Toyota plans to launch the new Land Cruiser all over the world starting next month.