After almost half a decade of working hard for business owners in Malaysia, the Daihatsu Gran Max light commercial vehicle has been finally updated for 2021, and was officially introduced into the Malaysian market last month.
What's new?
The main highlight of the new 2021 Gran Max Euro 4 models is the introduction of the new aluminium block 1.5-litre 2NR Euro 4 petrol engine with 1,496cc displacement. Paired to the engine is a 5-speed manual gearbox or a new 4-speed automatic gearbox (panel van only).
The Gran Max is also equipped with a new Dual VVT (variable valve timing for both Intake and Exhaust valves) to realise both outstanding fuel efficiency and to boost driving performance. Thanks to the new engine, fuel consumption of the Daihatsu Gran Max has improved as mentioned below:
Pick-up: 12.2 km/L (Euro 2) to 12.5km/L (Euro 4)
Panel Van (MT): 12.2km/L (Euro 2) to 13.3km/L (Euro 4)
Panel Van (AT): 12.0km/L (Euro 2) to 13.5km/L (Euro 4)
Further complementing the powertrain is the addition of the Electrical Power Steering (EPS) system and 14-inch tyre which is an inch bigger from the previous model, all in effort to provide better stability control on the road and better support on bigger cargo load.
In addition, the adoption of a front mid-engine layout where the engine is positioned beneath the front seats realizes an optimal front-rear weight distribution, contributing to superb driving stability at high speeds and during cornering.
Safety
Another area in which the Daihatsu Gran Max has been further enhanced is safety. The new model is now equipped with Vehicle Stability Control (VSC), an important safety feature that prevents oversteering or understeering and ensures stability by preventing the vehicle from rollover and side collisions.
There is also Emergency Stop Signal (ESS) on top of the Dual SRS Airbags for driver and passenger, the Anti-lock Braking System (ABS), Immobilizer, Reverse Sensors and Alarm System.
Convenience
The new Daihatsu Gran Max pickup is equipped with a square deck measuring 2,350 millimetres in length with walls that are 360 millimetres in height with rope hooks, enabling any cargo to be securely held.
In addition, the new Daihatsu Gran Max has a minimum turning radius of 4.9 meters, making it easy to manoeuvre even in narrow spaces. As for the Gran Max Van, a low floor clearance of 620 millimetres and a wide rear door opening makes it easy to load and unload cargo from the hold.
The vehicle also features convenient, 815mm sliding doors on both sides, enabling users to load and unload cargo even in tight spaces. When seating a driver and single passenger, the length of the cargo hold is a maximum of 2,075 mm.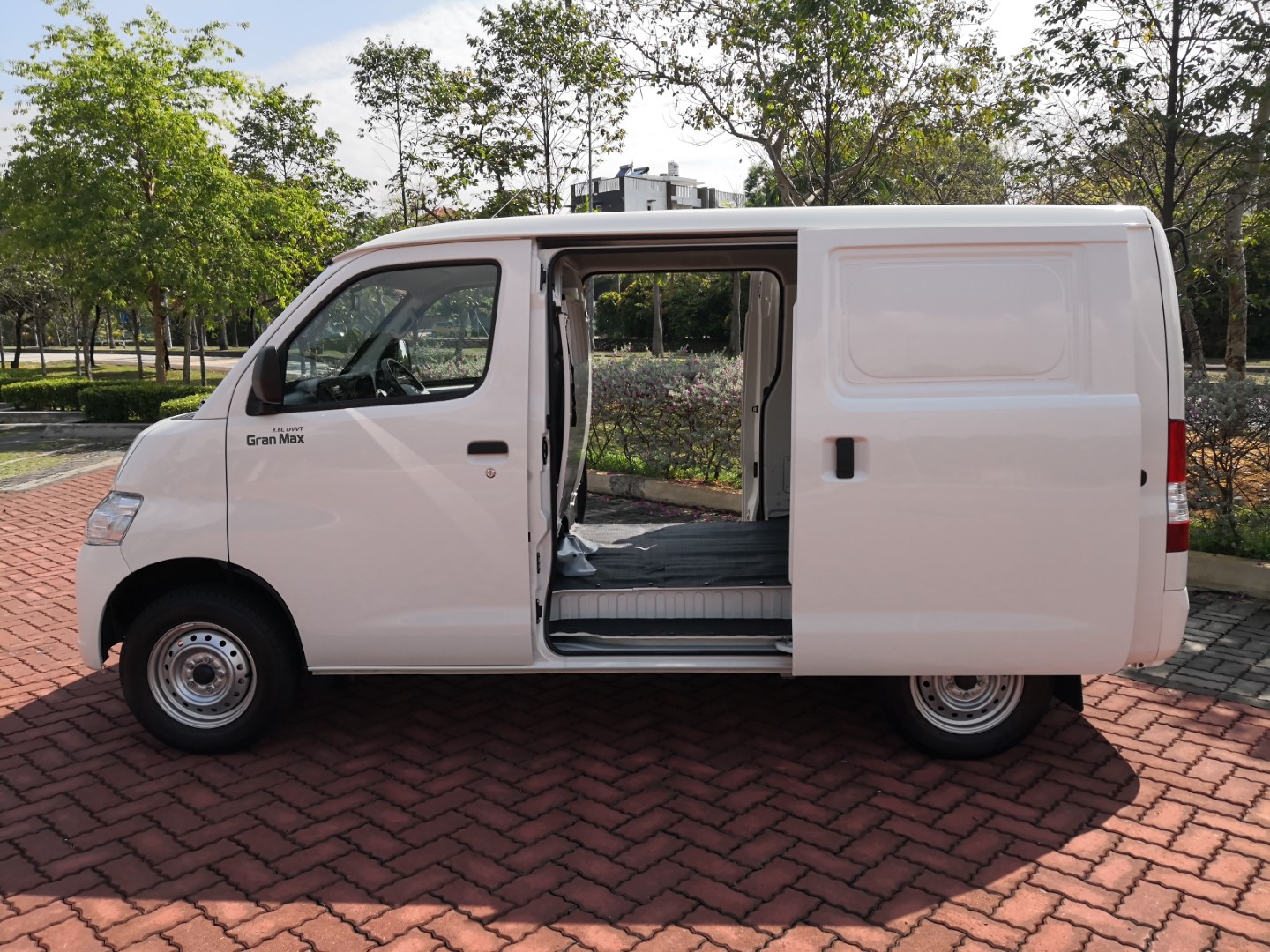 Additional practical compartments are included to provide added convenience, along with other essential comforts such as the Passenger Seat Open Tray, the Centre Console Tray, three Cup Holders (passenger, driver and console box).
How does it feel?
In an effort to see if these enhancements actually make a difference, we got our hands on the new Daihatsu Gran Max and spent a few hours with it recently, and to be frank, we were actually pleasantly surprised.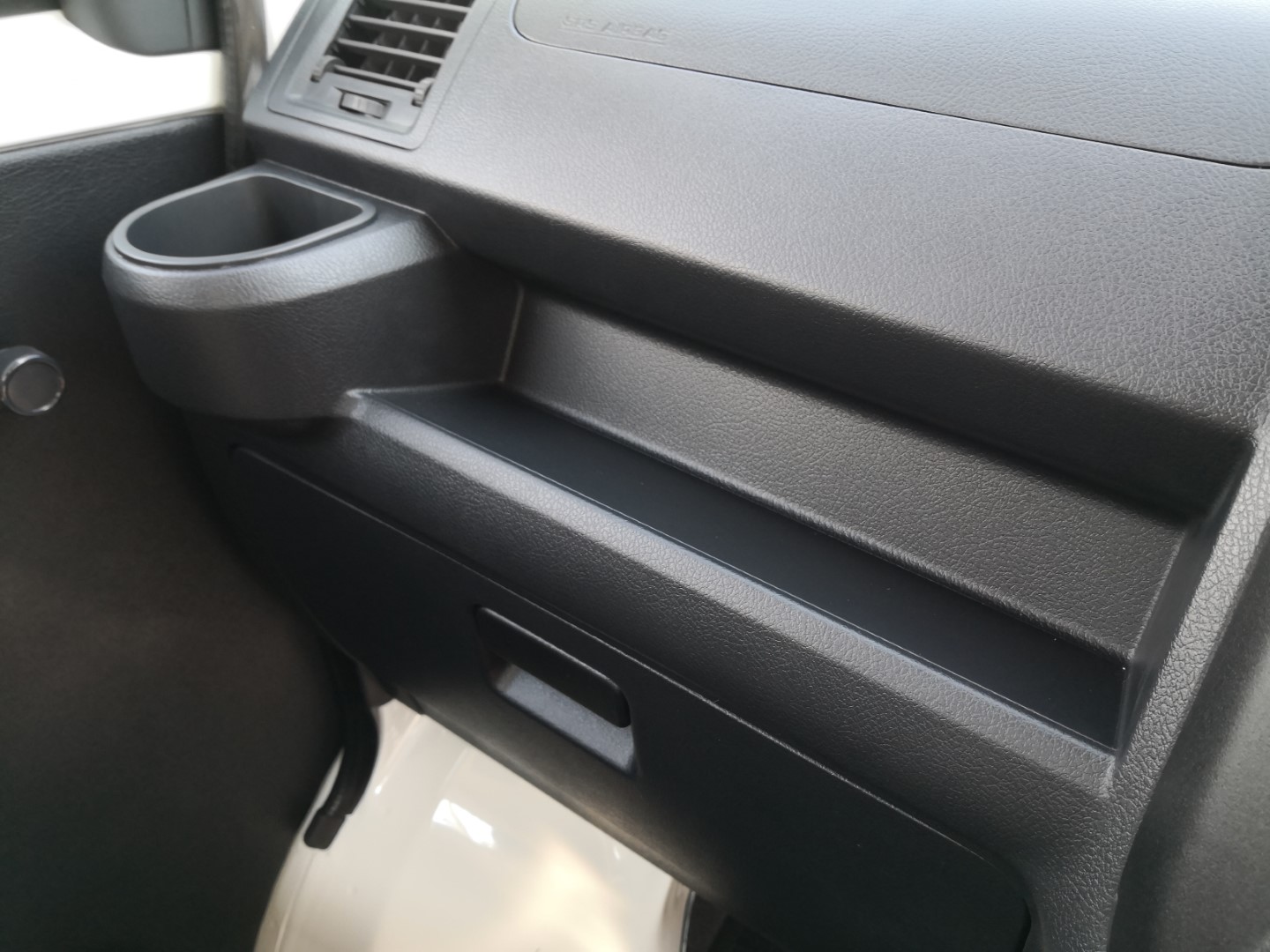 As much as the Gran Max looks the same as the outgoing Euro 2 version, it feels much nicer to drive thanks to the new powertrain. Since the new engine block is made of aluminium versus the outgoing cast iron, it is lighter, resulting in a vehicle that feels much more eager to go.
This is actually a big plus point for business owners who constantly transport things as there is little to almost no signs of struggling when you accelerate. Plus, fuel consumption has also improved a bit, which is great news for the wallets.
Proven engine
Since the new engine is the same as the one found in the Perodua Myvi and some popular Toyota models, owners need not worry about its durability and reliability as the powertrain already has a proven track record especially in Malaysia.
During our stint with the new Gran Max, both the manual pickup and the automatic panel van showed no signs of struggling at all, handled well, and had adequate power at all times.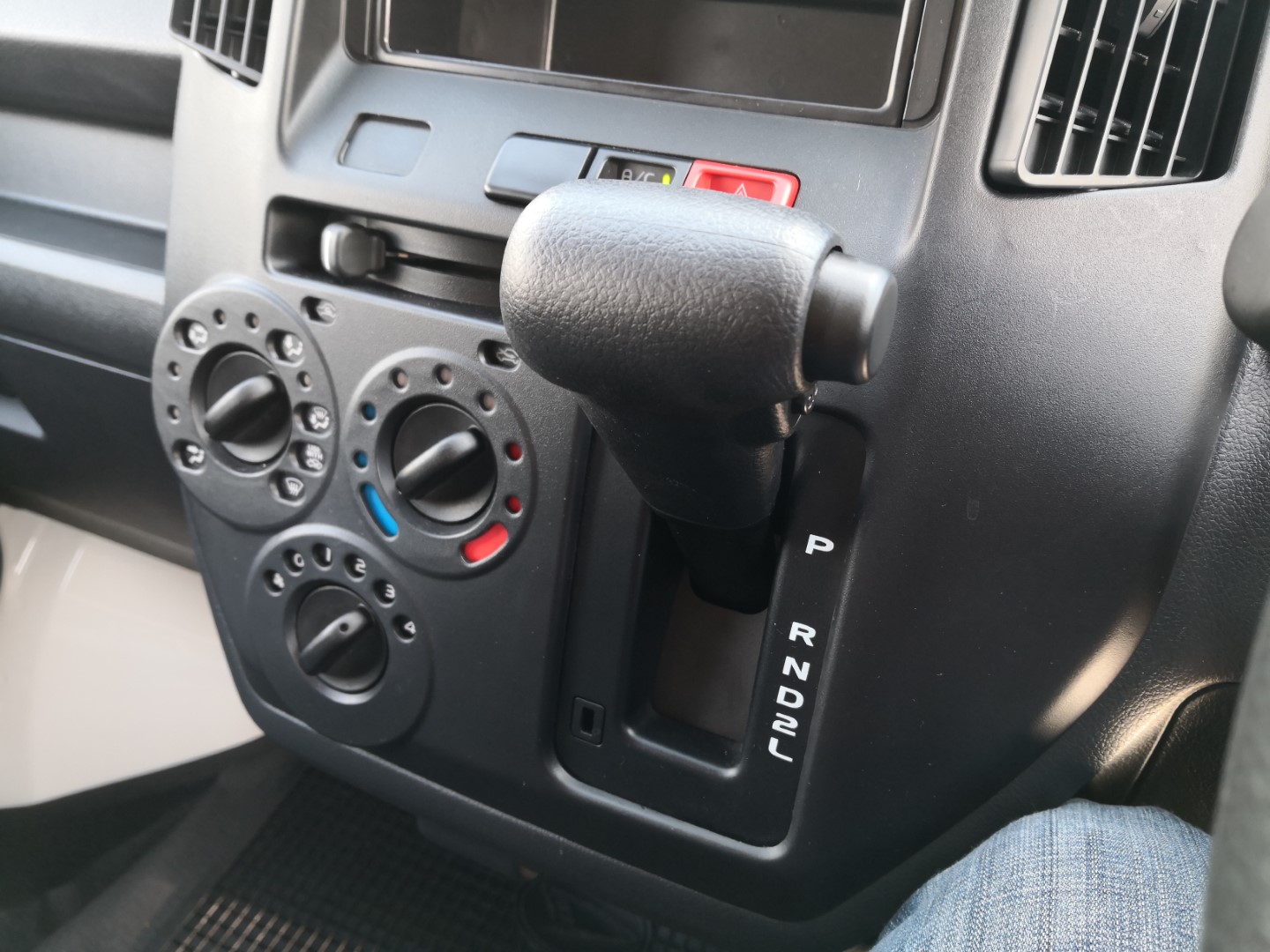 Besides the lighter, smoother, and more fuel efficient engine, the newly added Vehicle Stability Control is also playing a big role in ensuring that the Gran Max doesn't understeer or oversteer easily, improving overall ride and handling of the vehicle.
Easy to drive
Another much needed mechanical upgrade is the addition of the Electric Power Steering system which eliminates the stress of having to worry if there is enough power steering fluid, if the pump is working, and what not. After driving the Gran Max for a bit, we found the steering to be weighted just right as it doesn't feel too light or too heavy for our liking.
One of the complaints from customers who bought the outgoing Gran Max was that it lacks storage space for small items and cup holders as there was only one cubby hole in the cabin. Realising this, the folks at Daihatsu have added two more cup holders (one for co-driver, one behind the handbrake) for added convenience, and a tray above the glove compartment.
With the additional storage space, storing things like mobile devices, power banks, letters, and drinks are not an issue at all.
While the 14-inch wheels which are an inch up from before provide more grip and comfort, safety level is also decent with features like ABS, the aforementioned VSC, Emergency Signal System (ESS), two airbags, as well as reverse sensors that come standard across the board.
Last but not least, keeping us entertained and cool were the JVC head unit with radio, USB, and Bluetooth connectivity, the constantly "sejuk beku" air conditioning system, and the comfortable seats that provide good support for drivers of all shapes and sizes.
Overall, what we have here is a further improved version of a product that has already gained the trust of many Malaysian business owners ranging from food truck operators all the way to big forwarding companies.
Better than before
Now with all the enhancements that have gone into the Daihatsu Gran Max, it does not only drive better, but also offers more practicality and convenience for those who use it on a daily basis. Even if you have never driven a truck or a van before, you can get used to the Gran Max in no time.
Priced competitively from RM73,164 on the road without insurance, the Daihatsu Gran Max has just become more desirable and sensible. So, if you are looking for an affordable light truck or a panel van for your business, the Gran Max will certainly tickle you in the right places.