Hino Team Sugawara has announced that it will be entering two HINO500 Series trucks in the trucks category in Dakar Rally 2018 which will be held from Jan. 6 thru 20, 2018 in ...
READ MORE +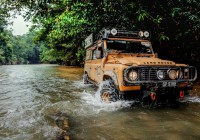 All pictures here provided by Bertram Tuah, Geoffrey Lee and Paul Si Article by PAUL SI If you are from the Malaysian Peninsula you will think Sabah and Sarawak (which ...
READ MORE +
Since 2003 more than 350,000 truck drivers in nearly 50 countries have participated in Scania Driver Competitions (SDC) – the world's largest truck and bus driving event – that ...
READ MORE +
Starting from June 2017 and for the next three years, IVECO will be the official supplier of heavy-duty logistics vehicles for the Abarth racing division, and will supply the team ...
READ MORE +
Gerard de Rooy places the PETRONAS De Rooy IVECO Team and his #500 IVECO Powerstar in third place at the 2017 Dakar Rally having driven almost 9,000 km across South America's most ...
READ MORE +
When the road ahead takes you nearly 10,000km through some of the harshest terrain on the planet you'd better come prepared. 1. The Dakar Rally is almost as long as an ...
READ MORE +
The Borneo Safari, held annually in Sabah over the past 26 years, is widely acknowledged as one of the toughest off-road vehicle event in Malaysia.  Mitsubishi Motors Malaysia ...
READ MORE +
Isuzu Malaysia Sdn Bhd marked the 10th consecutive year of its sponsorship of and participation in Borneo Safari with a four vehicle media team. The seven-seater Isuzu mu-X ...
READ MORE +
Congratulations Adam Bint on securing the 2016 BTRA British Truck Racing Championship (Division 2) at a wet and wild Pembrey meeting (October 15/16). Adam took the CMG Volvo White ...
READ MORE +
John Hunter Nemechek knocked Cole Custer from the lead to earn the win Sunday in a controversial finish in the NASCAR Truck Series at Canadian Tire Motorsports Park. Custer twice ...
READ MORE +