Category:
Safety & Compliance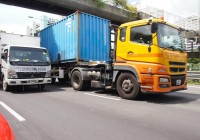 I work in Kuala Lumpur but visit my hometown of Johor Bahru every month. That means I contribute roughly RM1200 a year to the PLUS highway's revenue. A small drop in a very ...
READ MORE +
The Range Rover Velar has been awarded a 5-star crash protection rating from safety body Euro NCAP, ranking it among the safest SUVs on the market today. Scoring 93% for ...
READ MORE +
The ever-popular NISSAN NV350 Urvan (High Roof) is now available with updated new safety features. This makes for a great school bus, tour company transport and even a long ...
READ MORE +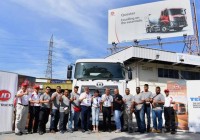 UD Trucks and its long-standing sole distributor partner in Malaysia, Tan Chong Industrial Equipment (TCIE), have teamed up to organize the UD Trucks Extra Mile Challenge (UDEMC) ...
READ MORE +
Yes, airbag recalls also affect truck and busses and now the massive Takata Global Airbag Recalls have landed in the commercial market. This new recall affects owners of some UD ...
READ MORE +
Scania has autonomous trucks running in mines and is planning similar trials with other applications such as platooning (convoy) autonomous trucks between ports. Driverless, ...
READ MORE +
MAN Truck and Bus (M) Sdn Bhd (MTBM) announced that it is introducing a new training program, MAN ProfiDrive that is tailored towards individual customer requirements. The new ...
READ MORE +
Volvo Trucks' latest premium flagship heavy-duty truck known for massive power and performance, the FH series, will be on showcase for industry players at the Malaysia Commercial ...
READ MORE +
More vehicles on the roads, a faster traffic flow and a distracting stream of information all impose considerable demands on both commercial vehicle drivers and car drivers. On ...
READ MORE +
The Road to Excellence Championship (RTEC) 2017, the ultimate global competition to find the most talented aftermarket professionals working within Renault Trucks, has raced to an ...
READ MORE +