Hino Team Sugawara has announced that it will be entering two HINO500 Series trucks in the trucks category in Dakar Rally 2018 which will be held from Jan. 6 thru 20, 2018 in ...
READ MORE +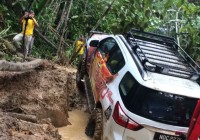 Customer satisfaction with their new-vehicle sales experience has increased in Malaysia, as shoppers are conducting more preliminary research across a greater variety of sources ...
READ MORE +
FCA has also been reducing production of the Fiat 500X and Jeep Renegade subcompact SUVs at its factory in Melfi, southern Italy. Despite higher demand in Europe for ...
READ MORE +
Imagine, a 2-liter turbo, 300PS Plug-In Hybrid Range Rover Sport for below RM490,000! This could be the luxury SUV many affluent Malaysians have been waiting for. Road tax below ...
READ MORE +
Sheer exhilaration and jubilation was what 60 participants of Ford Ranger Owner's Club (FROC) Borneo Region felt when they completed the first 4x4 expedition by land to a ...
READ MORE +
The Volkswagen Group delivered over 1 million vehicles to customers for the first time in September, the highest level ever for a single month: at 1.01 million, deliveries were ...
READ MORE +
Mercedes-Benz Brazil has just won the tender by the Brazilian ministry of health for a large-scale order. In total the Daimler subsidiary will deliver 800 Mercedes-Benz ...
READ MORE +
Mitsubishi Motors Malaysia (MMM) will be officially launching the locally-assembled Mitsubishi Outlander SUV 2.0L tomorrow. Mitsubishi Motors authorised dealers will be ...
READ MORE +
Announcing the arrival of Mazda's most technologically advanced model – the all-new Mazda CX-5. In addition to getting a visually dynamic new look inside and out, the multi ...
READ MORE +
UD Trucks unveiled a theme for the 45th Tokyo Motor Show 2017 from 27 October to 5 November 2017 – "The best truck for all drivers!". This theme expresses UD Trucks' ambition to ...
READ MORE +