Mitsubishi Motors Malaysia (MMM), the official distributor of Mitsubishi vehicles in Malaysia, officially launched the new Triton Athlete 4x4 pick-up truck today. Only ...
READ MORE +
Isuzu Malaysia ended 2017 on a positive note when its Batu Pahat-based authorised dealer, Jumbo Arena Sdn Bhd, made its 100th unit delivery to Mighty Bakery Sdn Bhd, a ...
READ MORE +
Kia has kicked off 2018 with an update to the Sorento SUV range, introducing two new, sporty trim levels and a fresh 8-speed automatic gearbox, replacing the 6-speed ...
READ MORE +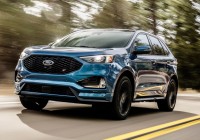 Ford has officially entered the SUV performance segment with the reveal of the new 2019 Edge ST. WIth the Edge being Ford's best-ever selling SUV in 2017, it makes sense to add an ...
READ MORE +
Fiat Chrysler Automobiles will spend USD1 billion to upgrade its Warren Truck Assembly Plant in Michigan to build heavy duty Ram pickups and a full-size Jeep SUV, the ...
READ MORE +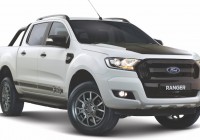 Sime Darby Auto Connexion (SDAC) is ushering in the Lunar New Year by extending its prosperity sales promotion exclusively for the Ford Ranger XLT. For starters, new Ranger ...
READ MORE +
Automakers, having invested billions in advanced diesel technology, have vowed to make sure the powertrain doesn't disappear. "Diesel is worth fighting for," Daimler CEO Dieter ...
READ MORE +
Ford recorded its highest ever commercial vehicle (CV) sales of 123,958 in 2017, while marking 41 consecutive years of car sales leadership and 52 years of commercial vehicle ...
READ MORE +
Mercedes-Benz Vans achieved a new record for unit sales in 2017 and for the first time passed the mark of 400,000 vehicles sold. The division has thus grown continuously for ...
READ MORE +
Joining the Ford pickup truck lineup in 2018 will be this new variant, the Ford Ranger Raptor. This is the high-performance off-road truck you've been waiting for. This new ...
READ MORE +