Toyota Motor Corporation (Toyota) has unveiled its first new Hiace model designed for overseas markets. The new Hiace is built on a special revised platform that not only ...
READ MORE +
Scania Malaysia recently handed over new Scania prime movers to first time customer AONE Logistics Sdn. Bhd. (AONE), which recently acquired additional units to facilitate the ...
READ MORE +
For the past five years, Renault Trucks has been sending volunteer staff to developing countries to share their expertise with local World Food Programme teams. A total of ...
READ MORE +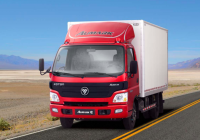 We've all seen the improvements in quality that Chinese goods have experienced over the last few years. In every industry, there are brands that push the envelope in terms of what ...
READ MORE +
With the delivery of Scania R 410 liquified gas trucks, all of Gruppo Sanpellegrino's shuttle transports from the mineral water bottling plant at San Pellegrino Terme to ...
READ MORE +
The 41st edition of the world's most difficult race has come to an end after 5,000 kilometers driven on extreme terrains. Gerard de Rooy achieved the third place in the ...
READ MORE +
MAN Truck & Bus has delivered 1,300 chassis for city buses to Singapore over the last eight years. In late October 2018, the 1,000th vehicle was symbolically handed over ...
READ MORE +
Mitsubishi Motors Malaysia (MMM), the official distributor of Mitsubishi vehicles in Malaysia, is pleased to announce the official launch of the new Mitsubishi Triton today. ...
READ MORE +
Isuzu Malaysia welcomes 2019 by coming out top for the fifth year in a row, maintaining its No. 1 position as the nation's preferred commercial vehicle (CV) brand for 2018, ...
READ MORE +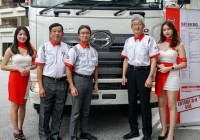 Hino Motors Sales Malaysia Sdn Bhd (HMSM) announced the launch of its latest model of HINO SR1E 700 series, a new and complete heavy-duty Prime Mover, today at The Saujana Hotel, ...
READ MORE +