Volvo Trucks, one of the world's largest heavy-duty truck brands, recently launched its corporate social responsibility initiative comprising the contribution of a heavy-duty ...
READ MORE +
D Having started the export business in 2013, Daimler India Commercial Vehicles (DICV) has now produced a remarkable 25,000 export units. The milestone truck, a FUSO ...
READ MORE +
Mack Trucks showed the LR BEV battery-electric refuse truck at the WasteExpo 2019 in Las Vegas. The truck has a built-in electrical powertrain consisted of two 130 kW electric ...
READ MORE +
American start-up Nikola Motor Company presented its third truck called 'Tre', which is powered by hydrogen. The prototype and the two predecessor models Nikola One and Nikola Two ...
READ MORE +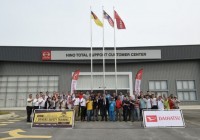 Daihatsu (Malaysia) Sdn. Bhd. (DMSB) has launched its first ever Drivers Safety Training Program to address road safety concerns in Malaysia and encourage a culture ...
READ MORE +
Why did PLUS donate 300 safety cones worth RM10,000 to three of Malaysia's largest heavy vehicle associations? This is what we want answered when it is common knowledge that the ...
READ MORE +
Scania Malaysia distributed reusable lunch boxes and water bottles to the students, teachers and staff of Sekolah Kebangsaan Dato' Keramat this week at the launch of ...
READ MORE +
Pickup truck drivers are finding it increasingly hard to give other cars enough room when they park due to modern trucks getting wider by a foot on average despite car park spaces ...
READ MORE +
The pickup truck market in North America and Asia does not seem to be slowing down, just like the SUV segment. So, it is probably time for SUV brands with no pickup trucks in ...
READ MORE +
UD Trucks and its sole distributor partner Tan Chong Industrial Equipment Sdn Bhd (TCIE) are pleased to announce that Tenaga Nasional Berhad (TNB), Malaysia's largest ...
READ MORE +