Range Rover Velar which has just been launched nationwide brings a new dimension of glamour, modernity and elegance to the Range Rover family. Designed and engineered based on ...
READ MORE +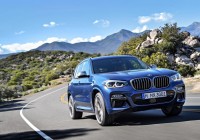 BMW is expected to launch the third-generation X3 in Malaysia this April, 2018. It arrives to take on the Mercedes-Benz GLC and Volvo XC60 and will probably be priced around ...
READ MORE +
MAN Truck and Bus (M) Sdn Bhd (MAN) has handed over 13 MAN TG WW series trucks to Taipanco Sdn Bhd (Taipanco), a leader in the local haulage industry, making up a total of 43 MAN ...
READ MORE +
The Eclipse Cross all-new compact SUV coupe will join MMC's global lineup of crossover SUVs: the ASX compact SUV and the Outlander and Outlander PHEV mid-size SUVs. The Eclipse ...
READ MORE +
The Nissan X-Trail has always been known for its sculpted and muscular styling, with chiselled lines, high wheel arches and elegant curves on the bonnet. All of those ...
READ MORE +
With Malaysians showing no signs of reducing their demand for driving a SUV, Mitsubishi has a lot to offer starting with its well presented, compact-sized ASX, its rugged ...
READ MORE +
The Lynk & CO brand is jointly owned by Geely and Volvo Cars, and sales of the vehicles began on Tuesday in China. Sales are scheduled for 2019 in Europe and 2020 in the ...
READ MORE +
Hino Motors Sales (Malaysia) Sdn Bhd delivers 15 newly launched HINO 300 Series trucks to My World Logistics Sdn Bhd. Providing home-delivery services for Malaysians renowned home ...
READ MORE +
Jeep USA has just shown its long-awaited redesigned 2018 Wrangler and Wrangler Unlimited. However, Jeep has decided to leave out most of the vehicles details under wraps until ...
READ MORE +
Ford Motor Company and its local distribution partner, Sime Darby Auto Connexion (SDAC), today announced the nationwide launch of the tough, efficient and capable Ford Ranger ...
READ MORE +