Scania intends to play a leading role in the inevitable shift towards a sustainable transport system and its business model is evolving to meet that objective by identifying ...
READ MORE +
Conceived by Toyota as a joint successor model integrating the Briska with the Light Stout, the Hilux debuted in March 1968 as a new bonnet-type truck with Hino Motors, Ltd., in ...
READ MORE +
At the recent SWEDEN-SOUTHEAST ASIA BUSINESS SUMMIT, Scania was moving its sustainable, automatized and digitalized solutions 'hard' to attending media and government officials to ...
READ MORE +
Isuzu Malaysia ushers in 2018 on a high note, as it tops Malaysia's 2017 commercial vehicle market by maintaining its position as the No. 1 preferred commercial vehicle ...
READ MORE +
It is time we expressed our thanks to truck drivers and logistics staff across Malaysia, who without their tireless work ethics and professionalism, families across Malaysia would ...
READ MORE +
It is an off-road legend and the ultimate benchmark for so many fans of cross-country driving: the G-Class. Since 1979 more than 300,000 examples of it have allowed their owners ...
READ MORE +
The Mercedes Benz G Class or the G-Wagen (short for Geländewagen which means "cross-country vehicle") was developed with an intention of possessing unparalleled off-roading ...
READ MORE +
Imagine a situation in which you are in your 50s and you are mulling over a brand new car as a gift for yourself who will be entering retirement soon. In this ...
READ MORE +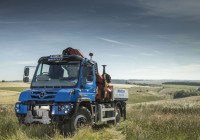 The mighty Mercedes-Benz Unimog has delivered a huge efficiency boost for Whatley & Co by taking on the work of no fewer than three previous vehicles. The long-established ...
READ MORE +
The Environmental Protection Agency in the US has unveiled its final rules for reducing emissions from heavy-duty trucks, including semitractor-trailers, buses, and other heavy ...
READ MORE +