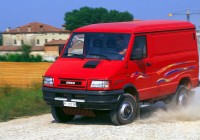 IVECO are celebrating the 40th anniversary of their Daily van, which offers an opportunity to look back on the history of this popular light commercial vehicle. IVECO started ...
READ MORE +
Well, the technology people at Omnimatics Sdn Bhd thinks its important and also better to have a better understanding of your vehicle for long term reliability as well as 'vehicle ...
READ MORE +
Here is a new small to medium business mobility solution from Tata. The all new Super Ace offers great value for money for last mile cargo transport solutions, meeting the ...
READ MORE +
Scania intends to play a leading role in the inevitable shift towards a sustainable transport system and its business model is evolving to meet that objective by identifying ...
READ MORE +
Conceived by Toyota as a joint successor model integrating the Briska with the Light Stout, the Hilux debuted in March 1968 as a new bonnet-type truck with Hino Motors, Ltd., in ...
READ MORE +
At the recent SWEDEN-SOUTHEAST ASIA BUSINESS SUMMIT, Scania was moving its sustainable, automatized and digitalized solutions 'hard' to attending media and government officials to ...
READ MORE +
Isuzu Malaysia ushers in 2018 on a high note, as it tops Malaysia's 2017 commercial vehicle market by maintaining its position as the No. 1 preferred commercial vehicle ...
READ MORE +
It is time we expressed our thanks to truck drivers and logistics staff across Malaysia, who without their tireless work ethics and professionalism, families across Malaysia would ...
READ MORE +
It is an off-road legend and the ultimate benchmark for so many fans of cross-country driving: the G-Class. Since 1979 more than 300,000 examples of it have allowed their owners ...
READ MORE +
The Mercedes Benz G Class or the G-Wagen (short for Geländewagen which means "cross-country vehicle") was developed with an intention of possessing unparalleled off-roading ...
READ MORE +