EyeSight® Driver Assist Technology is the culmination of everything Subaru engineers know about safety. Adding confidence to every trip, EyeSight monitors traffic movement, ...
READ MORE +
Chinese electric car startup Nio has recently demonstrated its new ES8 SUV to customers in Beijing, with home market sales already under way. It is priced from 448,000 yuan ...
READ MORE +
Is is too little to late? Car manufacturers say they are taking steps to clean up their diesels. Daimler's Mercedes-Benz spent 3 billion euros to develop a new family of 4 and ...
READ MORE +
Euro NCAP has just released the Mercedes-Benz X-Class double-cab pickup safety ratings. The X-Class managed to score a full 5-stars which is one star more than the Nissan Navara ...
READ MORE +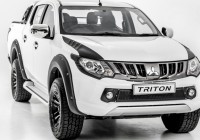 Mitsubishi Motors has added a new Triton Xtreme to its range. Power still comes from a 2.4-litre turbodiesel engine worth 133 kW and 430Nm. Mitsubishi says the new ...
READ MORE +
BMW is not giving up on its diesel power at all and instead has just revealed plans to give its 2.0-liter four-cylinder diesel engine an additional turbocharger. Yes, twin turbo ...
READ MORE +
As the brand celebrates 100 years of building trucks, Chevrolet is expanding its midsize truck lineup with Colorado ZR2 Midnight Edition and Dusk Edition models. The 2018 ...
READ MORE +
Mercedes-Benz has traditionally taken the lead in new safety and assistance systems, and in improving the driver-friendliness of commercial vehicles. The same applies to ...
READ MORE +
A recent article from the Cleantech Group examines some of the electric models now on the market or in testing from companies such as Daimler, Navistar, and Volkswagen. ...
READ MORE +
To mark the discontinuation of the Mercedes-AMG G 65 AMG is offering an exclusive Final Edition, limited to just 65 examples worldwide. The particularly expressive Final Edition ...
READ MORE +