Scania will be running a Recon Truck Promotion until the 31st of March 2019. Owners of reconditioned Scania trucks can get a free health check and a free Scania retrofit of FMS or ...
READ MORE +
This is the Chevrolet Colorado ZR2 Bison which looks like a product designed to take on the Ford Raptor head on. The Bison is Chevy's first collaboration with American ...
READ MORE +
Here are some interesting variants of the latest Daihatsu light truck at KLIMS 2018
READ MORE +
Isuzu Malaysia is showing 'tricked' out trucks for current D-Max owners to get an idea of what their trucks can be modded to look like. To experience this awesome pickup ...
READ MORE +
Chevrolet might introduce this fuel-cell powered Colorado ZH2 for military use somewhere in the near future. This is the Silverado ZH2, which has just appeared on Chevy's military ...
READ MORE +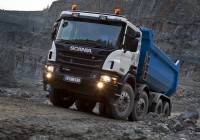 All Scania vehicles sold by Scania (Malaysia) Sdn. Bhd. can run on B10 diesel without further adaptation. Normal warranty will apply when running on B10 diesel – which ...
READ MORE +
Edaran Tan Chong Motor Sdn Bhd (ETCM) today introduced a new addition to the Navara model line-up, the Nissan Navara VL Plus, with Nissan Intelligent Mobility (NIM) technology ...
READ MORE +
Kuala Lumpur International Motor Show 2018 (KLIMS'18) will showcase the latest auto accessories and car care products who have joined the KLIMS'18 bandwagon to present their ...
READ MORE +
With the success of the Ranger Raptor, Ford Asia Pacific should be hard at work getting an Everest Raptor SUV in showrooms as fast as possible. Yes, think about, the most ...
READ MORE +
Scania and its partner, Finnish operator Ahola Transport, recently headed way north for platooning trials 300 kilometres above the Arctic Circle. "Norwegian winter roads ...
READ MORE +