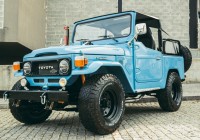 Once upon a time a true workhorse that was rarely seen in urban areas, the humble FJ-40 today is much sought after by collectors just like the original Land Rover Defender. ...
READ MORE +
This classic Defender pickup 4×4 has been given a widebody kit that's riveted onto the existing panels. British tuner 'Kahn' has also installed their custom X-Lander grille, ...
READ MORE +
Scania recently participated as an exhibitor in the PETRONAS Fleet Management Drive (FM Drive) 2018 competition that promotes safe driving in its fleet operations among its road ...
READ MORE +
UMW Toyota Motor Sdn Bhd (UMWT) will soon introduce the new Toyota Avanza 1.5X with a rugged theme in its appearance. This new variant is on sale from 5th Feb 2018 with pricing ...
READ MORE +
The first ever Ford Ranger Raptor is no pretender. It will be Malaysia's first ever factory-built, factory warranted, off-road performance truck. This is no option pack ...
READ MORE +
Scania is due to provide Kobelco with low-emissions industrial engines that will be used to power its new models of the 300t hydraulic crawler cranes. The products will be ...
READ MORE +
EyeSight® Driver Assist Technology is the culmination of everything Subaru engineers know about safety. Adding confidence to every trip, EyeSight monitors traffic movement, ...
READ MORE +
Chinese electric car startup Nio has recently demonstrated its new ES8 SUV to customers in Beijing, with home market sales already under way. It is priced from 448,000 yuan ...
READ MORE +
Is is too little to late? Car manufacturers say they are taking steps to clean up their diesels. Daimler's Mercedes-Benz spent 3 billion euros to develop a new family of 4 and ...
READ MORE +
Euro NCAP has just released the Mercedes-Benz X-Class double-cab pickup safety ratings. The X-Class managed to score a full 5-stars which is one star more than the Nissan Navara ...
READ MORE +